Following the release of one of their most explosive singles to date, we had a chat with UK alternative rock outfit BlackWaters
With a visceral, impactful sound that feels inundated with both intensity and melody, BlackWaters are an outfit that have spent the last six years of so establishing a real presence for themselves as stalwarts of the UK alternative rock scene.
2021 came with the release of the outfit's well-received debut LP Something Good Lost In Time, and BlackWaters have now followed that up with the release of the frenetic summer anthem 'In The Sun'. The track is intensity personified from the second that it starts, showcasing volatile riffs, an incessant energy and drive, and a blistering punk rock attitude. 'In The Sun' feels like BlackWaters at their best, feeling stronger and more incisive than ever. The hooks are melodic and fun, the energy is inescapable and relentless, this is a statement of intent. We had a chat with BlackWaters to find out some more about their journey to date, their excellent new single, and what they have planned for the future.
Who TF are Blackwaters?
We are a band, another band of four white young men playing big tunes.
How long have you been making music?
Since we were kids, though the bands been together for 8 years now. It's flown by. I (max) was doing musical theatre until about 14 then met the guys at 16, from there it was a head dive into the world of music and I fell in love with so many genres.
Why do you make music?
To express something I suppose, I've always wanted to write, entertain and be on stage, I love it when people get something out of our music and the lyrics I write, it's such a strange feeling having somebody relate to a song you've written, it might make them rethink something or feel something, it's amazing. The fact I can sing and write what I feel then take it to a live stage with all the lights and all the instruments going at once it's somewhat fucking magical.
What are your biggest influences?
I've always loved being outdoors and travelling as much as I can, they're the times I'm most calm in myself, it allows me to fully relax and give myself honestly to a piece of writing. I'm not sure what it is about it, being in the open, perhaps the tranquillity, something new. Then again, I've written a song in a busy smoking area before. There's no rules in what can influence me to do something. A lot of ideas are from movies, books and other music too.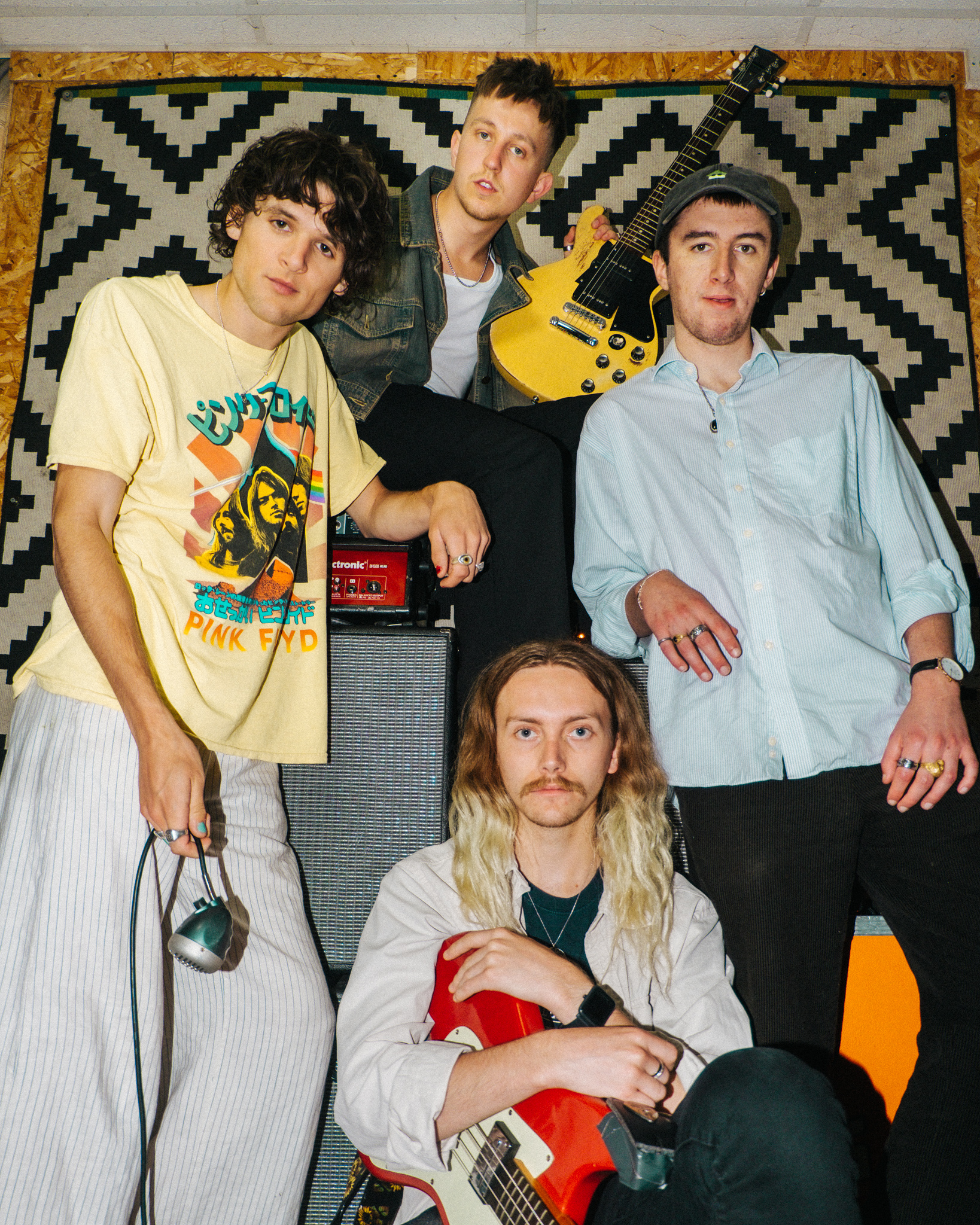 What would you say has been your best moment so far?
Recording our debut album, the four of us, under one roof, then touring it, hearing people sing the songs that are so special to us. Yeah I guess I could say touring round Europe, supporting Killing Joke, Supergrass or the Libetines but in all honesty the thing that's stuck with me the most, living with my best pals for 5 years and making memories, gigs in our back yard, movie nights in our front room with strangers to releasing our debut album recorded from the heart of our bedrooms. Big events are special and incredible to play in front of thousands of people but I truly take them with a pinch of salt now.
How would you describe your sound to somebody unfamiliar with it?
Load of blabber.
What's your dream "I've made it" moment?
It's not really something we're yearning for. I guess we've already in some aspects.
We love your new single 'In The Sun', what more can you tell us about it?
"Where will we land? In the sun" it's primarily about the state of this planet, the issues we can't change but want to, the help we'd love to lend to others and the endless spiral our country is heading towards, eventually we'll land in the sun. I hate to be so dreary but it really is how I feel about the state of things these days. It's important to stay positive though, the people will always win, it just doesn't feel like it these days. I like the juxtaposition in the song as it seems like a really jolly good time tune, which it certainly is musically but lyrically it was written to address something quite worrying, the way everything's heading, makes us all feel unsteady. Where will we land?
What else do you have planned for the near future?
Album number two, more songs, more shows, more secret garden shows. More more more music.
And finally, who is your biggest fan right now?
The poor neighbours cat that has to listen to my awful writing sessions.