We had a chat with Brisbane's Hope D to find out some more about the exciting artist and her confessional, uniquely personal sound.
2020, for all of its flaws, has been a pivotal year for exciting emerging artist Hope D. Having released her debut single 'Swim' at the tail-end of 2019, it is the following year that has really seen the artist really begin to make a name for themselves on a wider scale, with the release of more eclectic and uniquely personal sounds.
Hope D's sound is characterised by its profoundly candid and almost conversational nature, tracks such as 'Second' and new single 'Miscommunicate' see the artist spill out her most heartfelt thoughts and feelings, accentuated by her powerful and domineering vocal performances. Her sound is stacked full of personality and an unabashed and unfiltered rawness and cutting edge. As more Hope D tracks are released this is only something that is going to continue, as we find out more about the interesting artist as she unveils more layers and facets to herself with her lyricism and sounds. Until then, we caught up with the artist for a chat, to find out some more for ourselves.
Who TF is Hope D?
Hope D is an unapologetic, loud, queer chick who puts all your thoughts and fears into sentences that rhyme.
How long have you been making music?
Every memory of my childhood days is peppered with me sitting and trying to write raps and poems on the spot to impress my friends in the playground. I started putting them to songs when I could finally play guitar when I was super young. I've only been making proper songs for about 8 years though now.
Why do you make music?
I make music to pour the insanity and whirling thoughts out of my head to give me a bit more space in there to think. I share my music because I am certain that feelings and thoughts are usually universal and mutual, and I want people to know what I'm going through and have been through to help them feel more comfortable and less insane. I think that sharing our stories and feelings more openly makes us connect so much deeper, which is just so dope.
What are your biggest influences?
Hobo Johnson is a big one for me. It had been a while since I watched  a video and heard a song that I really connected with and made me feel something. I incorporate some of his mannerisms in my music too. And of course the absolutely incredible Abbi Jacobson and Ilana Gazer – of which I have both their characters from Broad City tattoo'd on me 🙂 Such clever, brilliant Wisness (women in business) queens they are.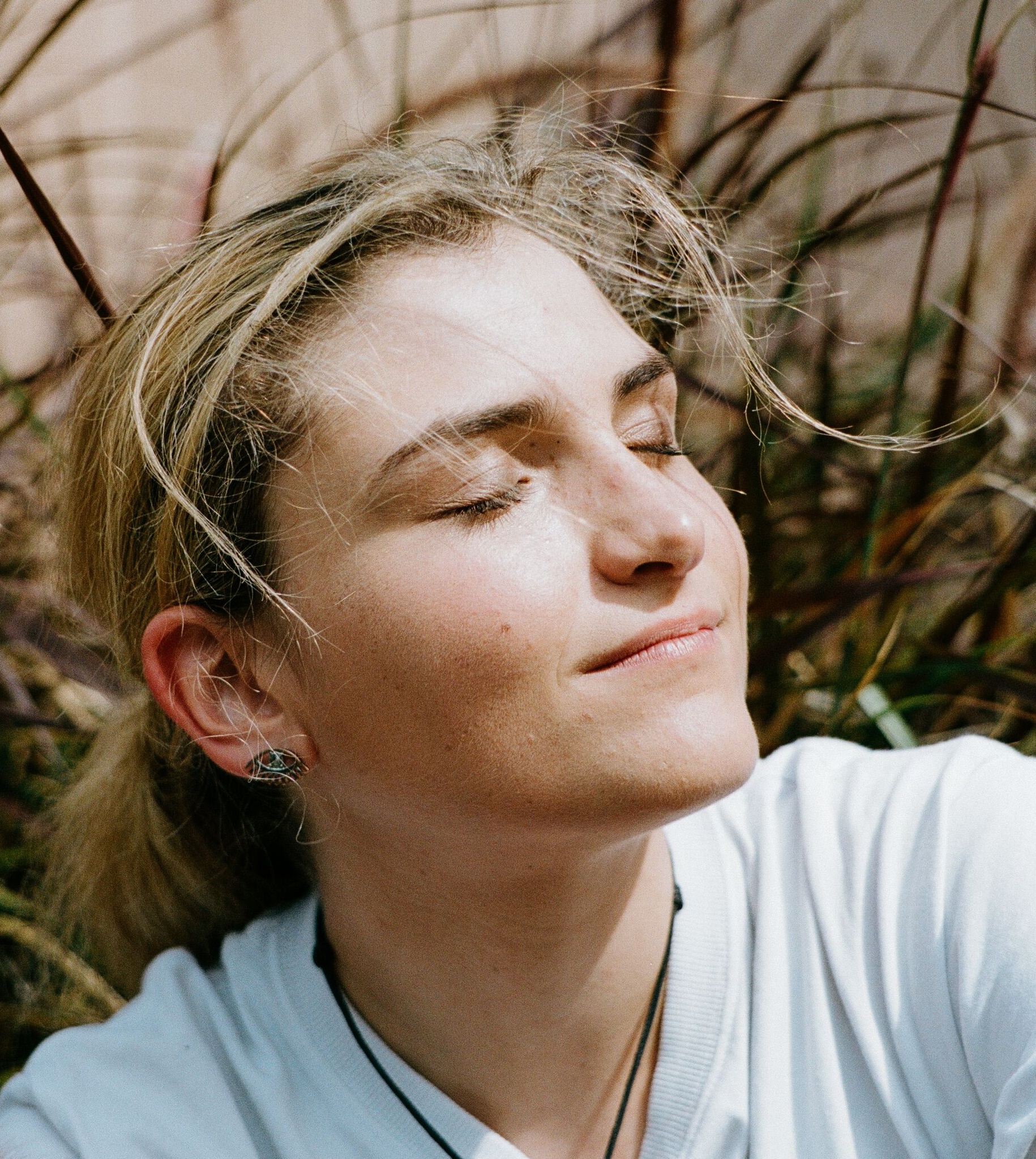 What would you say has been your best moment so far?
Playing at Brisbane Laneway 2020 before the world shut down is still my best and favorite memory in music so far. That was so insane, an absolute dream come true.
How would you describe your sound to somebody unfamiliar with it?
Light-hearted, cynical pop rock with a twist.
What's your dream "I've made it" moment?
When I have done enough gigs or have enough loyal followers so that I play an unreleased song and the whole crowd already knows it. Also to have my own beer with my face on the bottle.
We love the raw and confessional nature of your sound, how would you explain your creative process?
Thank you, I am so glad.
So, it either starts with love, lust or heartbreak – either me experiencing it first hand , or watching relationships around me or even from TV shows or movies.
Then I spill the words out of me and put them to some chords. Then I loop them with my pedal board and try and craft the ideal sounds, riffs, basslines that I would like for it – then take it to my producer Hugh Middleton , of which, I am convinced is a real life wizard. He helps me craft the sounds that I didn't even know I needed to hear. But then – bone apple teeth, we have a tune.
Latest single 'Miscommunicate' is a great example of this, what is the story behind the track?
Thank you! I am extremely proud of this track as it is a pretty unique story that was a bit scary to release. But it talks about that common tendency of struggling with confrontation in a relationship as well as the communication.
I found that my partner at the time and I BOTH struggled with this, and therefore the relationship was heading south pretty quick once I came to terms with it. I literally wrote the song and played it at a gig , hoping they would say something about it and ask what it was about. But there was nothing. The song also follows the idea of drugs, daily thrills and putting yourself in situations that you're not comfortable with to get more experience and confidence. I could tell that they were very uninterested in – which frustrated me. It's a big tune about me being a dickhead and selfish and making things worse as an excuse to break up , instead of just speaking to my partner properly. But man that stuff absolutely sucks, doesn't.
The relationship ended with me barely communicating and talking, just having my thoughts run through my head like there was a fire in there. Finally one day I just exploded with everything I had thought and felt. Was very overdue but it felt good being honest, I highly recommend it.
We are both in really great places now and are on civil terms which is pretty nice! I like to think of the song as a bit of a cautionary tale
And finally, who is your biggest fan right now?
If this means like, who has been digging me the most lately? Then a huge shoutout to Caitlin LC, she's always reposting my stuff and it makes me feel warm and fuzzi, thank you QUEEN!