The Manchester five-piece have been making a splash, so naturally we hunted them down…
It's fast approaching the end of 2019 and at this point Mealtime are accustomed to making a few waves. The Manchester six-piece outfit recently made a splash  with their bonkers single 'Sublime', an electronic whirlwind that relishes in being unapologetically off-kilter.
Following their previous release 'Teef', 'Sublime' deploys throbbing synths, clattering percussion and affected, monotonous vocals that are almost as repulsive as they are alluring. Accompanied a similarly bizarre video – complete with Y2K aesthetic – Mealtime feel wholly singular in the current landscape, the antithesis to PC Music.
Like any good music hounds, we hunted them down to find out that little bit more…
Who TF are Mealtime?
Just the latest flavour of the month. Get it while it's hot.
How long have you been making music?
Our very first gig was in October 2018, at which point we'd been working on demos for a while (none of which made the final cut for the live set or releases), since then we've had three releases in 2019 since May. But as individuals in total, we've estimated 71 years.
Why do you make music?
It was a coin toss between this and becoming a competitive eating collaborative. We all love music, but we all LOVE food. Biggest appetite in the group goes to Will. That boy can nosh.
What are your biggest influences?
We're all into different things but forming we imagined a cross between bands like LCD Soundsystem, Hot Chip and 2000s commercial pop bangers.
Currently we're listening to a lot of PC Music, Grimes, Rina Sawayama and
old school Justin Timberlake. Apart from Harry who listens to 'Shake it' by Metro Station a little too much? (editor – a worthy bop)
What would you say has been your best moment so far?
Walking out at Bluedot Festival to see a huge audience, getting played on Radio 1 and Lauren Laverne's Breakfast Show in the space of eight hours was amazing, OR seeing the limo we hired for the 'Sublime' video pulling up outside the studio.
Also Sam accidentally knocking someone's burger off a table at our last gig. Mayo fingers.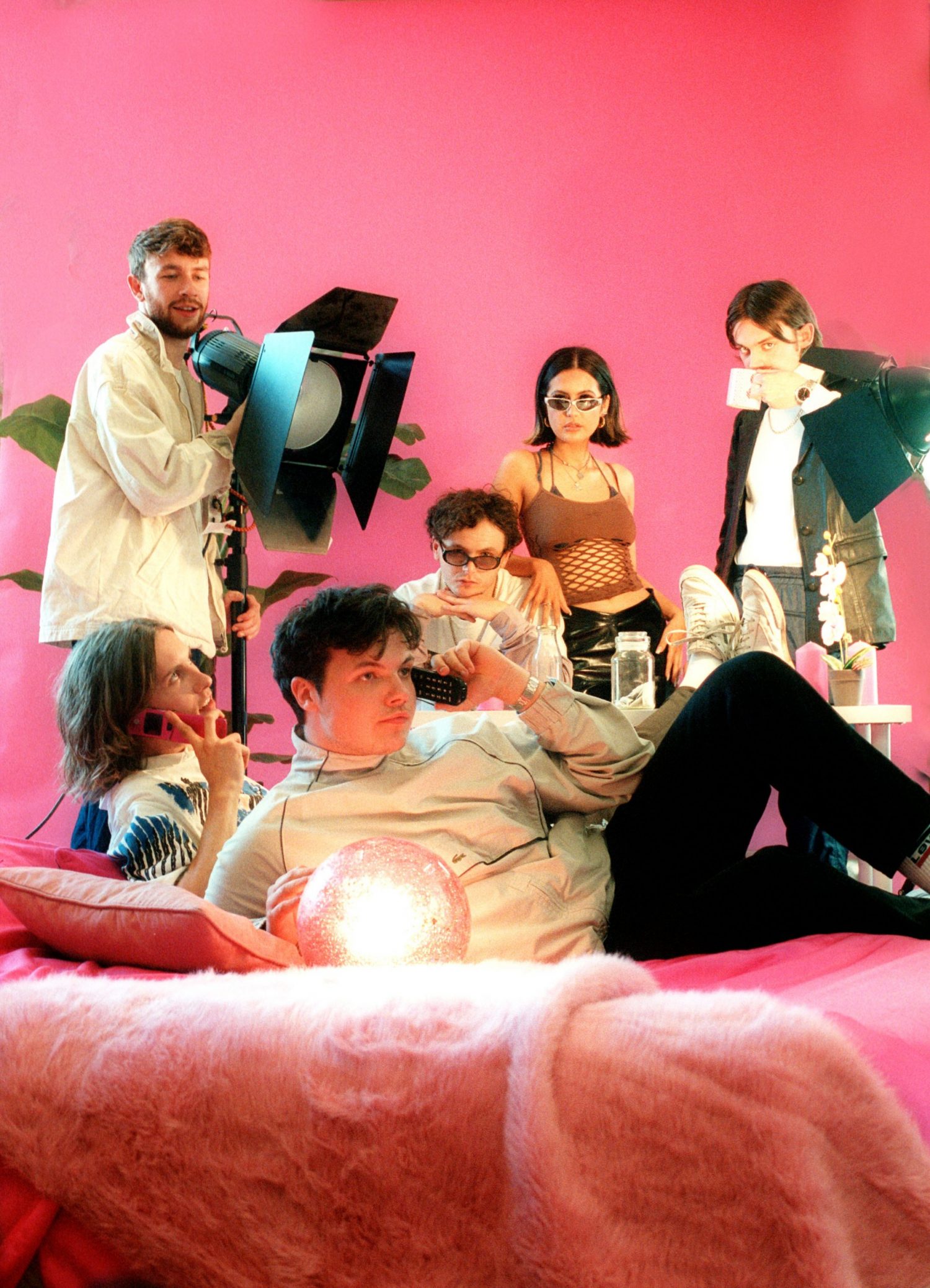 What do you want people to take away from your music?
We want the same profound emotional impact on people's lives as Gary Jules' cover of the Tears For Fears classic 'Mad World'. Or the feeling when you first heard Oasis.
What's your dream "I've made it" moment?
We're all tirelessly working towards the day we can all afford to go out for a meal together. Shout out to Sanskruti Manchester.
We love your new single 'Sublime'; could you tell us a bit more about it?
If you listen very carefully you can hear Keaton stirring his cup of tea in the gap between the breakdown section and the final verse. Or maybe its a cowbell.
The video for 'Sublime' is quite tongue-in-cheek; who came up with the idea and what was it like to make?
The making of the sublime video is one of our all time favourite Mealtime days. Apart from Andy, who had the shits and had to wear a nappy all day. It's been Georgia's dream since childhood to make a Y2K inspired music video. We all got into that idea and worked together on the concept.
What plans do you have going forward?
We have a Christmas dinner with everyone and partners in the process of being planned. Harry is making a mushroom wellington – always goes down a treat!
And finally, who is your biggest fan right now?
The guys at BBC Introducing in Manchester are constantly our biggest supporters! Big up Ryan Paul and his Blue Dot Festival outfit. Iconic.
'Sublime' is available now via LAB Records.