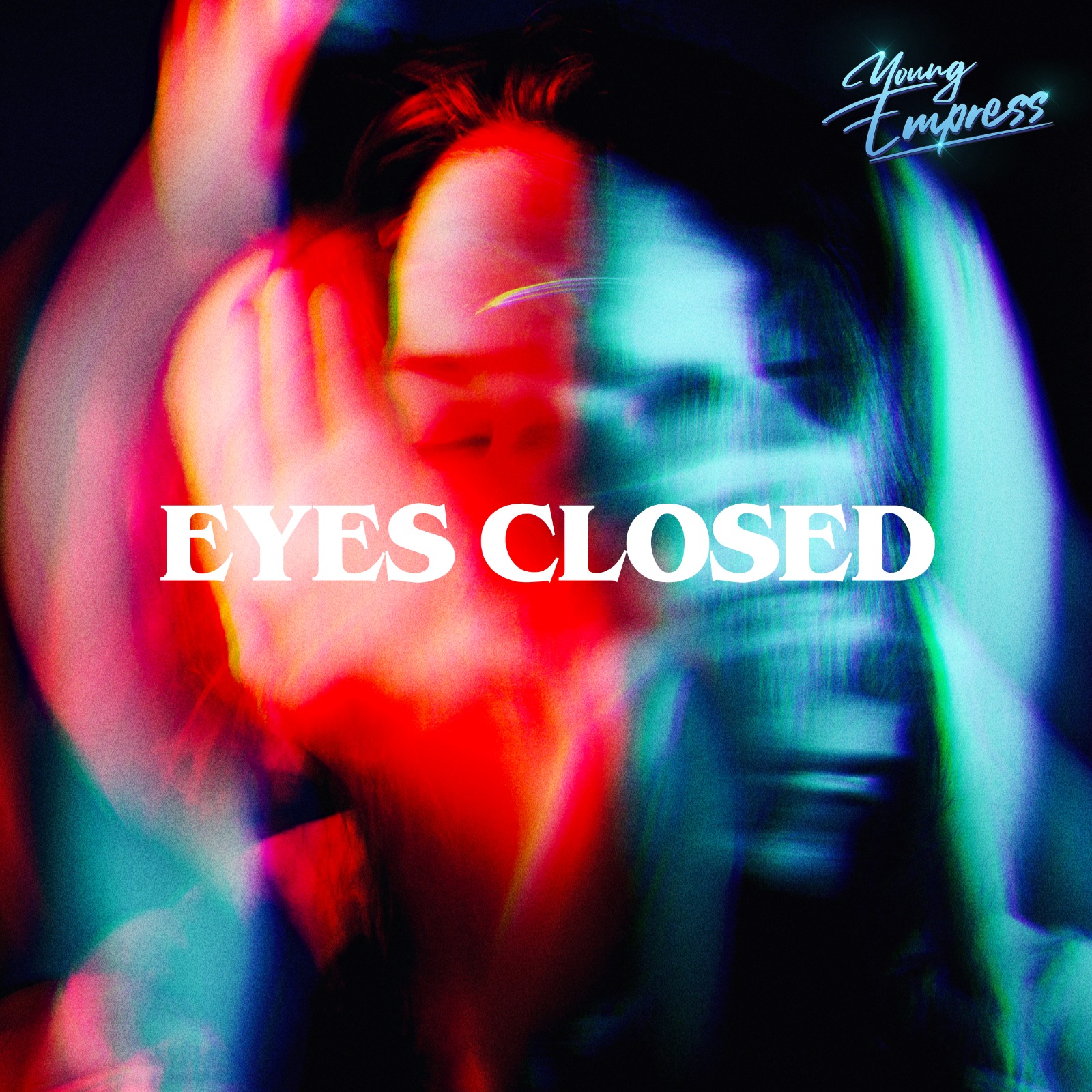 Young Empress reveal their latest instalment, synthwave infused contender 'Eyes Closed'. 
A track that feels like a warm hug after time away, 'Eyes Closed' is bathed in retro-tinged synthesisers, Bex's note-perfect vocals and a vivid production.
Talk us through your hypnotising new release – what's the message behind it?
All of our tracks start with a film. We're massive movie fans so we like to use our favourite flicks as a starting point each time that we write new music. Every single we've released so far has been influenced by a movie that we've seen that has inspired us to start putting ideas together. Eyes Closed has followed the same creative process.
It's inspired by 80s American teen drama 'Dead Poets Society'. The lyrics follow the beloved narrative of one of the main characters – Neil Perry, as he explores new realms of self-expression and individuality, all at the expense of his parents' expectations. With this track we wanted to create a sense of innocence approaching a moment of temptation, uncertainty and consequence. We really wanted to capture the film's essence through the music. Hopefully this is what folks will take away from Eyes Closed. 
How do you feel the internet has impacted the music business?
It's definitely a powerful tool. In parts, we're pretty old school. We love to immerse ourselves in the writing process, play live shows, get out on tour and meet people who love music…but the internet forms a really important part of how Young Empress operates.
We have this awesome following of fantastic people from the Synthwave community who are so passionate about the genre of music we write and we have formed genuine friendships with individuals which has all been made possible through the internet. On our social media platforms we get to reach out to our followers and update them on our journey.
With everything that went on during the COVID pandemic, the internet was our lifeline to the music industry and music fans. Young Empress was born in the first UK lockdown. Without the internet our music wouldn't have travelled at all but here we are with followers from across the globe, interacting with us, watching us as our music evolves and sharing every step of the journey with us. The internet has given a lot of bands a lifeline over the past 18 months. When the gigs dried up and the venues started to go under, the internet was the only way to get your music heard.
People took to the web, started streaming tracks live and making the best of a really naff situation. Young Empress has been able to keep those musical plates spinning because of the internet, and at the same time we've stumbled across some fantastic musicians who we may never have seen or heard before until they started playing music from their bedrooms on Twitch or jamming in their PJs on Instagram Live. It provided entertainment for a lot of us and a chance to keep our careers alive too. 
 If you both could collaborate with anyone dead or alive, who would it be? A
Ah mean! This question is HUGE! Haha – we can't pick just one person. We would never turn down a session with Bowie! The Thin White Duke is up there on our list! Fleetwood Mac – Kings & Queens of songwriting and epic harmonies – come and find us! Then on our side of the scene, we are big fans of The Midnight.
It's where our love for Synthwave started. When we heard their music it really made us start to consider our options as songwriters. We've loved their sound from the very beginning and we'd been writing similar tracks ourselves in secret, then we saw them live in Manchester in 2019 and that was it.
We looked around the venue at all the different types of people singing along to their songs and we knew we'd found our crowd. Such a diverse group of individuals coming together to listen and share a moment of 80s nostalgia and love for Synthwave, Synth Pop, Retrowave – it really inspired us. So they're on the list without a doubt!
What's in store for the rest of 2021?
It's a busy one! We have a couple of collaborations coming up with some great Synthwave artists over the next couple of months and we're really excited for everyone to hear these tracks. It's good fun writing with other musicians. We love it. We have a music video coming out for Eyes Closed soon too.
We have been featured on a Synth Pop compilation album through Aztec Records, our awesome label, and it's full of some absolute bangers! Then to top the year off we have our debut album coming out in December 2021 so keep your eyes on our social media for those announcements and more!
What's the best advice you'd give to your younger self?
Write for yourself. Be true to yourself. Trust your gut. Trust the process. Be patient. Work hard but remember to rest and drink water. It's important to stay hydrated. 
"Eyes Closed" drops this Friday, but enjoy it at the top of this page whilst you read through Young Empress' Q&A.