Following an emphatic debut single, we had a chat with promising indie rock upstart Aaron Spencer
With his unique marriage of Strokes-esque riffs and northern, working class, indie rock charm, Aaron Spencer has carved out a niche for himself with his debut single 'Sticky Dancefloor. The track is a rousing throwback to the guitar-rock bands that dominated the 2000s, and with its candid lyrics and catchy sensibilities, the track sets the artist a fine platform to build off with future releases.
Following spells with bands that have proved fruitless over the last few years, Aaron Spencer made the decision to go it alone, crafting his own sound and telling his own stories. With his debut single in the rear-view and a potentially fruitful and exciting career ahead of him, we had a chat with the Cumbria native to find out a little more about him.
Who TF is Aaron Spencer?
I am a Singer-Songwriter from Whitehaven, Cumbria.
How long have you been making music?
I have been writing songs for nearly 7 years but I have only just started making music in the form of a shared product with the world. I have gone through frustrating cycles of starting bands for the projects just to collapse before they get going. A year ago I decided life was too short to just write songs for them to never leave my bedroom.
I started out by playing open mics, over the course of a year it led to paid gigs and people really getting behind what I do, to finally recording my debut single. Feels like it all happened fast really. At the end of 2019 I had a real sense of wow did that just happen.
Why do you make music?
I mainly do it for enjoyment. But I also write songs out of necessity really, it's something I discovered accidentally and then writing lyrics thereafter became a way for me to process things and even sometimes articulate something my consciousness cannot.
I also love the experience of being in a room with people sharing my music, knowing that people relate to it. I think that has become my main driver to write and record more.
What are your biggest influences?
I remember seeing Courteeners for the first time at Manchester Arena in 2013. It blew my mind that you'd never hear them in mainstream media yet there was an arena full of dedicated fans singing every word back like it meant everything. From that point onwards I saw being in a band / making music as the ultimate thing I could do in life. It was a defining moment because I felt like I could do what they could do, I obviously couldn't as they unbelievable at what they do, but I guess I felt like I identified with them. Liam Fray's Northern vocals and lyrics felt like something I could do as I could relate.
What would you say has been your best moment so far?
Definitely the release day of my debut single. I really enjoyed the recording process at Oscillate Recordings, seeing the song come to life during production was a proud moment, but the release day topped it.
The single got released and my phone was going mad for a few days, messages from friends, family and even people I didn't really know. It didn't feel real. The day of the release I had a single launch gig at The Yellow Earl in Whitehaven and I was really shocked at how many people came down. A lot of the audience had seen me at previous gigs, but it was also the first time in seeing me live for everyone else. Majority of people were singing the lyrics back and the song had only been out a few hours. That is a feeling I can't really put into words.
How would you describe your sound to somebody unfamiliar with it?
Big guitar sound influenced by bands like The Strokes and Arctic Monkeys. I guess I've always been drawn to that big indie-rock sound that people can lose it to at gigs. I also try to tell a intriguing story with the lyrics inspired by personal experience, the people around me and where I come from.
What would be your dream "I've made it" moment?
The ultimate would be to play a headline slot at a festival or to play a big headline show. That said, everything that has happened up till now has felt like my own little "I've made it". Probably reflects on my personality, although I do think big and have ambition, I tend to focus on small achievable goals.
We love your debut single 'Sticky Dancefloor', what was the process of putting it together like?
Nice one! The lyrics came about after a night out in Manchester's infamous 42s nightclub when I was 18. It's a story about going out when your world is a bit upside down, meeting someone and during that momentary release all the weight on your shoulders lifts away. I wrote the song the following day sat on the end of my bed. Lyrics flooded out and within 30 minutes I had written my first song.
Since that time, as I previously mentioned I tried to start bands for them to just fall apart before we reached a point where we would record, so Sticky Dancefloor has just been sat there written almost 7 years ago.
In 2019 when I decided to go solo, I was gigging acoustically but I still wanted that full band sound for when I released music. I had met local musicians through open mic nights and they were up for coming together to make the single. We had one practice and by the end we had a demo to send to the producer Chris Hughes. There was a couple of tweaks / things to consider prior to production, I guess what they call 'trimming the fat'. Sticky Dancefloor has a quirky vibe and during the recording process we tried to amplify that as much as possible the through interesting individual instrumentals. From the angular rhythm of the guitar and drums to the cool bassline and melodic nature of the lead, I'm really proud of the of what we produced collectively.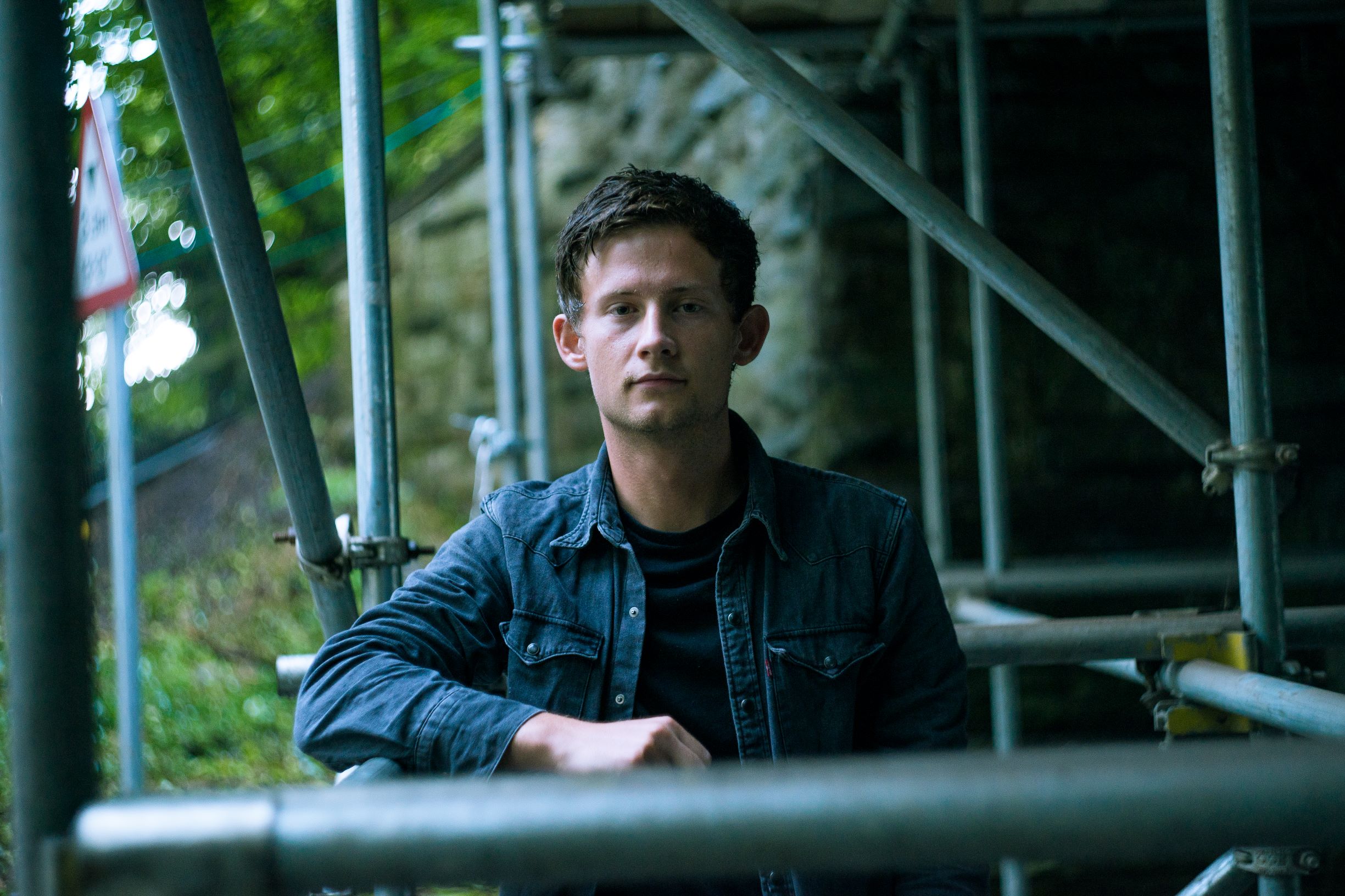 The lyrics are highly influenced by the North West of England and more particularly some of the places and people in that area, what is it about it that you feel gravitates you to it so much?
I think as a songwriter I find it easy to just take inspiration from the things I see on a daily basis. I'm a big fan of writers who hold up a mirror to the lives of people. There's something authentic about it, I think it tells an interesting story. I'm a fan of social poets like John Cooper Clarke, Tony Walsh and Mike Garry as well as lyricists like Jarvis Cocker and Morrissey. They use the language people like me use and there's references to everyday working class life.
What plans do you have for 2020?
I plan to really drive things forward on the gig front, would like to play some gigs in cities. Feel like it would be a good test and experience. Manchester and Liverpool are full of iconic venues I'd love to gig, maybe even London. I'd like to play some festivals in the summer too. I plan to record another single, maybe two singles before the year is out. Then after that I'd like to record an EP or album.
And finally, who is your biggest fan right now?
Probably my sister, she knows all the words to every song and has been incredibly supportive since the start. That said, there is a group of people from the local open mic scene that have really got behind my music too. It's all appreciated. I'm excited to see how far / big it can grow.
Sticky Dancefloor is available now