We had a chat with emerging dark-pop talent Aurelia following two captivating initial releases
With just a handful of releases to her name, Aurelia and her dark, atmospheric brand of alternative pop have been rapidly capturing the attention of audiences and tastemakers, with many lauding the New York-born producer, vocalist and visual artist as one of the most exciting emerging talents in recent memory.
Between the releases of 'Wax' and her enormous, CLOUT-lauded 'Sinister Things', Aurelia has crafted herself a thoroughly unique sound, build on thick bass, dark, trap elements, and her signature, impossibly powerful vocals. We are huge, huge fans of Aurelia, and the effortlessly cool, cutting edge nature of her sound. We felt that we had to have a chat with the exciting artist and find out some more about the creative vision of the artist and her journey to get to where she is now.
Who TF is Aurelia?
Way too many things!! Aurelia is like a pasta dish FULL of ingredients! I am a music producer, obviously, and a singer, but I'm also a photographer who does all their own visuals, a VERY chaotic queer, and an extremely supportive Italian-Lebanese Gothfather. Aurelia is a mental health advocate and SA survivor who is simultaneously a mess and a mechanism for strength. Aurelia is a cheese lover, and a light chaser. An idiot in eyeliner, who collects tea kettles.
How long have you been making music?
I took a few voice lessons as a kid, but only studied opera due to the cultural significance in my family. I only started producing in late 2019, and have been making music as much as I can ever since.
Why do you make music?
To be honest, it's what I'm supposed to be doing. Up until I began this project, I had lived so much of my life for everyone else around me. Music allowed me to explore what I *really* wanted out of myself, and helped me expand my identity and think critically about my culture, family, and relationships. It also gave me so much joy! There's nothing else I'd rather be doing.
What are your biggest influences?
Oh man, what a list. As I said, I grew up with opera and classical music, as well as Arabic music from my stepdad. But I also would become so INVESTED in albums and would show up once a week to my local library to get a new CD (just based on the cover art, disregarding genre) to learn and listen to. Destiny's Child "The Writing's On the Wall" changed my LIFE, as did Micheal Jackson's "Off the Wall". Finally, I discovered electronic music on SoundCloud in 2016, and I have never been the same since. That's where I found some of my real heroes, some of whom I am lucky enough to now call friends, namely MOTHICA, Icarus Moth, MEMBA, MADI, and more. James Blake and Sevdaliza are also up there, though I don't know them personally, as well as FKA Twigs, Timbaland, Mr. Carmack, and Electric Mantis.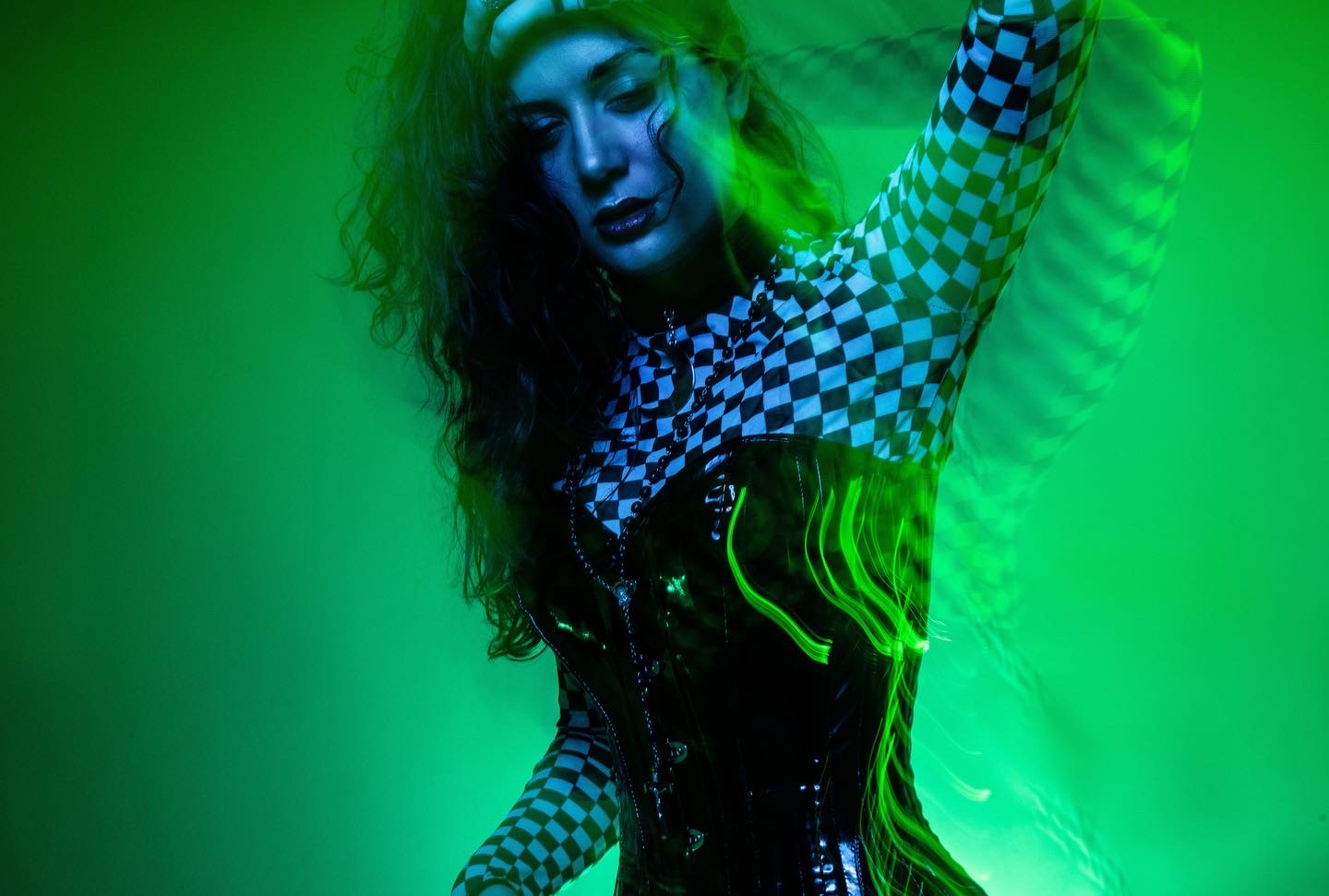 What would you say has been your best moment so far?
Oh, I have a lot to choose from here, but one that sticks out is the fantastic way some of my listeners (I have a weird thing with saying 'fans' since I'm such a small act rn) have caught onto the fact that I love ducks (they just bring joy) and eat a lot of cheese. So I've received a bunch of packages from them as of late that consist of cheese-themed cards, cheese earrings, and my FAVORITE: someone who hand-embroidered me a beautiful needlepoint of a duck with my NAME. It was AMAZING, I have it on display in my living room! I always send a package back and a thank you note, too,  but it's times like those where I feel like I've really shared a moment with someone, and I'm extremely grateful for the community we've started to make.
How would you describe your sound to somebody unfamiliar with it?
It was described to me once as "panic porn", and I haven't gotten over that since.
What's your dream "I've made it" moment?
Having a song of mine sung back to me at a show, word for word. Like a whole room of people who felt a song so much that they took the time to learn the words, so we could all share them together. I am trying to make catchier/more empowering music now for this exact reason.
We love your new single 'Sinister Things', what more can you tell us about it?
Thank you so much! It's been an absolute JOURNEY getting this out, so I'm just grateful it's time. I wrote this in 2020 so a lot has changed since then, and I think I learned a lot from producing it, as I do each time as I'm still so new to the process. Production for me takes a lot longer than it does for other producers, but this was a production I was really proud of. I also really like that I was able to integrate my operatic sound into the backing vocals, which you can hear most clearly in the first verse. I also fell in love with Kontact during the writing of this, she is my new everything, along with the usual Izotope Trash 2 I put on every single track.
What else do you have planned for the near future?
A show in NYC this winter, and a few more releases that are more upbeat, which I'm beyond excited for. I was running merch on a tour recently and realized how much I wanted people to DANCE at my shows, so I'm working on that right now!
And finally, who is your biggest fan right now?
I love this question, because someone else's support is such a special thing to have, and for me felt rare much of my life. I recently realized how that support can really shape your worldview, too. I would say my partner, Icarus Moth, who is always teaching me new music production techniques because he really believes in my project and its direction. If not him, I would say one of my best friends, McKenzie, who also goes by the artist name MOTHICA. She's one of the kindest people I know, is always asking about my project and my ideas, and is always so supportive and excited. I am a big fan of hers too, as I mentioned her 2016 EP Heavy Heart was one of the greatest pieces of music I'd heard up until that point, and it's amazing to share my excitement with someone so genuine and so knowledgeable, a true creative genius, if I may add.
If I didn't have these 2 amazing people in my life, I don't know where I'd be, because they have truly inspired me to be the best version of myself. Corny, I know, but I earnestly believe that. Also wild that the two people I treasure most are literal insects, go figure.