We found out some more about emerging indie rock outfit Band of the Year following the release of their cutting new single 'Money Talks'
At CLOUT, if there is one thing that we love in our music, it is something that articulates our thoughts and feelings in a way that feels both engaging, cathartic and cutting. Band of the Year are an outfit with a knack for doing just that since their 2021 emergence, now with six releases to their name as they continue to establish their distinctive brand of hardened indie rock.
Look no further than their new single 'Money Talks', a scathing response to the Bezos' and Musks of the world and the detrimental effect that their greed is having on the world. The track is everything that you would want from a track of that ilk, punk-edged, melodic, fun, incisive, bluntly honest. The track is everything that makes Band of the Year and their infectious sound feel so special, with their winning blend of serious lyrics and fun delivery making for a multi-faceted riot. We had a chat with the band to find out some more about the new release and the people behind it. ("01001000 01101001 to all our bot fans!" is probably one of the funniest things anyone has said in this interview feature also.)
Who TF are Band of the Year?
Band of the Year are full-time friends and part-time time-travellers Ben K Adams and Lewis George.
How long have you been making music?
We originally demoed songs for Band of the Year way back in 2017. A dastardly criminal with great music taste broke into our car and stole the hard drive containing the only copies of our first set of tunes. If you happen to be said thief – congratulations!
In earnest, we've been working on this project since the start of the pandemic. When we started, Ben was in the UK and Lewis in New Zealand. Now we're in the same hemisphere, we're taking it up a notch!
Why do you make music?
Honestly, mostly for our own entertainment. Our music is intended to make people dance, laugh, and think. If you do all these things at once, you're bound to attract some attention!
What are your biggest influences?
Our influences are pretty broad. Musically, lots of indie and punk rock bands from the early 2000s to now. In terms of lyrical content, basically turning on the news for 5 seconds makes us angry enough to write something!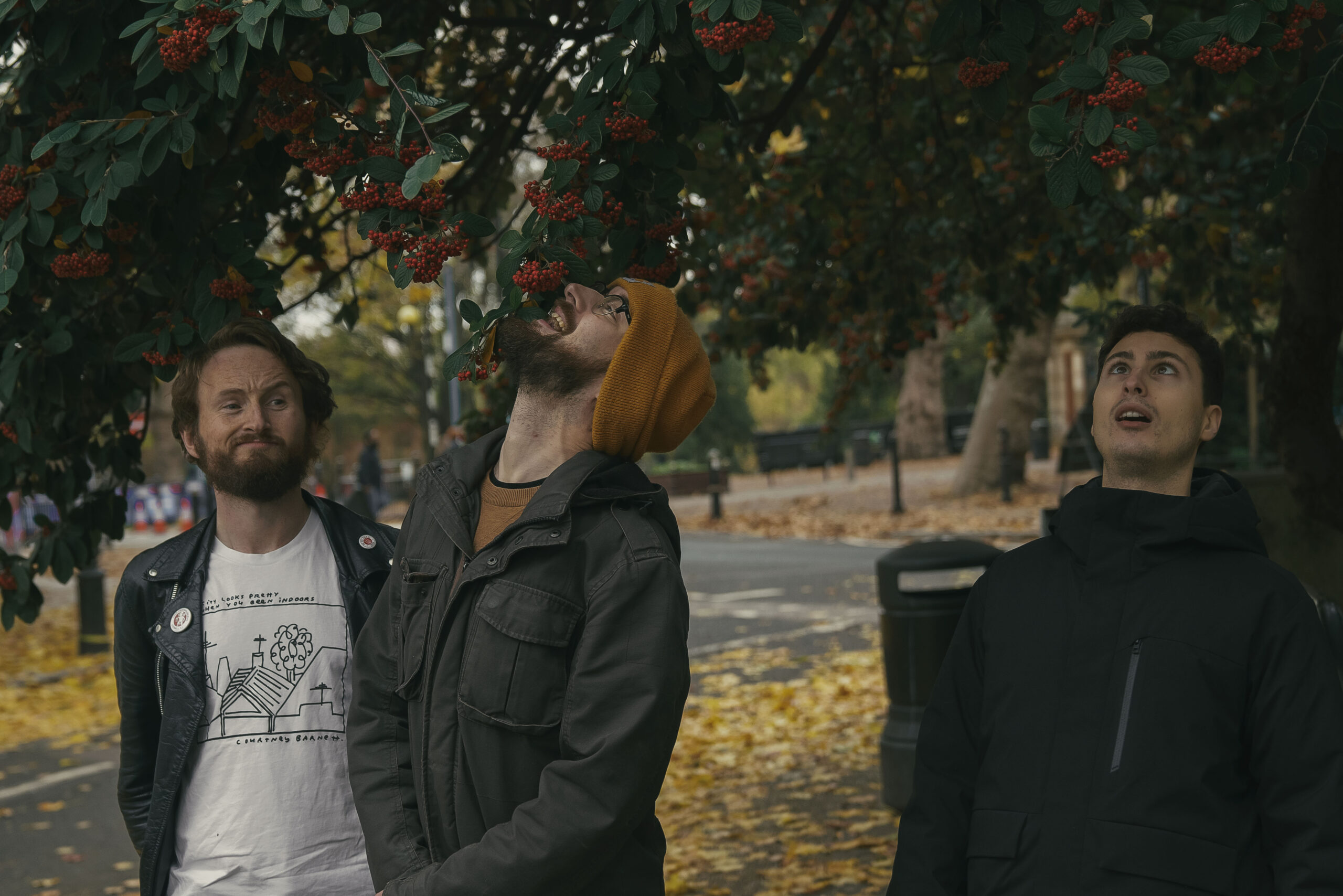 What would you say has been your best moment so far?
We get a lot of joy out of people's reaction to our songs and music videos. Making weird art is something that we pride ourselves in. So far our videos have included Ben surrounded by manakins, guitars that light up when a note is played, Lewis as a multi-billionaire banker, and a literal mug as the main character. Any time anyone laughs or cries due to these things, it's great.
How would you describe your sound to somebody unfamiliar with it?
Somewhere between Sports Team, Franz Ferdinand, The Hives, and Art Brut.
What's your dream "I've made it" moment?
We will not rest until Beyoncé has a "Band of the Year" tattoo.
We love your new single 'Money Talks', what more can you tell us about it?
"Money Talks" is a song about billionaires playing around with new yachts, social media behemoths, and literally going to space on holiday whilst the rest of us struggle to heat our homes. Obviously serious content but you have our word that it's also a fun jam.
In terms of the recording, we've got an EP to follow that we put together in a day, with the help of our good friend Jonny Brister who came into drum for us at outrageously short notice. Our usual drummer, Leo Mollon had unfortunately injured himself the night before so we messaged JB at 4am and he agreed to the session. He utterly smashed it too!
What else do you have planned for the near future?
We're building up to our first London gig. It's a slightly complicated scenario as we don't have enough hands to make the sounds on the record, but we'll figure it out.
And finally, who is your biggest fan right now?
It's a hot competition. Our Instagram has recently become a hotbed for catfishing spambots so probably one of them. 01001000 01101001 to all our bot fans!