We had a chat with London-based multidisciplinary artist Charo Galura following the release of the empowering 'A Woman Like Me'
Having grown up feeling marginalised as part of a conservative Filipino family, Charo Galura is an artist that has sought to channel her experiences and emotions into her sound, making for a sound that feels both harrowingly real, and immersively distinctive and unique.
This is articulated perfectly on the artist's latest single 'A Woman Like Me', a track about self-expression, being empowered and free, and knowing exactly what your worth is. The artist has done this by crafting a sound and style that feels entirely her own, and quite unlike anything that has came before it, forging her own path through a sound that feels rich in culture and nuance, that rallies against systems of oppression and anyone that tries to stifle or clip the wings of others. Chara boasts creativity and guile in abundance, and with her exciting appeal and endlessly interesting pool of experiences and hardships, we figured that we'd love to give her a platform to continue to express herself and showcase what she is about.
Who TF is Charo Galura?
Good question! In short, I am a multi-disciplinary artist, with the main focus on music as a singer, songwriter and producer, and I am also a filmmaker / music video director.
But I am also a photographer, creative director, a model and art performer.
I'm a creatively hungry and curious being, a cat lover, a vegan foodie, a movie and art lover.
I love snakes, but I'm freaking scared of pigeons.
How long have you been making music?
I was always singing as a child, and at the age of 9 I started writing songs, sad love songs, even if I knew nothing about love haha. I remember I used to go to my English teacher to check if the grammar of the lyrics was correct (I'm Italian).
Growing up, I joined some local blues bands as a singer, but the loveliest memories are with other personal projects, mainly electro-pop, where I was a singer and a writer too.
Although it wasn't until 2016 that I decided to publicly perform my original songs. So I signed to a well-known indie contest in Italy, performed my songs and surprisingly found myself in the semi-finals and later being awarded a grant to record my debut EP 'Life Through Apocalypse'.
Why do you make music?
I grew up feeling different and inadequate. I come from a very conservative Filipino family and I was born and grew up in Italy, so what I experienced was cultural clash and prejudice, and eventually, a broken relationship with my mother. I felt mostly lonely, and because most people around me would think that I was nothing, an ugly little creature with silly dreams of becoming an artist, I've always fought for self-affirmation. There were also times I hated myself but in music I found a safe space and a way to self-expression, allowing me to navigate thoughts I wouldn't otherwise explore.
What are your biggest influences?
I've been inspired by lots of different styles of music. I grew up in a very musical family, surrounded by '50s rock 'n' roll, jazz and swing most of the times, and usually on Sundays I would get up early in the morning as my parents would take their vinyls and play them for hours, in a very Filipino fashion way.
When I was a girl, I was obsessed with Stevie Wonder and I would listen to Christina Aguilera's album 'Back to Basics' on repeat. Then, I fell in love with The Doors and Nina Simone, they're respectively my favourite band and singer. Then I discovered blues, I love Howlin' Wolf, Lightnin' Hopkins and JB Lenoir! My favourite album is probably progressive rock, 'In the Court of the Crimson Kind' by King Crimson, but I also love Robert Wyatt's 'Rock Bottom'. Speaking of more recent records and artists, I would say that I am very inspired by the likes of Gorillaz and Kimbra, they would be my dream collab!
I could go on forever with the list, I have so many artists and bands that inspired me, but let's just stop here haha
But just one mention to David Lynch, certainly one of my greatest influences: he is mainly known as a filmmaker, but he's also a painter and made some fabulous music with the late Angelo Badalamenti. We live in a world where everything needs to have a clear label, for example I've been told many times that I should not mix music with filmmaking, performance art or modelling, and it felt frustrating at the beginning, but Lynch was a great inspiration in demonstrating how one art form informs and can shape the other.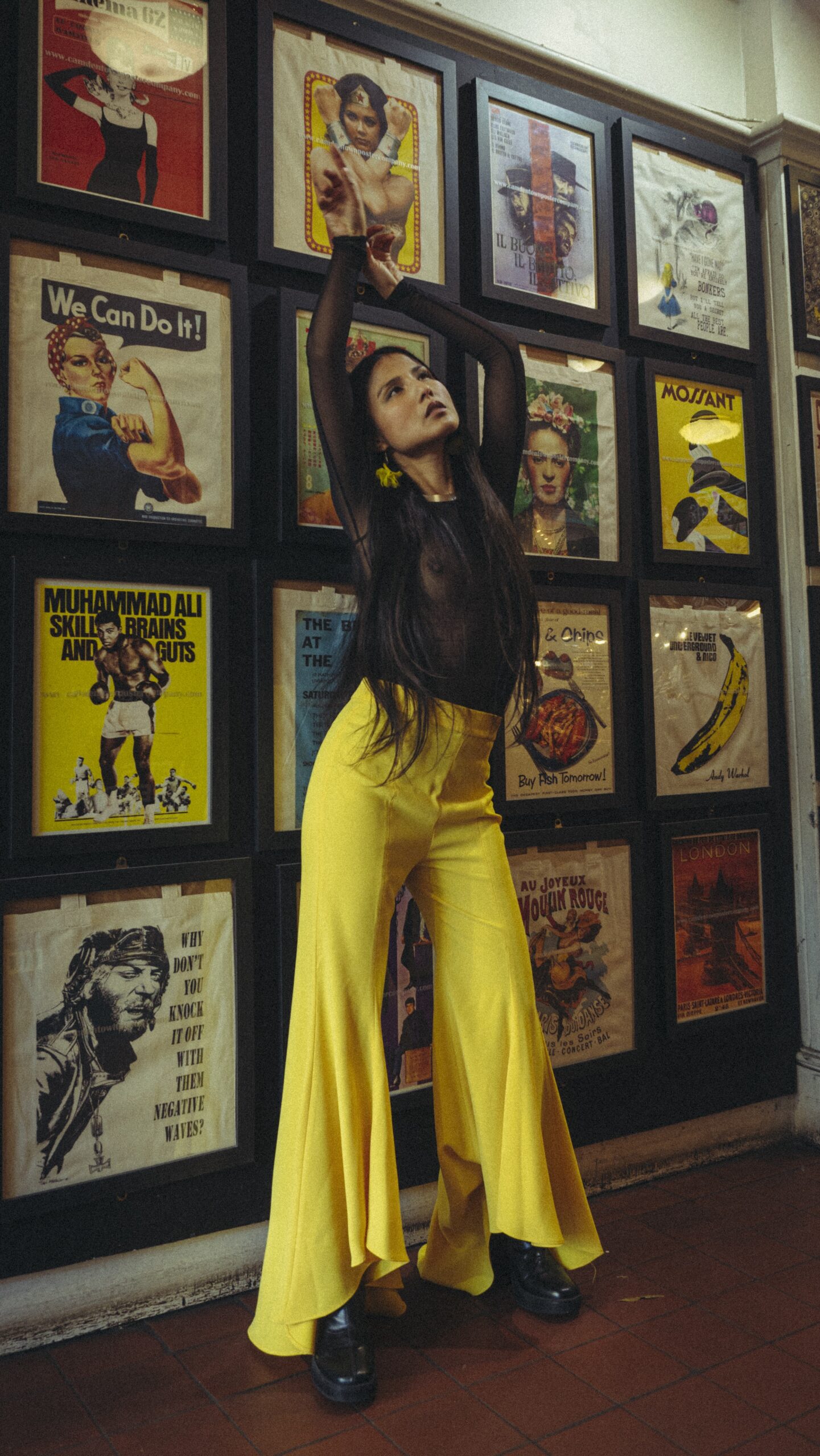 What would you say has been your best moment so far?
It makes me incredibly happy when someone sings my songs, it's simply just a great feeling to know that you've reached someone in some way. Another lovely thing that some of my followers do, is sending me news, updates and fun facts on David Lynch.. such a nice thing that they caught that he's one of my inspirations!
How would you describe your sound?
Dreamy, ethereal, hypnotic, mysterious, cinematic, but also wild, dangerous, groovy and quirky.
My music is made of intricate and contrasting sounds, and it's evolving while I'm experimenting more and more with the production (I can't wait for you to hear my upcoming tunes!)
Also, I've been previously compared to the likes of Kate Bush, Bjork, Grace Jones and Lykke Li, so I'd say that I would be the lovechild of Grace Jones and Kate Bush, meeting Lykke Li in the Gorillaz world. Hope it makes sense? Haha
What's your dream 'I've made it' moment?
I've got quite a few! Having a whole crowd singing all lyrics back at me, playing a major festival, touring as a headliner and have a dream collab coming true (I'd love to work with Damon Albarn)
We love your new single, what more can you tell us about it?
Thank you! I wrote 'A Woman Like Me' about 3 years ago out of anger, thinking about how many times I've been underappreciated and underestimated, because of my gender and ethnicity. So this song is a sort of manifesto of self-empowerment and knowing your worth. Being a woman is a unique power that can lead to great achievements, and by this I don't mean to undervalue men, we just have another kind of strength. As women for example, we have the gift of spreading love as loving and caring creatures, who will give birth and shape the men and women of the future. Or choosing to channel anger into something good, rather than be destructive. And shaping chaos into order.
What do you have planned for the near future?
I am currently working and planning on releasing an audio-visual EP. So there's so much new music and visuals coming up!
And finally, who is your biggest fan right now?
Probably my partner! He's always been very supportive and was the first one who believed in me. He's also a great musician, who understands the hurdles of the industry, so having his support means a lot.