Ahead of the release of her brand new single 'Helping Hand', we dove into the mind of emerging Midlands singer-songwriter Chloe Mogg
Though her tireless work-rate and knack for crafting memorable and captivating tunes that span a wide range of genres and styles, Chloe Mogg is an artist who has been carving out a name for herself in the Midlands music scene.
With a sound that incorporates elements from genres such as grunge, alternative rock, trip-hop, psychedelic rock, folk, and others, Chloe has honed in on a sound that feels fresh, modern and decisively her own.
Following up on March's 'Judgment Day', the artist is set to release her second single of 2020 tomorrow, entitled 'Helping Hand'. We figured that this made for a perfect excuse to quiz Chloe with some questions about herself and her music, and find out a little more about the artist and her art.
Who TF is Chloe Mogg?
Singer-songwriter, music journalist, yoga lover, rainbow haired over thinker, and oh! I like parrots!
How long have you been making music?
I've been writing songs since I was about 15, I've been releasing music since 2016. I was always into literature and journalism at school. I fell unwell with CFS at school, and had to take a year out. During that year, I found my true love for music, and have been writing ever since.
Why do you make music?
It's the only thing I know how to do. It's the one form of art that I can stay completely true to myself no matter what subject. I believe that music has the power to heal scars, it has done mine anyway.
What are your biggest influences?
My biggest influence probably has to be the world and colours. My biggest musical influences though? Nick Harper, Jeff Buckley, Alanis Morissette, Chris Cornell and my dad to name a few.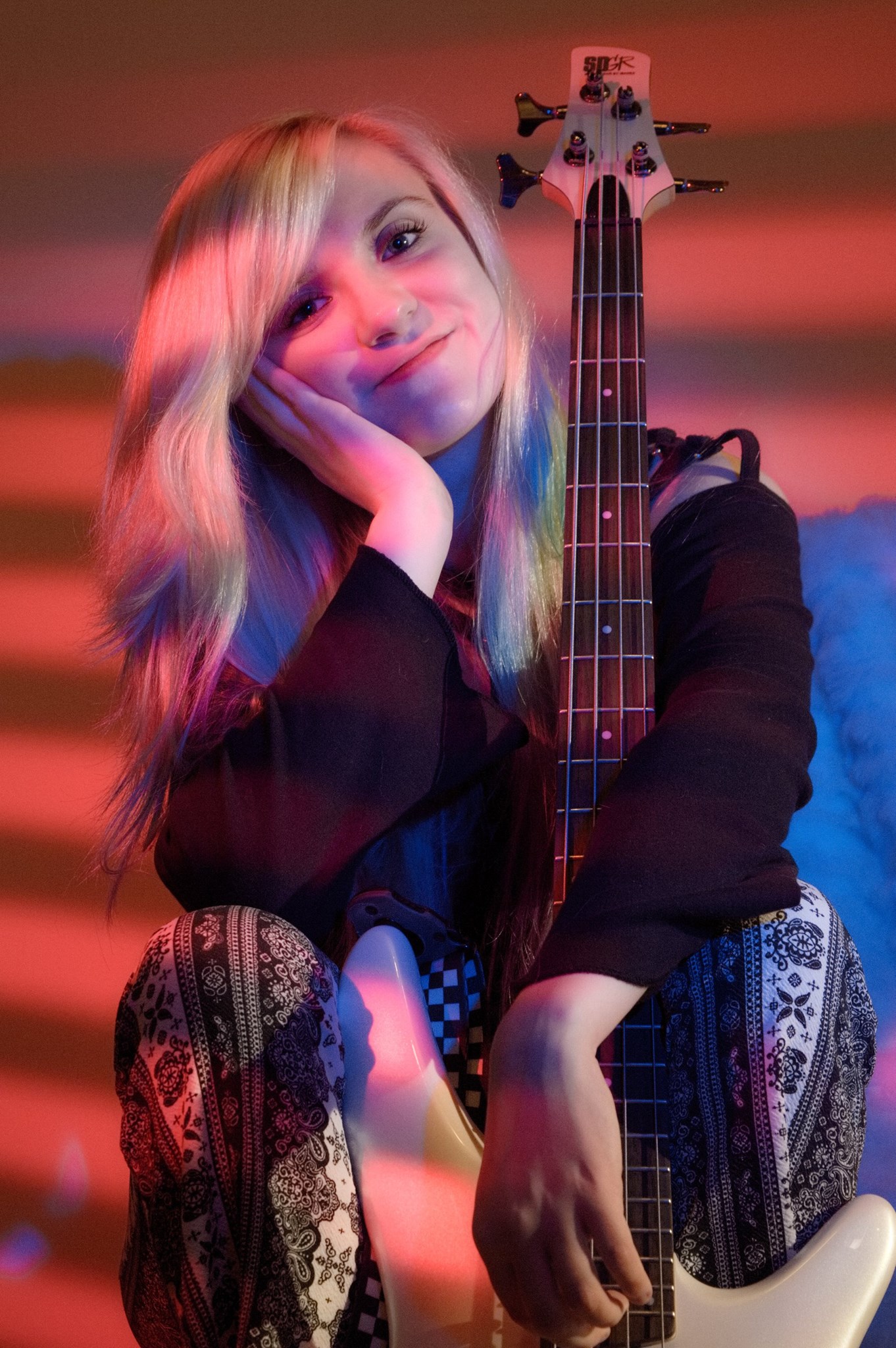 What would you say has been your best moment so far?
That's a tough one. It'll have to be either supporting my idol Nick Harper or my track 'Zap' off my EP 'Thalamus' being played on BBC 6 Music. I haven't come down from cloud 9 yet haha.
How would you describe your sound to someone unfamiliar with it?
My sound is probably best described as alternative folk grunge trip-hop. There's fragrances of psychedelia and rock too, but my lyrics are always the same throughout. Personal and always honest, I want people to feel something when they hear my tracks.
What's your dream "I've made it" moment?
I think releasing my debut album will be a 'I've made it' moment for sure, but another one, and this one has always been a dream… performing on Later… With Jools Holland.
Your new track 'Helping Hand' is set for release tomorrow, could you tell us some more about it?
It's a psychedelic track that tells the tale of the world coming together to care for the planet and one another. "Helping Hand' is an acid-jazz meets trip-hop/psych-grunge track (it's hard for me to categorise this one!) featuring Mirron Webb (Hey Jester) on Bass and Jack Bowles (Thomas Atlas) on drums. In a time where the world is hurting, I feel this song is as relevant as ever.
How do you feel like the midlands and its music scene has impacted you and your sound?
I'm super proud to come from the West Midlands (Worcestershire to be exact) and think that the music scene is so underrated. Some of my favourite acts on the scene that you should check out are Hey Jester, Alex Ohm, MeMe Detroit, Redwood and Jessie Reid to name a few. I think the music scene has impacted me and my sound by always sticking to my roots. Every Midlands act I've ever come across is staying true to themselves. The scene is distinctive and one of the best in the country, and I'm honoured to be able to call it home.
And finally, who is your biggest fan right now?
That's a hard question! Aaahhh, probably my parents and my neighbours. They come to EVERY gig.