We had a chat with UK post-punk contenders Cucamaras following the release of their emphatic new single 'Death Of The Social'
As of right now there is an exciting new wave of indie rock and post-punk bands emerging in the UK and making up a scene that feels as creative and exciting as it has in recent memory. Nottingham's Cucamaras are rapidly establishing themselves as the heavyweights in the scene that their growing fan-base sees them as, with new single 'Death Of The Social, providing more of the sharp-edged assault that the outfit are becoming acclaimed for.
We caught up with the outfit to find out a bit more about Cucamaras and the exciting plans that one of the UKs most exciting rising acts have going forward.
Who TF are Cucamaras?
Four fellas with disappointed parents; Josh, Olly, Dan (Lurky) and Joe.
How long have you been making music?
Around the two year mark.
Why do you make music?
Josh: Personally, when I started making music, when I was about 15, I made music that I thought people might like so that my band might actually have more than two people at a show if I showed people at college a new demo. But, and I hate to sound cliche, since our early tracks, which I look back on as a bit soul-less now, and certainly over the last year or so I've started to make music that reflects how I feel a lot more. Nowadays, Olly writes a lot of the lyrics to the melodies I write and I've found tackling how I feel with melodies to be insanely therapeutic at times. The stuff me and Olly write for the band has got me through some pretty dark days, as well as signifying some really happy times in my life too.
Olly: For me, a lot of it is either things I've seen that prick my interest or just a feeling that I have to say something. Sometimes lyrics might seem empty on the surface but nothing ever means nothings, I think I've always enjoyed that in songs.
What are your biggest influences?
Josh: I'd say our biggest influences at the moment are just bands around us that are nailing it and pushing us to be better in our own way.
Olly: Like Do Nothing and Yard Act right now, they're doing their own thing and it sounds great.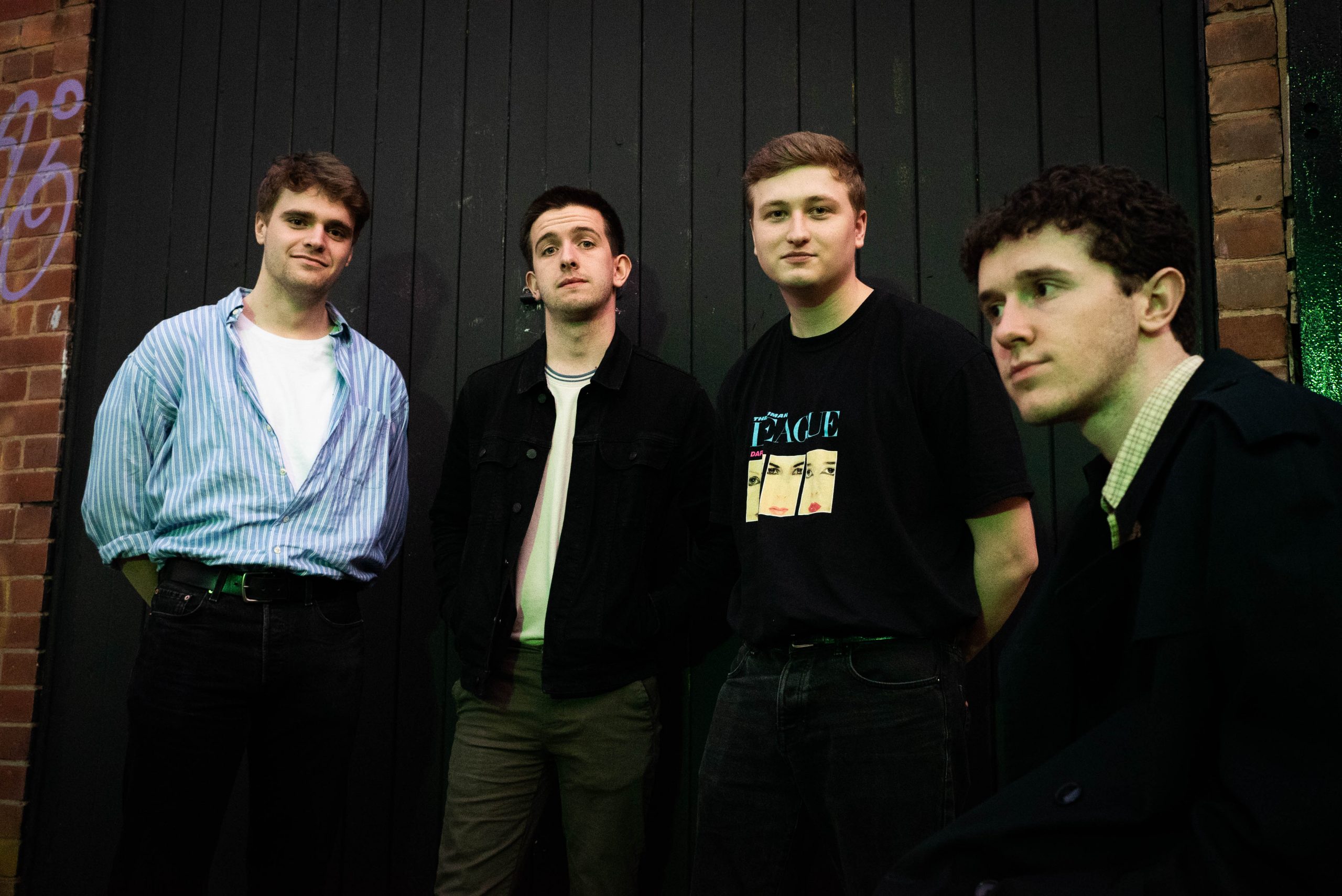 What would you say has been your best moment so far?
Josh: As a unit, I think it could maybe be our set at Rough Trade for Beat The Streets Festival last January, we were a bit shook by how packed the show was and we nailed the set. Dan had only recently joined the band and, maybe for the first time, it felt like we'd finally worked out exactly what Cucamaras was and we felt utterly together as a group and we have since.
How would you describe your sound to somebody unfamiliar with it?
Josh: I think we're some sort of bridge between indie, garage rock and post-punk, the new stuff is more post-punk than anything though I'd say.
Olly: Yeah I'd say post-punky, sometimes lo-fi, sometimes big.
What's your dream "I've made it" moment?
Josh: I think, as guys from Nottingham, to headline a packed show at Rock City would be a dream.
Olly: To play all the European festivals that no ones ever heard of and no one knows how to get on. It'd be nice if people knew our tracks over there.
We love your new single 'Death Of The Social', how would you describe it for people who haven't heard it yet?
Josh: It's a bit of a racket.
Olly: A song with our most simple structure yet, but the overall franticness makes you forget that.
What else do Cucamaras have planned for 2021?
Josh: We're busy sorting a load of our biggest shows yet, our show at Bodega in Nottingham is the only one announced at the minute but we've got loads in the works. We'd love to gig in France again too but we're just waiting on COVID-y stuff to fuck off. As far as tracks go, we're going to release loads more this year and we can't wait to get it all out there.
And finally, who is your biggest fan right now?
;Josh: Annoyingly, right now it's us, because we're sat on a whole set's worth of tunes that nobody has heard yet, and we're convinced that it's by far our best stuff yet. Only time will tell if we're deluded.