We had a chat with unique UK duo Days Are Done to find out some more about them and their creative style.
UK alt-pop duo Days Are Done have spent the last few years establishing their personal and entirely affable sound, with their wide pool of influences and creativity making for a package that feels entirely their own.
The pair operate out of a tiny studio in their flat in Manchester, but maintain this polished and thoughtful sound that sees them sharing vocal duties in a way that feels natural, adding to the free-flowing nature of their sound. Latest single 'I've Tried' sees Emmy take center stage, and her powerful voice pairs effortlessly with the 80's-tinged pop-soul nature of the track. This ability to switch things up keeps things feeling fresh and creative, and makes for an interesting dynamic between the duo. We had a chat with Days Are Done to find out some more about their history and lofty ambitions for the future.
Who TF are Days are Done?
We're Emmy Kay – a singer/songwriter, actor and fashion genius from Blackpool and Adam Lewis – a singer/songwriter and BAFTA-winning film composer with Tourette's from South Wales and we're a duo based in Manchester.
How long have you been making music?
All our lives in one way or another. We started out doing more acoustic-y stuff about 5 years ago but the pandemic and everything that happened around it was a wake-up call and we realised that we weren't fully making the music we really wanted to make. So we burned it all down and re-emerged as the all-new Days Are Done.
Why do you make music?
We don't feel like it's a choice – it's more like music chooses us to make it rather than the other way around. I'm sure that sounds a bit pretentious but a bit of pretension never hurt anyone – or so we've been told. Also either way, it's true.
What are your biggest influences?
Musically everything from Hall & Oates and Michael McDonald to H.E.R and Anderson.Paak – and everything in between. We also take a lot of influence from other things – fashion, architecture, movies. We try and absorb as many vibes as we can from everything that's around us to build the weird world of Days Are Done.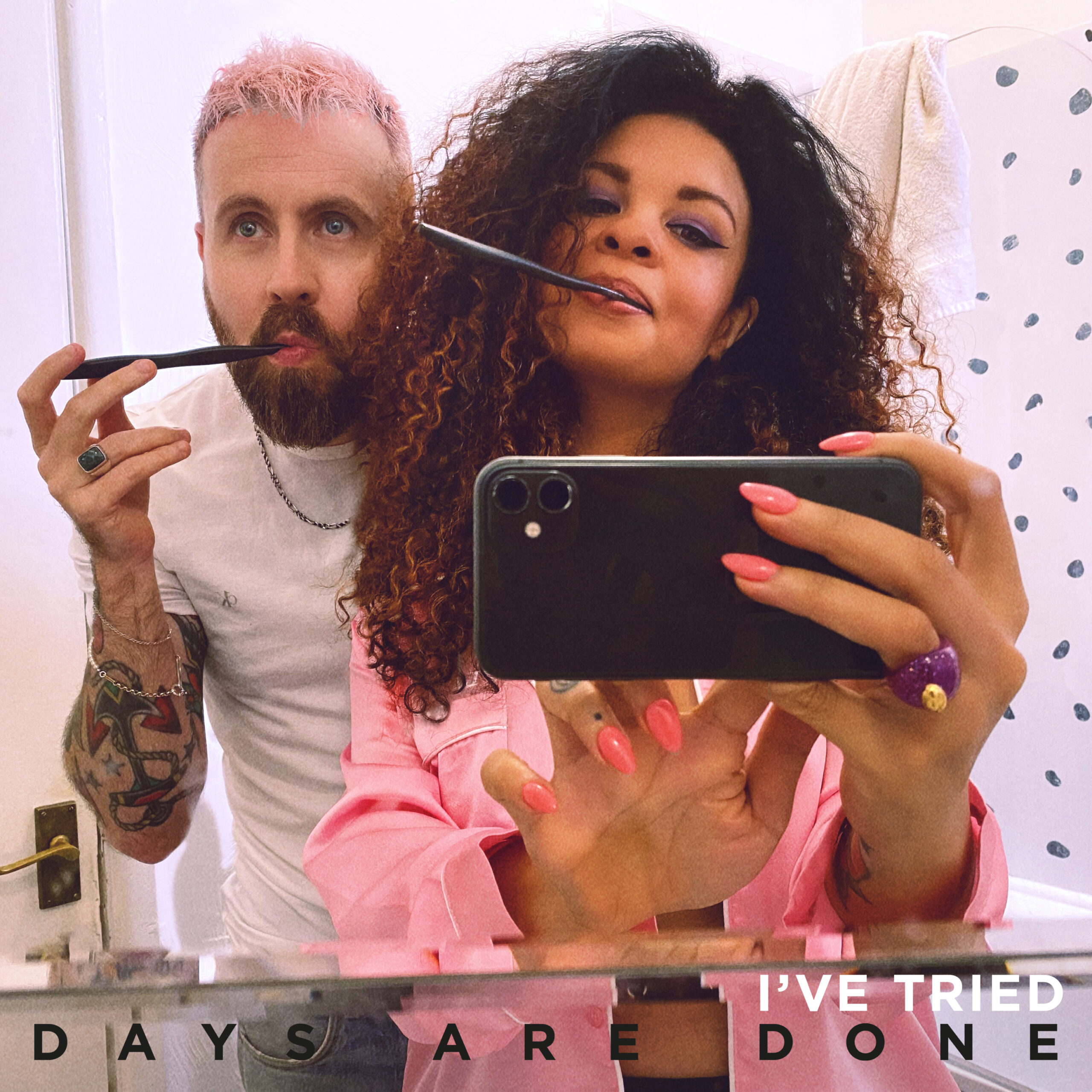 What would you say has been your best moment so far?
We've done a lot of things so far that ordinarily a band in our position shouldn't really be able to do. We've played live on BBC Radio 2, we were invited to Nashville to play live on WSM. We've played Glastonbury. We've supported Michael Kiwanuka on tour. We've written songs for a BBC 3 musical comedy and ended up with over 30 millions streams on TikTok of a piece we wrote for a video game. However, not much can beat the feeling of creating something, so every new song we make kinda becomes the best moment so far. Until the next one comes along!
How would you describe your sound to somebody unfamiliar with it?
It's soul-pop with an dusting of 80's gold.It's a John Hughes soundtrack for 2022. It's nostalgic but not throwback. It's Newstalgic.
What's your dream "I've made it" moment?
Adam- Getting the invite to Diddy's white party. Not even kidding.
Emmy- Yeah I'd love that. I also want to guest edit Vogue.
We love your new single 'I've Tried', what more can you tell us about it?
Remembering writing songs is often difficult for us! It started out kinda lounge-ey on a piano, but Emmy had a brainwave and by the end of the day it was basically what you hear now.
What else do you have planned for the near future?
All kinds of weird and wonderful shit – some that we know about and some we've not thought of yet. Writing, recording, we may do a launch gig early next year in Manchester too.
And finally, who is your biggest fan right now?
Adam- I was going to paste a photo of the vintage desk fan we have in our studio here but then thought better of it.