Following two moving debut releases, we had a chat with emerging indie-folk upstart ella ruby
With just two releases to her name, Seattle upstart ella ruby is well on the way to establishing her unique indie folk sound that has more of a hint of darkness to it. 'baths' and her new single 'last night' have done a really nice job of showcasing the distinctive personality and understated charm ella possesses that floods her sound, with the prospect of an upcoming debut EP promising to continue to flesh out the artist's engaging world.
From her thoughtful, invariably personal writing to the soft, tumbling guitars that permeate her work, there is a delicateness to her fragile sound that bravely carries the weight of her vulnerable and introspective lyrics. There is a gentle, shuffling beat that invariably keeps things ticking, and the artist does a really nice job of balancing her peaceful sound with the gravity of her thoughts and feelings. With the release of her second single 'last year', we figured that it would be the perfect time to get to know the artist a little better and find out about her journey.
Who TF is ella ruby?
I'm a singer-songwriter from Seattle, Washington. Happiest with my toes in the ocean or my hands in clay, grumpiest without my morning coffee or my alone time. My music revolves around themes of growing up, falling in and out of love, and the natural world (metaphors galore).
How long have you been making music?
I started writing songs about seven years ago (officially, not including my middle school heartbreak jams), but I've been singing my whole life. My dad's family is rooted in the folk scene in Omaha, Nebraska, so I grew up singing that sort of music and then branched out all over the place – musical theater, opera, pop, etc. – before coming back to folk.
Why do you make music?
I can't think of a more graceful way of describing it than that it's just what happens. Making music is when I'm at my most peaceful, my most honest, my most vulnerable and unashamed. When I'm writing a song, there's no pressure for me to feel anything other than what is at my core, to be anywhere other than where I am, and that is the most precious and delicate place for me.
What are your biggest influences?
Spiritually? Brandi Carlile all the way. Sonically, Billie Marten, Shannon Lay, Maya Hawke, Bedouine…the list goes on!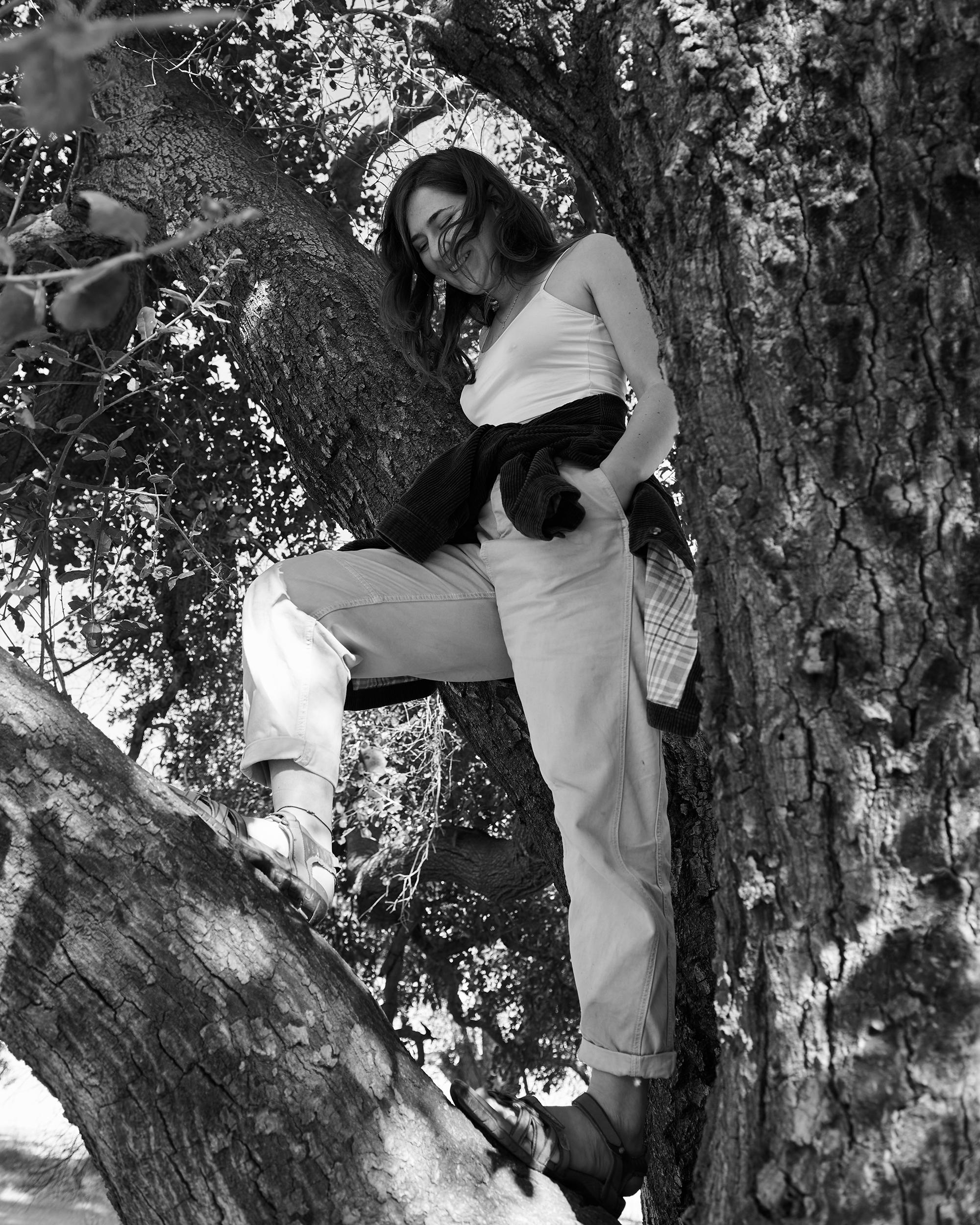 What would you say has been your best moment so far?
So hard to pick! But for now I'll say driving back from Idyllwild, where I recorded my EP with Jon O'Brien, Eric Cannata, Kevin Farzad, and Gal Musette. Windows down, sun setting, winding mountain road, so incredibly inspired by the experience and proud of myself for being brave enough to trust others with my words, my music, my deepest self.
How would you describe your sound to somebody unfamiliar with it?
Dreamy, meditative, introspective, bittersweet, deeply emotive. All the lyrical emphasis of traditional folk with a little experimental twist.
What's your dream "I've made it" moment?
Sitting in a cozy little living room with my sister and my friends, playing guitar and drinking tea. Ideally on a beautiful piece of land in the Pacific Northwest that also has a ceramics studio onsite. A girl can dream.
We love your new single 'last year', what more can you tell us about it?
Thank you!! I'm so excited to have this song out in the world – it's super different from a lot of the other songs I've written, and in that way it feels all the more special to me. It's about the frustration of trying to get over someone, with all the contradictions that come along with that.
What else do you have planned for the near future?
My EP release! TBD on the exact release date but it'll be sometime late this summer 🙂 The EP as a whole traverses a landscape of growing up, the way our relationships with ourselves and others shift, a coming to terms with the passage of time and an exploration of what it means to fall in love (in the broadest meaning of the phrase). I can't wait for you to hear it!
And finally, who is your biggest fan right now?
Oh man, all of my friends and family. But I'll make a special shout-out here to my dear friend Ben. He was the first person I shared most of these songs with – March 2020 at the beginning of the pandemic  we were both unexpectedly sent back home from our respective colleges, and we spent a lot of time socially distant at our favorite spot in Seattle, playing guitar and talking and reflecting. Though that period of time was incredibly intense, confusing, and dare I say ~unprecedented~, my time with him is what made the biggest impact on my decision to pursue music more deeply.