As they release part two of their new album Absence, we got better acquainted with Finnish alt-pop trio feelswithcaps
With the release of Absence, Pt. 1 in 2009, Finnish alt-pop trio feelswithcaps showed that the act are continuing to develop and hone their melancholy and melodic sound, providing some of the most nuanced and thought-provoking work from their tenure as an act so far.
Fast-forward to May 29th 2020 and the second part of the album has been released. with colossally absorbing and memorable tracks such as 'Big Things' and 'Bits & Pieces' sure to become staples of their sound and live shows. Following this release and the long-awaited completion of what is now their latest LP Absence, we caught up with feelswithcaps and found out a little more about the album and the bands journey so far.
Who TF are feelswithcaps?
We're an electro/alt/indie pop band from Helsinki, Finland. There's three of us: Sofi, Mikael and Aleksi. 
How long have you been making music?
We first started the band already back around 2013, but it was a slow start with years spent abroad etc. At first we had a guy called Jooel playing drums and producing. 2016-2017 was a time for transition, Aleksi joined the band and we regrouped as feelswithcaps, starting to create our new sound.
Why do you make music?
I'm speaking for myself when I say that it's one of the most exciting things you can do. As well as challenging, healing and fulfilling. And I guess we're still together as a band 'cause we enjoy making music together and it's always a lot of fun when we're at the studio or touring. And we're proud of what we make together!
What are your biggest influences?
Hmm, we just confirmed in our WhatsApp group that we all really like the latest Four Tet album (me, I passionately love it). We're all into James Blake. What else… We all have quite different musical backgrounds so it's not always easy to find mutual favourites. Me and Aleksi are big fans of Robyn and her latest album Honey, we also saw her play at Flow Festival last year. Mikael has a lot of jazz in his life, Aleksi techno. As well as all sorts of electronic and pop stuff, I just really enjoy quality songwriting, and love Paul Simon for example.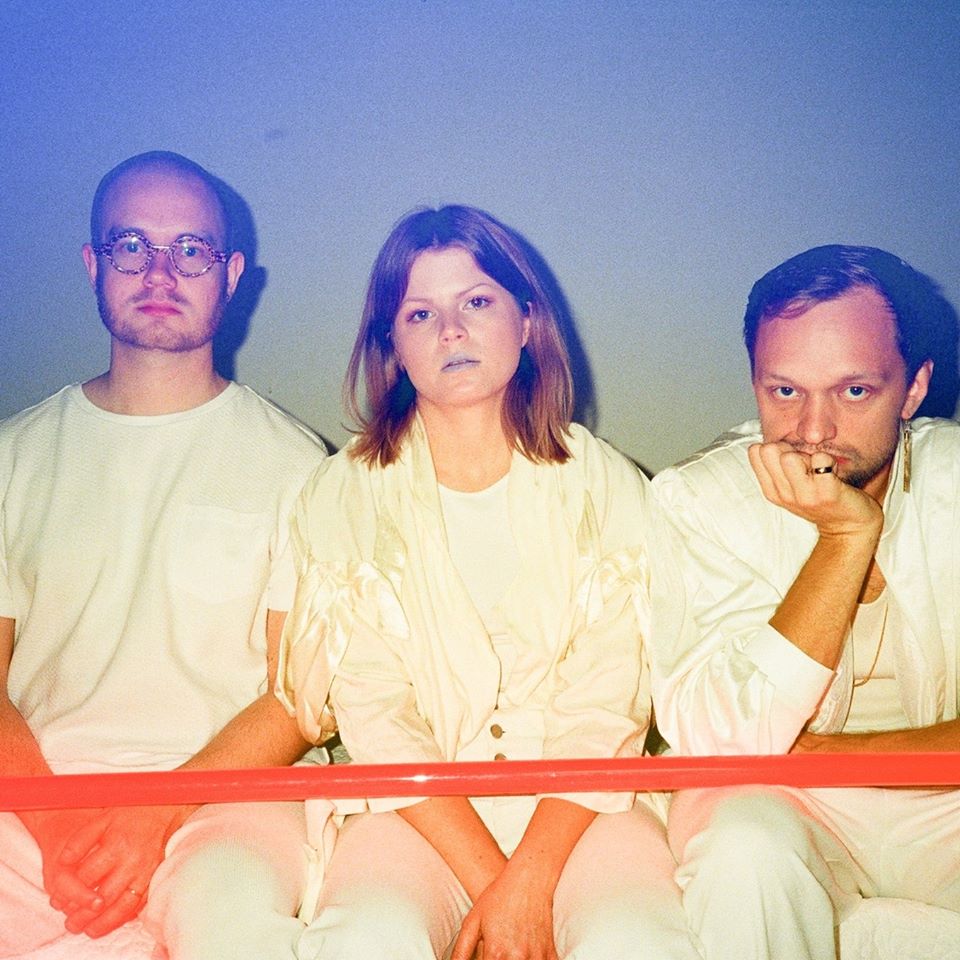 What would you say has been your best moment so far?
Maybe when we went to the cabin to start working on our album a few years back, one evening we were in this barbecue hut and kind of quarreling about how to best make the fire and then we were laughing about a stupid joke and I peed my pants
Also it was great when we released the first single off this album, Drains, and it started getting lots of positive feedback, playlist additions and so on. It felt really rewarding, after having worked on the music for so long.
How would you describe your sound to somebody unfamiliar with it?
Dancing through melancholy landscapes. I also like how MTV described it, "perfect pop to sad-dance to in your bedroom".
What's your dream 'I've made it' moment?
Haha we were once talking about this and I guess ended up with opening for Pharrell, on a tour in Australia.
But the dream is to just continue doing this and constantly growing, finding more audience, building what we've started.
We love the second part of your debut album, what more can you tell us about it?
it's a bit more melancholic and pondering than Part 1, kind of ending the Absence story. Themes of this album are the absence of something you're looking for, in life and in love, loss, just all the pain you encounter whilst growing through your twenties. But also energy and hope for the future. And there are some party moments there as well, like our song called Big Things. The last song is called Bethnal Green and we'd all just moved into the same studio, and I'd brought my old piano there. We recorded it for this song, so it has a bit more acoustic feel to it than the rest of the album. It might be a bit out of tune since we still haven't got it tuned (maybe we should start a Spotify fundraiser for tuning of the studio piano).
What does the rest of 2020 have in store for feelswithcaps?
We've started working on new material for our next album, and we're also planning on making a new version of an old song, as well as a cover song… We have a couple of cool remixes coming out after the album that we're very excited about. Just spending more time in the studio, creating. At the moment we're working on this Quarantine Series of both new tunes and new live versions of old ones. You can find them on our YouTube channel. And we can't wait to be able to play live again, hopefully we'll get there soon enough.
And finally, who is your biggest fan right now?
It's a guy called Paul from Belgium. He's been on all of our/my isolation IG-lives, even the really boring ones. He always sends a message when we have a new song out, telling us what his thoughs on it are. He's really supportive and lovely. Thank you Paul!
Absence is available now.