We had a chat with emerging 16-year-old artist Izzy Pingrey following the release of her excellent debut single 'sick of it'
With the release of her debut single 'sick of it', teenage artist Izzy Pingrey has showcased a really great talent for articulating the thoughts and feelings that you have at that time of your life, crafting a sound that feels earnest and honest, brimming with a relatable appeal and endearing, catchy nature.
The fun nature of her sound and her raw, exciting charisma and personality makes for an endearing listening experience that is packed full of life, emotion and charm. 'sick of it' is just the first release from the artist, but at just 16 it feels like a glowing example of the vast potential and potency that the young artist has. We had a chat with Izzy following this release to find out a bit more about the single and what other plans she has for the future.
Who TF is Izzy Pingrey?
I'm a 16-year-old artist and songwriter from New York City. I like to write songs about the teenage shit that I go through, and I want those songs to help people get through the same things. Eventually I'll write about adult problems when I have them.
How long have you been making music?
I've been making music for most of my life in really different ways. I got super into musical theater when I was very young, like four, and stuck with that for most of my elementary school life. COVID hit when I was 13, and with all of that time stuck sitting in my room and brewing in my middle school feelings, I started to use songwriting as an outlet. I started pursuing it more professionally in 2021, and have been a recording artist with songs out for a few weeks. I love it. It's so cool that I can look my name up on spotify and a verified profile comes up. Music has been so influential throughout my life, and it feels so surreal to be a part of it now, even in this small way.
Why do you make music?
I make music because there are so many songs that I've needed during specific experiences that I just couldn't find. Songs about situationships exist, but I wanted to come at it through the perspective of someone my age. Being a teenager is ridiculous, and you're experiencing so many things for the first time, a bunch of new emotions and scenarios. It's really important to me that my music is able to guide people through those things and let them know how versatile that feeling is (and that's true for adults too, probably.) It's nice to know other people go through shit that you go through.
What are your biggest influences?
My music taste is all over the place and I try to kind of condense it into one artist. I'm obsessed with Taylor Swift, particularly the "Speak Now" album, and I try to incorporate that kind of sound into my music. I love Alanis Morresette, Fiona Apple, Chappell Roan, really any woman that is able to encapsulate real anger and emotion in the way that they do. It's so amazing and intense to listen to. I'd die to sound like any of them.
What would you say has been your best moment so far?
I went to my friend's birthday party recently. About an hour into the party someone put "sick of it" on the stereo and a room full of teenagers turned their phone flashlights on and started screaming every word to my song. I write my stuff so people can relate to it. It makes me so happy that people are resonating with it.
How would you describe your sound to somebody unfamiliar with it?
My music is mostly focused on my songwriting. I use a lot of guitar and more organic sounds and like to mix in different stuff that I listen to. I draw a lot from 90's and early 2000's style music. I like to think of 'sick of it' as a song that a teen band would play in their garage in a 2000's movie. I always like real instruments and real sound. Every time my dad tries to put trap drums in my shit I make him take them out. I don't think I have the energy to pull those off anyway.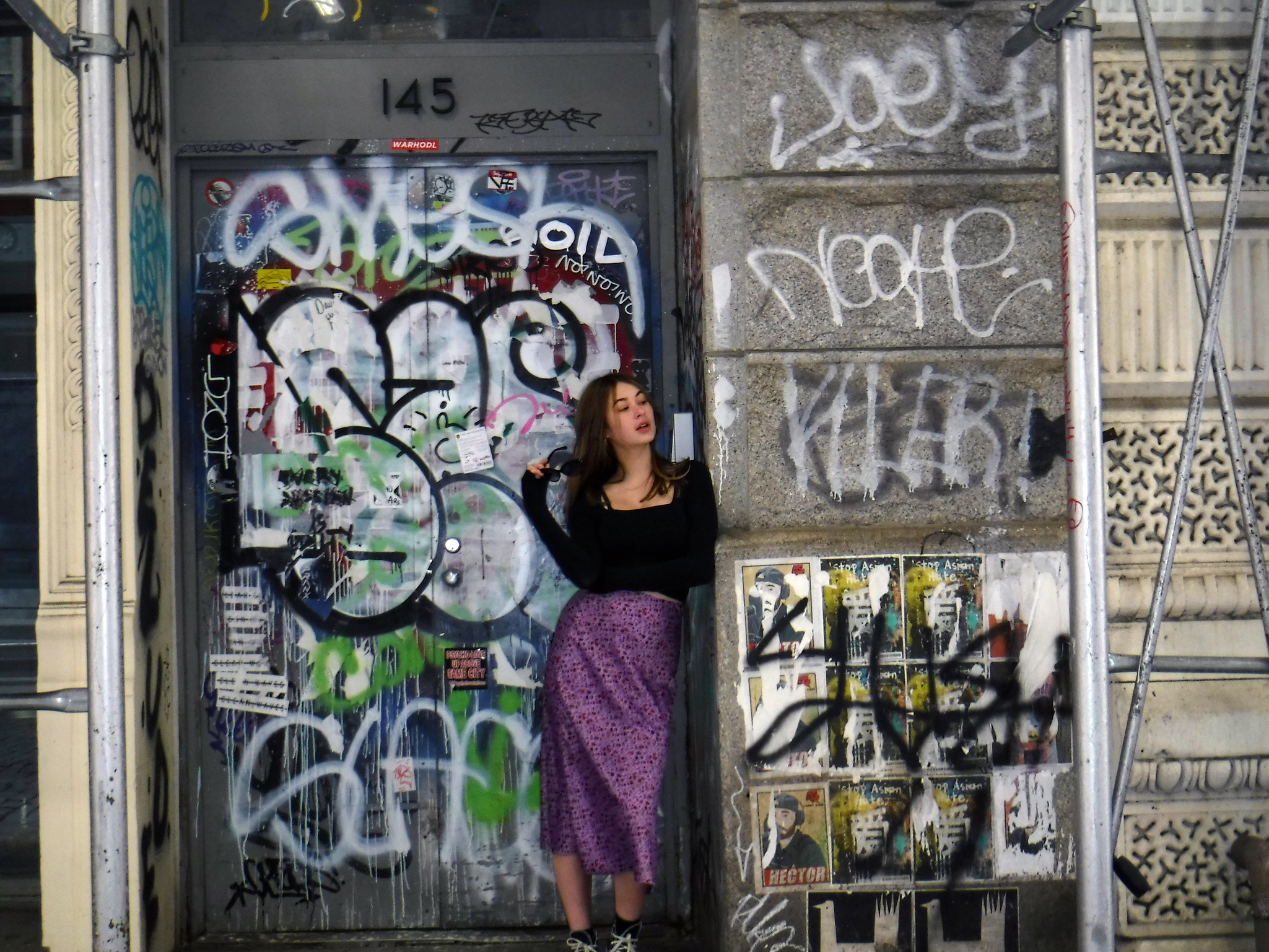 What's your dream "I've made it" moment?
I really want to play Webster Hall. I've lived in New York City for my entire life, and my dance class isn't that far from it, and ever since I was younger I've wanted to play there. I'll pass it and imagine my name on the little marquis (which yes is a little embarrassing.) I saw Claire Rosinkranz and I'm seeing Sabrina Carpenter there and I would actually love to play that venue. Doing a show there would be such a dream.
We love your new single 'sick of it', what more can you tell us about it?
I wrote 'sick of it' about getting too emotionally involved in relationships that aren't real. During the pandemic I spent a lot of time watching TV, and it made me desperately want to be in love. I would project that loneliness onto unsuspecting people who shouldn't have had it. It put me in a couple of very questionable situationships with people of varying degrees of enthusiasm. Some of them had feelings for me too, some didn't, but because we were (and still are) so young, they didn't live up to the people I'd made in my head who weren't real and written by adult men. I was just tired of giving those people misplaced affection and letting them use it to suck me in, intentionally or not.
What else do you have planned for the near future?
'sick of it' is the first song on my EP. My next song, which I don't think I can name drop yet, hopefully won't be coming out too far away! There's also a music video for "sick of it" that, as of answering this, I wrapped yesterday, so prepare for that. There's lots more music and videos coming. If enough people like my songs I would totally love to start playing some concerts, too, around New York. I've seen so many venues here that would be so cool to play.
And finally, who is your biggest fan right now?
My friends. My friends have been so supportive of me since I played them a little scratch demo of sick of it almost a year ago. From the beginning, they've loved everything- I remember my friend Brody making me teach him the chorus, and he'll still recite it. My boyfriend always tells me how proud and supportive he is of my music. I played my school concert a few weeks ago and the student body and the teachers have all been so supportive. My friends made huge poster board signs with my logo and sick of it quotes on them and I almost cried. I love my friends so much.