With 'Out of Love' proving to be the latest in a catalogue of emotional and rousing tracks, we had a chat with up rising UK singer-songwriter Katie Kittermaster
Over the past few years, UK singer-songwriter Katie Kittermaster has earned a reputation for her earnest and vulnerable brand of emotive, often heartbroken pop. Her candid and often brutally honest approach to writing, compounded with her hauntingly emotive voice make for a package that feels both heartwarmingly serene and intensely personal, with track's often feeling more akin to confessional diary entries.
This refreshing approach to songwriting and unerring consistency when it comes to releases has provided Katie with a slew of powerful and engaging releases, with tracks like 'Lukewarm Lover', 'Friends', and incredible new release 'Out of Love' just the tip of the iceberg among a myriad of affecting and memorable tracks. Following the release of the latter, we had a chat with Katie Kittermaster to find out some more about some of the inspiration behind her emotional and resonating sound and what plans the artist has for the future.
Who TF is Katie Kittermaster?
Omg I don't even know ahaha – probably not the most ideal answer but at least she's real – honestly though I am still figuring that out – I think because I'm working with so many talented writers, artists and producers all the time I'm learning so much about myself – what I like and dislike. Being constantly inspired by everything around me, I think means I'm constantly evolving. Huge inspirations of mine right now are the works of Holly Humberstone, Olivia Dean and Griff. But at the same time I know there are parts of me now that'll stay in my writing forever – my instagram bio is ' I don't write happy songs' so maybe that sums it up! Songs you can dance to and cry to simultaneously really do it for me.
I live at home with my mum and younger brother, I have a dog called Maggie who is like my child. I love being an artist and writer – I want to move to London (ASAP!), I want to travel…
How long have you been making music?
Well..I had my first solo performance in the nativity play aged 3 the highlight of my career some may say.. I mean really I've been making my own music since I was 15 – I actually really struggled to write anything before then – I felt like I had nothing to say I guess. It was only after a boy in year 11 dumped me (lol) that I really related to all the break up songs I listened to and started writing my own. From a really young age I loved Musical Theatre, I loved the whole triple threat-  singing, dancing and acting – however as I grew up I couldn't really dance and I couldn't really act…
Why do you make music?
I suck at everything else….
I find passion hard to describe, I just have an innate desire to create and perform I suppose. Writing music for me is a coping mechanism, it's a release, like a diary almost. I also make music because I see the impact it's had on others – yes my music is generally sad but I think there's so much comfort in knowing you're not the only one who's felt a certain way sometimes
What are your biggest influences?
Things that happen to me, that I see or experience – relationships & friendships  – also as I write more and more I have less life of my own to talk about so I also love putting myself in other peoples' shoes and writing from their perspectives.
Sonically I'm influenced by Ed Sheeran, Taylor Swift, Maisie Peters & Phoebe Bridgers to name a few.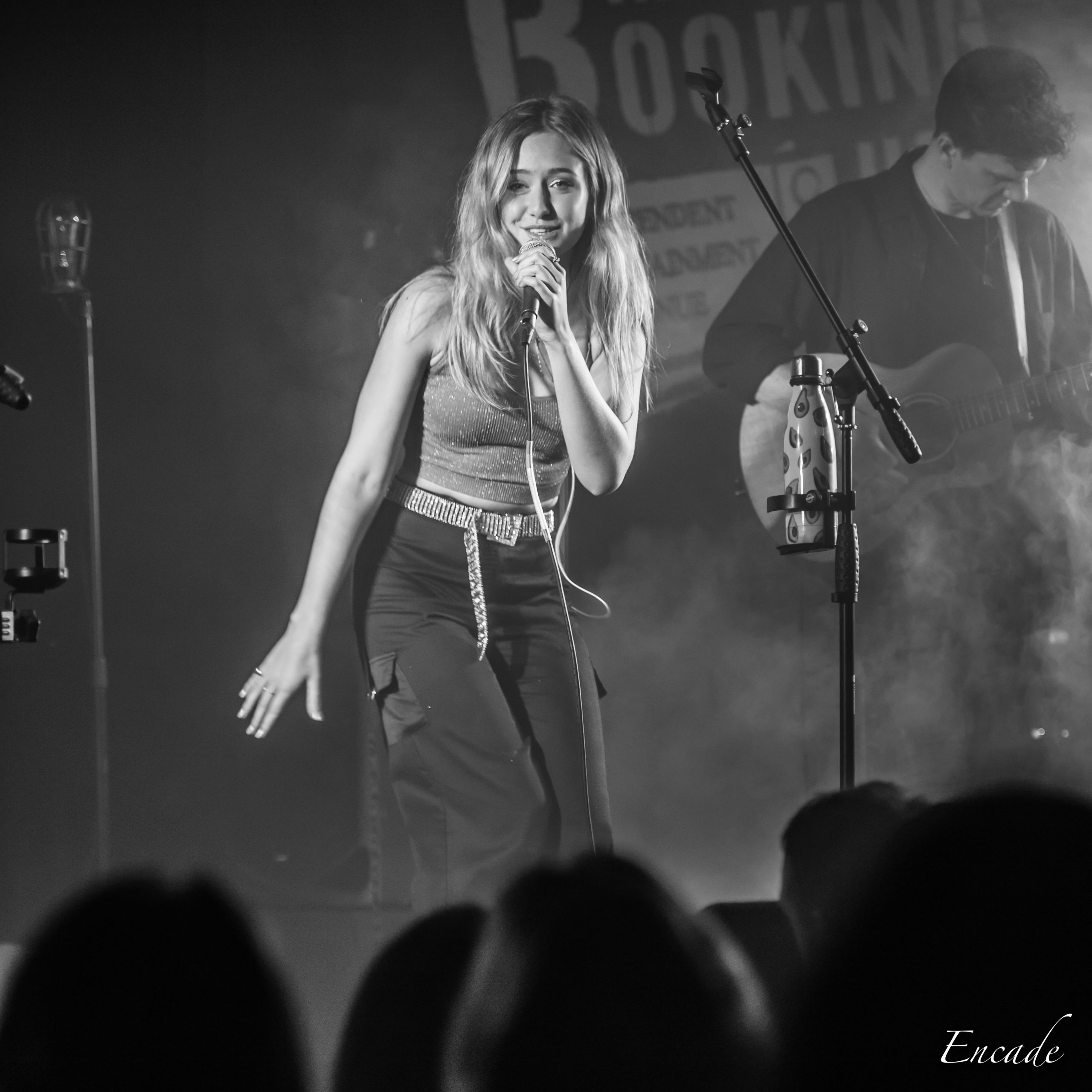 What would you say has been your best moment so far?
I think there's a few – I loved touring back in 2019 gig after gig after gig, madness. I signed to BMG a few weeks ago which I cannot get my head around. But I think there's nothing like watching a crowd sing YOUR OWN lyrics back at you – I wonder if this is something you ever get used to.
How would you describe your sound to somebody unfamiliar with it?
SAD!!!! But disguised as something slightly less depressing through it's pop production backing – it's modern but you can hear where the song began, just me on an acoustic guitar or keys.
What's your dream "I've made it" moment?
Doing an interview with CLOUT CLOUT CLOUT?!!?!?!!?
I think playing my own stadium tour! Imagine! Got to dream big to be big I guess – there's so many things I want – imagine a NO.1 in the charts or playing Glastonbury!!!
We love your new single 'Out of Love', what more can you tell us about it?
It's a track called Out Of Love that I wrote in 2020 with Matt Wills – I love writing from personal experience as I think that really helps the listener genuinely connect to the song. I am now and was at the time when I wrote it, in a very happy relationship, however as it reads in my instagram bio 'I don't write happy songs', I had to delve into my past in search of some heartbreak material. The track is about a relationship where on reflection both parties had very different interests and had just grown up and apart. I had fallen out of love with someone and really hoped they too felt the same because that way you feel slightly less guilty about it. Breaking up with someone is scary so I think sometimes it can take a while to bite the bullet!
What other plans do you have for the near future?
I'm itching to get back on the stage and play all the music I've written and released since the first lockdown! There is something so inspiring and almost magical about performing live. I have announced a headline show for February 26th at The Garage in London and I have a sold out headline in September 16th which is just madness! I also have so many songs I want to release like RIGHT NOW! But I also want to make sure I am 10000% sure about everything I put out – hopefully I will release an EP by the end of the year!
And finally, who is your biggest fan right now?
Definitely is and probably always will be my mum aha!! Bless her she's so supportive, god knows where I would be without her!