We had a chat with lauded emerging artist Mik Ivy following the release of his excellent third single 'Crushed Velvet'
At just 19, London-based, Geneva-raised singer-songwriter Mik Ivy has already begun to build an ardent fanbase thanks to his unique personality and shamelessly distinctive sound and style. The artist has earned thousands of streams across his first through releases and the sky looks to be the limit for an artist with such a cutting edge sense of individuality and drive.
The third of these singles is the artist's new release 'Crushed Velvet'. and it may just be his best to date. The artist's wide pool of influences, ranging from indie pop and alternative rock, and encompassing sounds from the 80s to now, Mik has cultivated something that feels revitalising, exciting and fresh. The new track juxtaposes his fun and energetic sound with themes of self-doubt and anxiety, making for an interesting contrast, that when melded with the charisma and guile of the artist and his sound makes for an enticing and endlessly interesting package. We had a great chat with the emerging artist and found out some more about him, his journey and how he formed his sound.
Who TF is Mik Ivy?
Well, this question sent me into an existential crisis and i think that's saying plenty. Also, I'm just a 19 year old kid who just moved to London to write songs about his failed romances and try to make you feel a little bit less alone when you're going through it.
How long have you been making music?
I'd say about 8 years total! I picked up the guitar when i was roughly 12 years old, out of total desperation for people to actually talk to me at school at first. Then singing, drumming and bass came along within the next few couple of years. I got into song-writing rather early on, it came pretty naturally to me as it was a form of therapy i could actually feel myself growing from.
Why do you make music?
I guess it kinda just felt right? I've always been hyperactive as hell as a kid, with my brain never quite able to focus on the stuff i was meant to do. But music calms me down, it makes me feel like i can actually be myself unapologetically and not have to feel bad about it.
What are your biggest influences?
I was brought up by my dad playing The Rolling Stones, The Cure and The Doors on our car radio during road trips, so I like to think of these as my first real musical influences. Later on I found out about Alternative, Indie and Bedroom pop thanks to the likes of Arctic Monkeys, Steve Lacy, Rex Orange County, Easy Life, Her's and Still Woozy. I reckon I'm always listening to something on my headphones and I go through phases yearly, but these are just *chef's kiss*.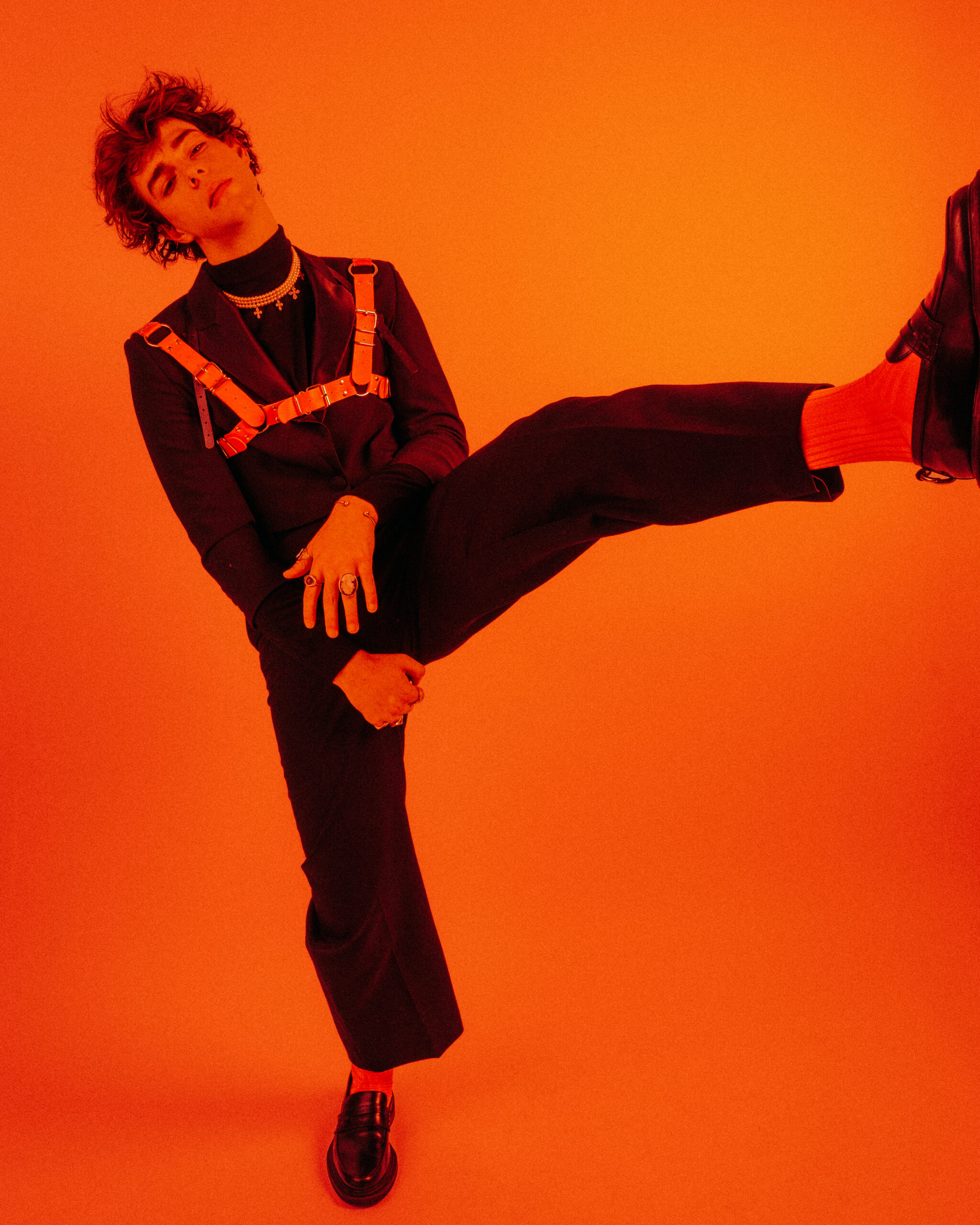 What would you say has been your best moment so far?
There was this one time after a gig where this old chap at the bar came up to us and looked as if he'd gotten 30 years younger haha, defo a highlight of my career so far. In general the energy of the live crowds is the most incredible high I've ever experienced, don't think it gets much better than that.
How would you describe your sound to somebody unfamiliar with it?
To be honest it reeks of nostalgia, electricity and energy. You might not fuck with it and that's ok, but if you do you're in for a ride (no pun intended) because I'm not stopping anytime soon.
What's your dream "I've made it" moment?
I think headlining Glastonbury after eating Mexican food with Tyler, The Creator would be the dopest thing ever.
We love your new single 'Crushed Velvet', what more can you tell us about it?
I originally wrote it because I felt lost as hell in the new big city. I didn't know where i wanted to go and it felt like my life was out of my control completely. I wanted to write something i could look forward to singing with my all my friends with the sun beaming and the June wind cooling us down, a picture perfect kinda vibe.
What else do you have planned for the near future?
I'm so excited to be releasing more music and definitely playing more live shows around the London area.
I'll actually be playing Victorious festival alongside of Ace Bermuda on the 26th of august in the UK. I'm actually buzzing to get back and get on stage again, I've seriously missed it like crazy all summer!
And finally, who is your biggest fan right now?
I mean, mum says I sound good.