We had a chat with Monster Florence, the six-piece hip-hop collective who are fast becoming one of the the UK's most exciting young acts.
Monster Florence are a collective that seem to have encapsulated the best and most dynamic sounds from within the current UK music scene and created something truly unique and special with them. Their sound is packed full of twists and turns, taking styles like hip-hop, grime and punk and crafting an unbelievably cohesive and memorable sound, evidenced throughout latest EP Cowboys and Idiots. 
This unique and memorable hip-hop sound is one that should be heard far and wide, and their brand new recording of 'Handstand', performed live at Abbey Road Studios, is the perfect place to start. We had a chat with drummer Cameron Morrell and found out a little more about one of the UK's most exciting emerging acts.
Who TF are Monster Florence? 
A 6 piece musical collective from Essex making hip-hop/alternative sounds.
How long have you been making music?
We all made music before, but 5 years as the band now. We got together for a one off festival gig, after that we continued meeting up wrote a couple demos and realised there was a shared vision. We have been making music ever since. 
Why do you make music?
It's my ultimate form of expression. I think if you get serious about making music you feel like it's your calling. Then it becomes a mission statement for life – I've never imagined doing anything else. 
What are your biggest influences? 
There's 6 of us with such unique backgrounds, collectively we draw inspiration from a lot of places. Growing up I was exposed to a good mix of music, but I really got into punk rock and hip hop stuff like The Clash, Dead Kennedy's, Snoop Dogg, Tupac, OutKast.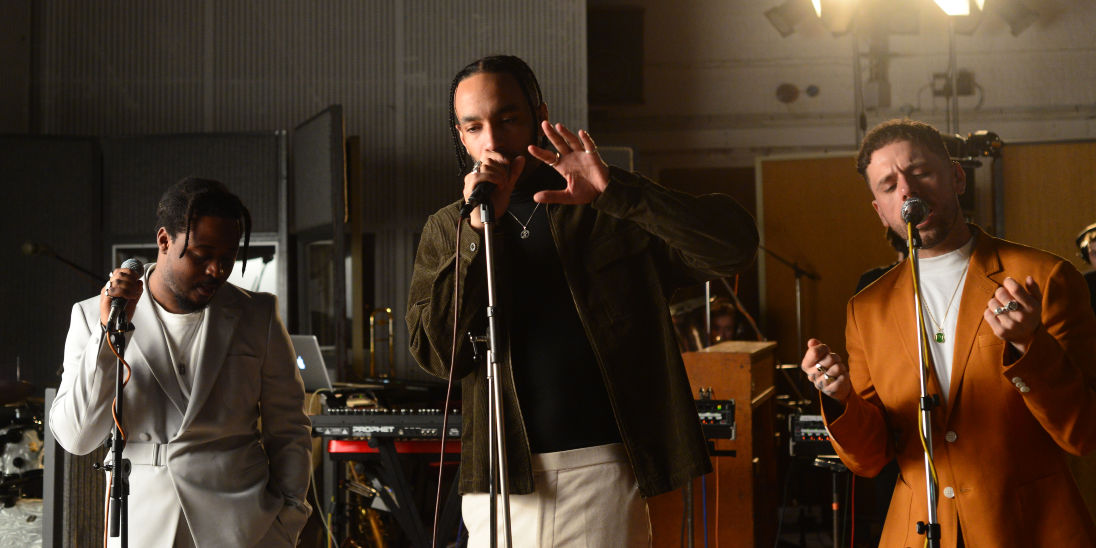 What would you say has been your best moment so far?
At the beginning of the year we went into Abbey Road studios to record a live session. The history of the studios, the list of non stop legends and iconic records made there..albums we were raised on. As music fans it's a lot to take in, so going to record in the same studios was a special moment for us all. 
How would you describe your sound to someone unfamiliar with it?
One big musical juxtaposition. 
What's your dream "I've made it" moment?
We played at Glastonbury last year on the BBC introducing stage. None of us had been to the festival before, so we stayed the weekend and celebrated it properly. It's just an incredible place. We said to play the Pyramid Stage one day has to be a dream show….Gotta dream big. 
We love your latest EP Cowboys and Idiots and the wide range of ideas and sounds on it, what was the creative process like when putting it together?  
Thanks we are really happy with how its turned out. The creative process is very organic, we are all part of the songwriting like most bands. Usually one of us has a rough concept, maybe a voice note with the beginnings of a vocal hook or a melody, bass etc then we all add our ideas on from there. Other times we all setup in the room and just jam see what happens. I think it helps we don't go to the studio thinking 'we need to make this type of song today' there's no rules! 
How do you think the wider UK music scene has impacted your sound?
The UK scene is a big trend setter right now with some amazing artists making waves expanding the boundaries of their genres. The bar is constantly being raised. We try to capture the culture of the UK scene in what we do. Our scene is a constant source of inspiration at the moment. 
And finally, who is your biggest fan right now?
No idea, shout out everyone who supports the cause you're all awesome. 
Cowboys and Idiots is available now.