Mt. Joy and CLOUT have a chat as the indie folk outfit gear up to release their highly-awaited new album Rearrange Us
As we edge towards the release of brand new Mt. Joy full length Rearrange Us, it provides a chance for ourselves and the outfit to reflect on the time that the band have spent releasing music over the last few years and look to the catalogue of tracks that are about to be released.
Born with founding members and Pennsylvania natives Matt Quinn and Sam Cooper, the band is now a fully-formed, fully-realised outfit that has members spanning the US. Their sound and reputation have at a rapid rate due to their sounds indie folk charm and soulful nature and has snowballed into something colossal in size. This latest LP really has the feeling of a real defining moment in this chapter that the band have found themselves in over the last few years.
We figured that this provided the perfect opportunity to get to know Mt. Joy and the story behind the music a little better.
Who TF are Mt. Joy?
Haha we are a 5 piece band from all over the states that met in Los Angeles. Sam Cooper (guitar) and myself grew up together making music in Philadelphia and then both ended up in LA a few years ago working non-music jobs. We were making songs on the weekends in a friend's house. Those songs ended up getting us out of the day jobs.
How long have you been making music?
Yeah, we've all been making music in one way or another since we were kids.
Why do you make music?
It's pretty cliché but I really feel like I need to write music. I know for me I've got the sort of insomnia-inducing, can't stop tapping my foot anxiety. Music allows me to sort of channel that energy into something outside my body.
What are your influences?
I think collectively as a band our influences are pretty all over the place from classical to the Grateful Dead, which I think is what makes us unique. For me, I grew up listening to music of the 60's and 70's. Obviously, in that way I was listening to a lot of music from the UK before I was old enough to know it. I grew up on The Beatles, Rolling Stones, Paul Simon, Joni Mitchell, Grateful Dead. But like I said we are all over the place. We all love jazz. I've been on a big Grant Green kick lately. More contemporary stuff too I really love My Morning Jacket, Vampire Weekend, Frank Ocean. Our producer for our upcoming record, Tucker Martine, made a couple My Morning Jacket records as well. So, it was pretty amazing to work with him.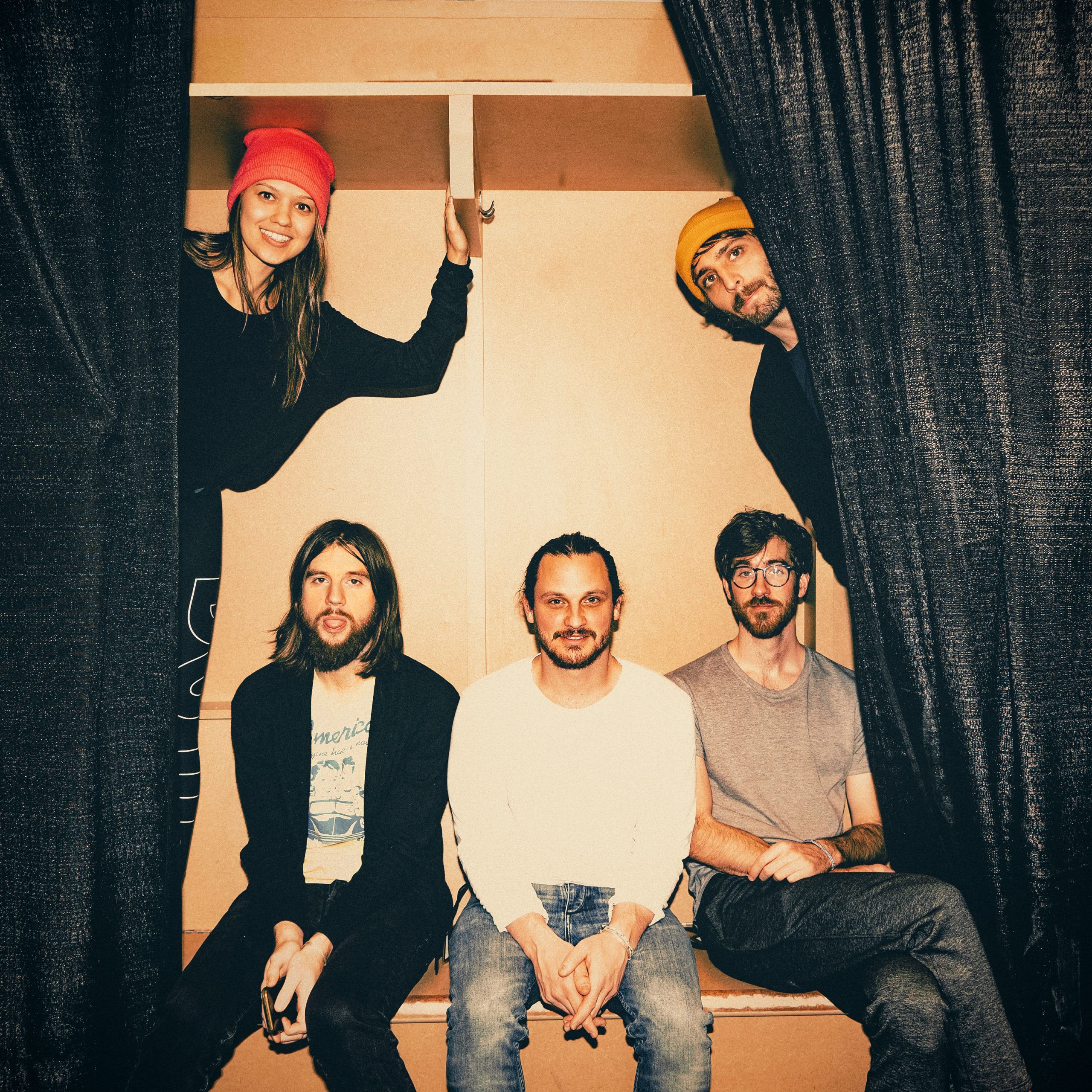 What would you say has been your best moment so far?
We've been lucky we've had some amazing shows and moments. For me, I'd say the last time we played my hometown. Growing up there playing open mics, coffee shops, friends' houses and never to more than a handful of friends. Then, to see my family and really all those same people in a sea of a couple thousand people singing and dancing along to our music was something that I won't ever forget.
How would you describe your sound to someone unfamiliar with it?
I think we fall somewhere in the folk world. I really believe what sets us apart though is we have some really special players in our band, especially live but also more so on this record, we really play and improvise beyond the lyrics.
What's your dream "I've made it" moment?
I'm not sure I have just one and I'm genuinely not trying to pander here. But I've always enjoyed watching live concert footage from Glastonbury. Some of those bigger headlining sets with the flags in a sea of people have always seemed like the pinnacle of the live modern music experience. Making it to that level internationally would, I imagine, feel pretty affirming.
How have you found the journey going from being two friends to a fully formed band on the scale that you are now?
It's been fast and surreal and time has moved wildly, as it does. Ultimately, I just feel really lucky that we all get along. We've spent the better part of the last 3 years together. Been through a lot. We watched the crowds go from double digits to thousands, and to go through all those ups and downs together in and out of the venue, you become like a second family. It sounds cliché, but anyone in a band that tours as much as we do would understand. I just feel lucky to have that.
Your new album 'Rearrange Us' comes out on June 5th, could you tell us some more about it?
Yeah, we are so excited for this record. It's sort of the culmination of touring for three years straight and becoming a band. The road that lead us to this record completely changed our lives. Such that by the time we were making the record most of us were going through break-ups of some kind. It felt like we had completely "rearranged" our lives to make music. So, we made a break up record because we were hurting and we made songs about moving on because we knew we needed them. It's a record that's meant to be played in sequence and it's beautifully recorded and produced by one of the best in the world, Tucker Martine. Can't wait for people to hear it.
And finally, who is your biggest fan right now?
Haha one time Kiefer Sutherland came to one of our shows and said amazingly nice things under duress of maybe one (10) drink(s) and told Sam he was going to give him 4 guitars. No guitars were exchanged when the dust settled. So, our Mom's. They are going to be tough to beat…Mine will be the first to read this and share it with me without a doubt.
Rearrange Us is available on June 5th