We had a chat with Nat Dempsey & The Near Strangers following their stellar debut release under the moniker
Following the natural development from being merely Nat Dempsey to embracing the full band life and becoming Nat Dempsey & The Near Strangers, the outfit have showcased the fullness and dynamism of their collective sound with the release of their first single, the emphatic, CLOUT-championed 'Run & Hide'.
The track bleeds with a rawness and sense of intensity and authenticity that feels made for a chaotic live setting, met with crashing drums, soaring riffs, and Nat's energetic and personality-filled vocals. This is just the beginning for Nat Dempsey & The Near Strangers, a fresh slate and a chance to really establish their larger than life, cutting edge sound and kick up a stir in the UK indie rock scene. Following such an encouraging debut from the outfit, we had a chat with the lads to find out some more about the project and their plans.
Who TF are Nat Dempsey & The Near Strangers?
Nat: We are an indie rock/post-punk band based in Manchester; each of us are from all corners of the UK; Bristol, Lancashire, Cumbria, Belfast. We've been gigging in Manchester and beyond since October 2021 and we're dropping our new single 'Run & Hide' on June 17th.
How long have you been making music?
Nat: I've been playing live as a performer since age 11 with solo and various band projects. This band is fairly recent though; we started jamming at the start of uni in 2019 and started gigging in October 2021.
Kieran: I've been playing drums since I was 16 but have been properly making music since college; origins being the DJ button on the keyboards in secondary school.
Why do you make music?
Nat: I make music because it's the best way to say something you're either too scared to say or that you can't articulate. I love the rush creativity gives me and it feels great being able to write your own unique songs, that then come out as a finished product; it's so rewarding and fulfilling.
Darren: I've always had a creative mindset, so I think it was inevitable that my career path would involve the arts in some shape or form. Although I don't come from the most musical of backgrounds, when guitar innocently swept it's way into my life at 12 years old, I felt it gave my life purpose as well as something to strive towards. My obsession with music grows every day as I find myself absorbing different influences like a sponge. I also like hearing other artists' success stories as this makes my personal goals feel more achievable. My motto is that if you want something and you work hard enough for it, you'll eventually get it.
What are your biggest influences?
Nat: I look to new artists to keep my writing/general music brain current; I'm a huge fan of grassroots new artists which I think is a root of where that comes from. Wolf Alice, Bombay Bicycle Club and STONE come to mind both as a performer and a writer.
John: As a bass player I'm heavily influenced by the likes of Lemmy and John Entwistle; I love that bright overdrive distorted picked tone, almost acting like a rhythm guitarist. That's what I try and bring to the table for live gigs.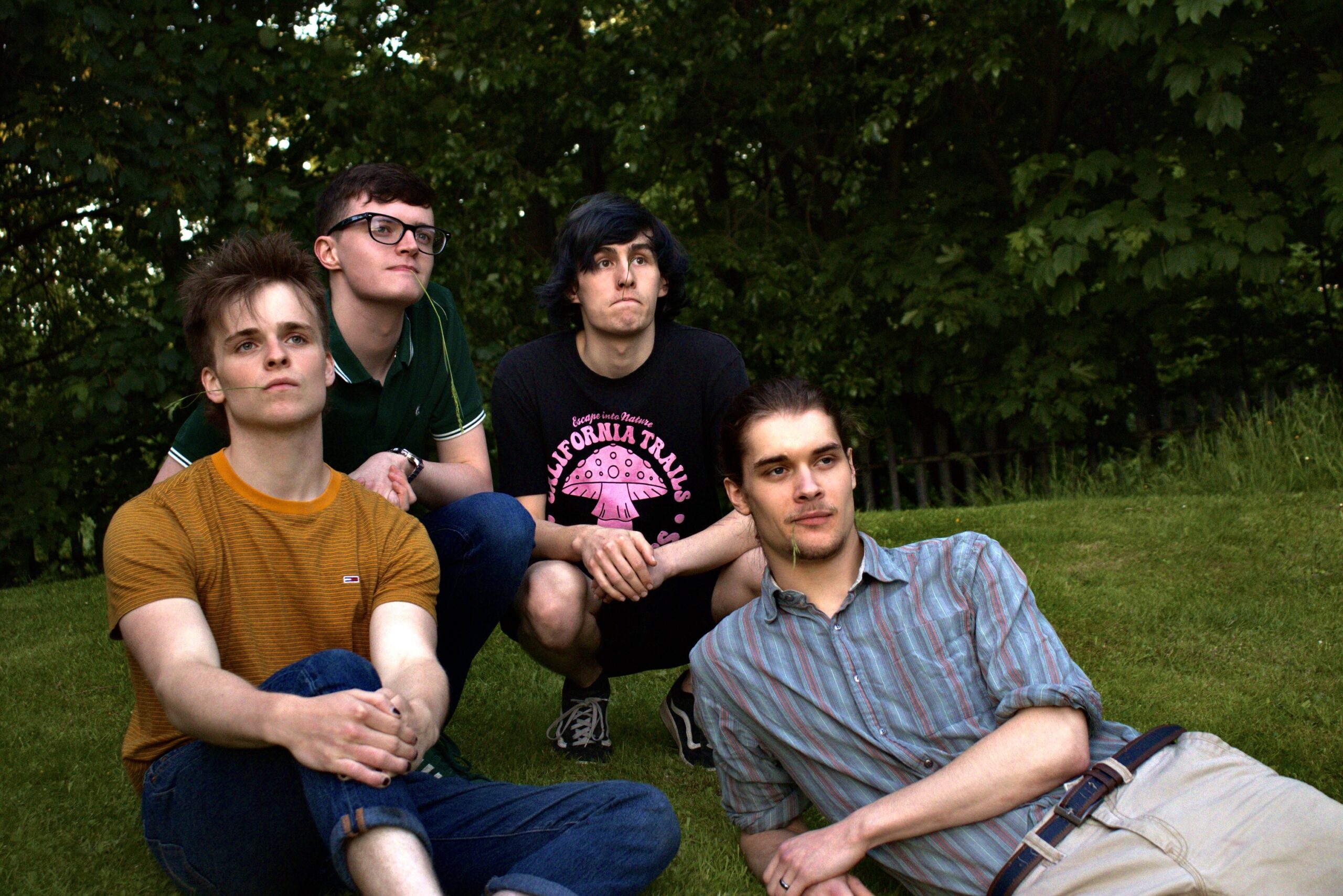 What would you say has been your best moment so far?
Nat: The build-up to the new single. The recording and promo stages felt like a culmination of everything we've done since October; all the people we've played to and the connections we've made have been brilliant and we can't wait for them to hear this tune.
John: Any gig. For me I just love playing live and playing every gig with the same passion and energy, no matter how big or small the crowd- although the bigger crowds do tend to be more fun to weave our equipment through afterwards!
How would you describe your sound to somebody unfamiliar with it?
John: Punky, trashy, mushy and driving; occasionally dreamy and blissful. Nat's great at writing tunes that aren't all sounding the same whilst still maintaining a coherent artistic style.
Nat: Yup, John hit the nail on the head there. I love how all our respective tastes come together; my indie/punk writing, Darren's Chilli Peppers inspired soloing, Kieran's double-kick metal drumming and John's 70's rock tones and lines.
Darren: If John Frusciante from the RHCP played guitar for Sam Fender; it's time we brough guitar solos and riffs back into the mainstream!
What's your dream "I've made it" moment?
Nat: I would love for us to do a headline at Deaf Institute one day. Further on from that, any solid crowd-drawing slot at Reading & Leeds would be the absolute dream; it's what everyone goes for and to have any part in it would be insane. I went last year, going this year and it's something truly special.
Darren: Anyone that has ever seen me drunk enough at a house party or club could answer this for me. I would love to play Glastonbury! To me it's the most iconic music festival in the world.
We love your new single 'Run & Hide', what more can you tell us about it?
Nat: Run & Hide blurs social commentary with political ranting and centres around political media's impact on us normal people's minds. When any opinion can get such an established, huge platform in this age of fast information it's so hard to tell who the real 'them' is. It drives us to overthink and turn on each other. Bit of a dark theme behind a bouncy indie tune.
John: I think it's the best sounding single from this project so far; it was recorded by Drunk Duck Production who really helped us out in defining some of the key characteristics of the tune. I get a sense of nostalgia from it, and you can get a good boogie out of it.
What else do you have planned for the near future?
Nat: Releasing this song and it gigging it anywhere that'll let us through the door. We've recorded two more songs for releasing so we're well prepared for the next few months. Other than that, who knows! The future works in mysterious ways and we can't wait to see what it throws at us.
And finally, who is your biggest fan right now?
Nat: As you can expect our parents are pretty into it. We have a couple folks in Manchester who like coming to our shows who we haven't all known beforehand.
Kieran: Our biggest fans have got to be our mates Fin & Evie, they always come through to see us when they can.