Photos: Barnaby Fairley
We caught up with SPINN ahead of the release of their hotly-anticipated sophomore album Outside Of The Blue 
Merseyside indie rock outfit SPINN have grown into one of the UKs most hotly-tipped acts over the past four years thanks to their electric live shows and steady stream of rousing, energetic tracks. Since their emergence the act have set the scene alight, solidifying their place as one of the UKs most exciting acts with the release of their 2019 self-titled debut album.
Fast-forward to 2021 and the outfit are on the verge of the release of its follow up, Outside Of The Blue. The act seem to be truly approaching the peak of their powers, and early releases from the album such as 'Outside Of The Blue', 'Daydreaming' and the thoughtful and nuanced new single 'Stargazing' hint that something special is on the horizon. With the albums imminent release closing in, we had a chat with the outfit to find out some more about them and this exciting new chapter
Who TF are SPINN?
SPINN are Johnny Quinn, Sean McLachlan, Louis O'Reilly and Luke Brickett. A collective of men with thick Scouse and Brummy accents who also happen to make extremely catchy and much renowned indie pop music. The next collection of such venerated numbers 'Outside Of The Blue' is available for pre-order right now and will be released completely unto the world on the 5th of November 2021. Bonfire Night, because it's going to be explosive.
How long have you been making music?
Long enough to know better.
Why do you make music?
I love music, everything about it. I love how it can make you feel every emotion, sometimes all at once. Listening to it, writing it, recording it, performing it, it all makes me very happy so that's why. It also helps that I'm quite good at it too I'm not good at much else, I've tried running, baking and painting, and they're just not my bag unfortunately. The only thing that gets me down about music is those people who get so pretentious about it all, they drive me up the wall man, proper annoying, just let people enjoy themselves.
What are your biggest influences?
We have a wide variety of interests and influences within the band, 1980's Horror Flicks, Veganism, Lego, the complete works of Elton John, the list goes on. The one thing which undoubtably seems to unify us is the inimitable anthem which is "Bodies" by Robbie Williams. A real banger if you ask us. Take from that what you will.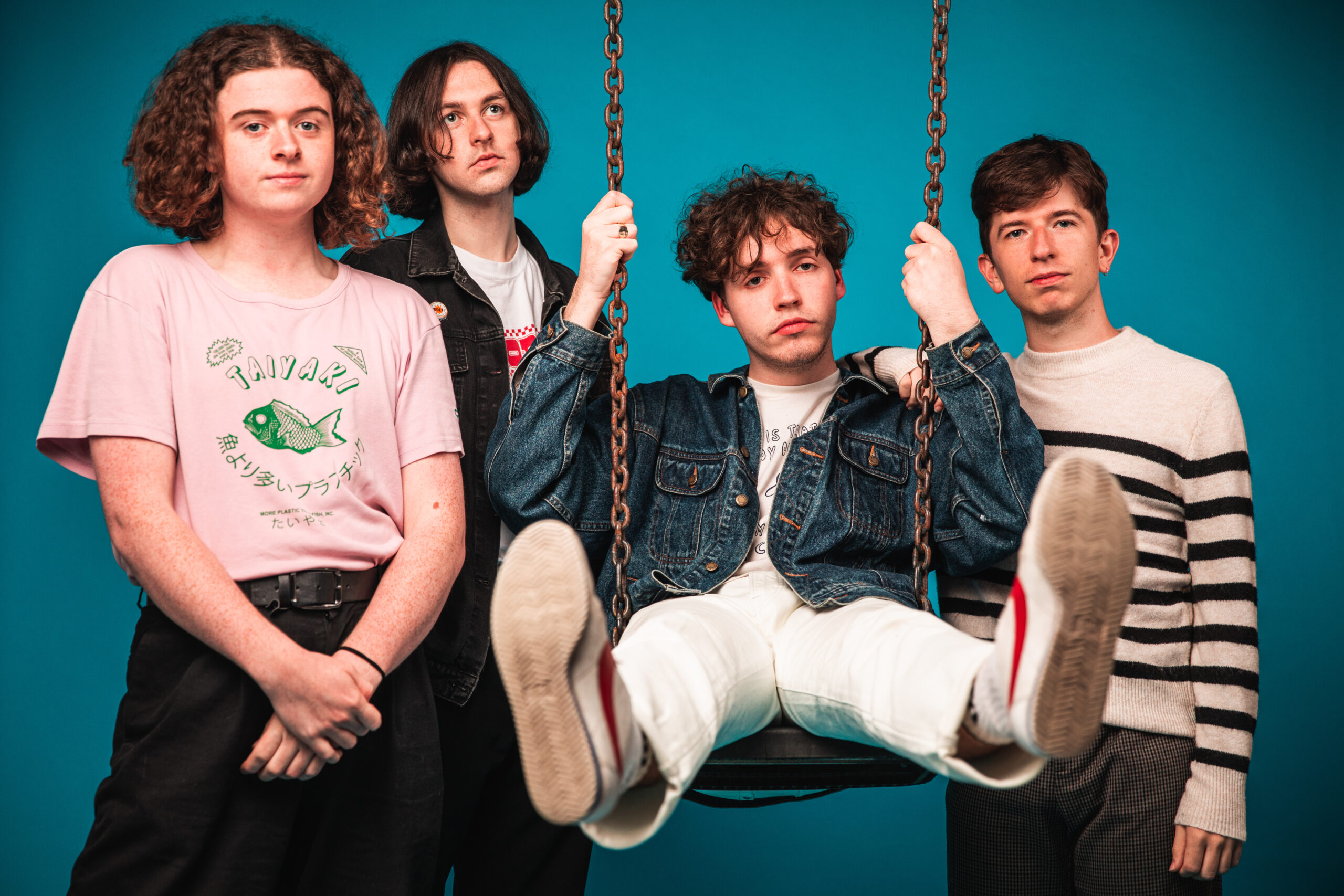 What would you say has been your best moment so far?
We've had tonnes of different amazing moments, obviously getting to tour Europe and Japan is a highlight for us. I'd say though, getting back together and recording the next album before playing a couple festival slots this summer, after not being able to do so fo nearly two years (due to the pandemic) was a weird but brilliant moment. Obviously we were filled with glee in the fact we were now back doing what we loved, but it was also really surreal and quite sad really when you remember how much everybody has been through in the last two years, and just how lucky we are to be doing what we love again.
How would you describe your sound to somebody unfamiliar with it?
Just really really good to be honest with you.
What's your dream "I've made it" moment?
Generally speaking I try not to chase after anything like that. I've found in the past that when you have high expectations for things, or when you try to pursue those moments, that when these things happen, they're not nearly as satisfactory as you assume they should be. It leaves you in a cycle of either being constantly let down or constantly chasing a bigger and better buzz and it's just no good. The best way to go about 'making it' in my opinion is to just rock with the moment and appreciate what's happening in the now.
Your new album Outside of the Blue is due on November 5th, what should we expect from it?
11 really good songs written by us lot. Each tune is located outside of or within this sort of metaphoric zone called 'the blue'. It's the word for this hypothetical place in my mind where I find myself sometimes, when I get down and anxious about things. The songs are about all sorts of things, people I know, the country, horror movies, love, happiness. We have really upped our game since Luke joined too, songwriting wise I think we've just took it to another level we couldn't have done on the first album, which is something I'm really happy about. We've definitely done some growing up in a lot of senses both personally and musically.
What else do you have planned for the near future?
We have a big massive tour with The Royston Club lined up, they're a great band so I'm really happy to be bringing them along with us. We're also working on some tribute nights in Manchester and London performing the songs of My Chemical Romance alongside Rod Stewart, it should be brilliant. Rod has said he 'wont get a wink of sleep until the big day comes' which was super nice of him. Like I always say, if Rod Stewart is happy, then Johnny Quinn is also happy.
And finally, who is your biggest fan right now?
Probably my mum to be honest with you.
Outside Of The Blue is out November 5th via Modern Sky UK