We caught up with exciting South London act Talk Show and chatted dreams of being on morning TV, upcoming EP These People, and Yannis from Foals *maybe* being a big fan
Every now and then a band or artist carve out a sound that manages to feel both radically unique and intrinsically and inescapably British. From Jamie T' announcing himself to the world with his razor sharp Southern charm on Panic Prevention to Idles' colossal and groundbreaking emergence with Brutalism, some artists just seem to encapsulate the culture in unique ways specific to themselves and their own sound and ideals. Enter Talk Show.
Talk Show are an outfit that immediately give you the impression that you're listening to something monumental and vital. The kind of act that feel like they will have cult status for long beyond their time. Their sound is cutting, gritty, and raw, and we're all for it.
Ahead of the release of their debut EP These People, we had a chat with the searing hot outfit.
Who TF are Talk Show?
Talk Show are four reprobates based in South East London trying to make a blend of 70s Goth, and 80s New-Wave, to get you all up dancing with us. Our mates call us Harrison (vocals & guitar), George (bass), Chloe (drums) & Tom (guitar).
How long have you been making music?
We started playing together a few years ago while we were studying and upon finishing we decided to stick around and give it a real go. Things started to come together for us about  12/18 months ago.
Why do you make music?
There's something about live music that brings us all together, seeing that conviction behind an artist's lyrics, or the mechanical drive of the band. I don't know, just experiencing the theatre of it all and being a part of that performance is so inspiring. So we want to do that, create that experience for others.
What are your biggest influences?
70's post punk, 80's dark wave and 90s electronica
What would you say has been your best moment so far?
I think our favourite show was last Halloween when we got to open the new venue 'Peckham Audio'. When we first began Talk Show, we ran our own nights in Peckham for our friends, and I can remember hearing about a new venue planning to open and thinking "imagine if we got to play there". Fast forward a couple years and they asked us to play the opening night! So we all wore horrible costumes and had a huge party. It was class.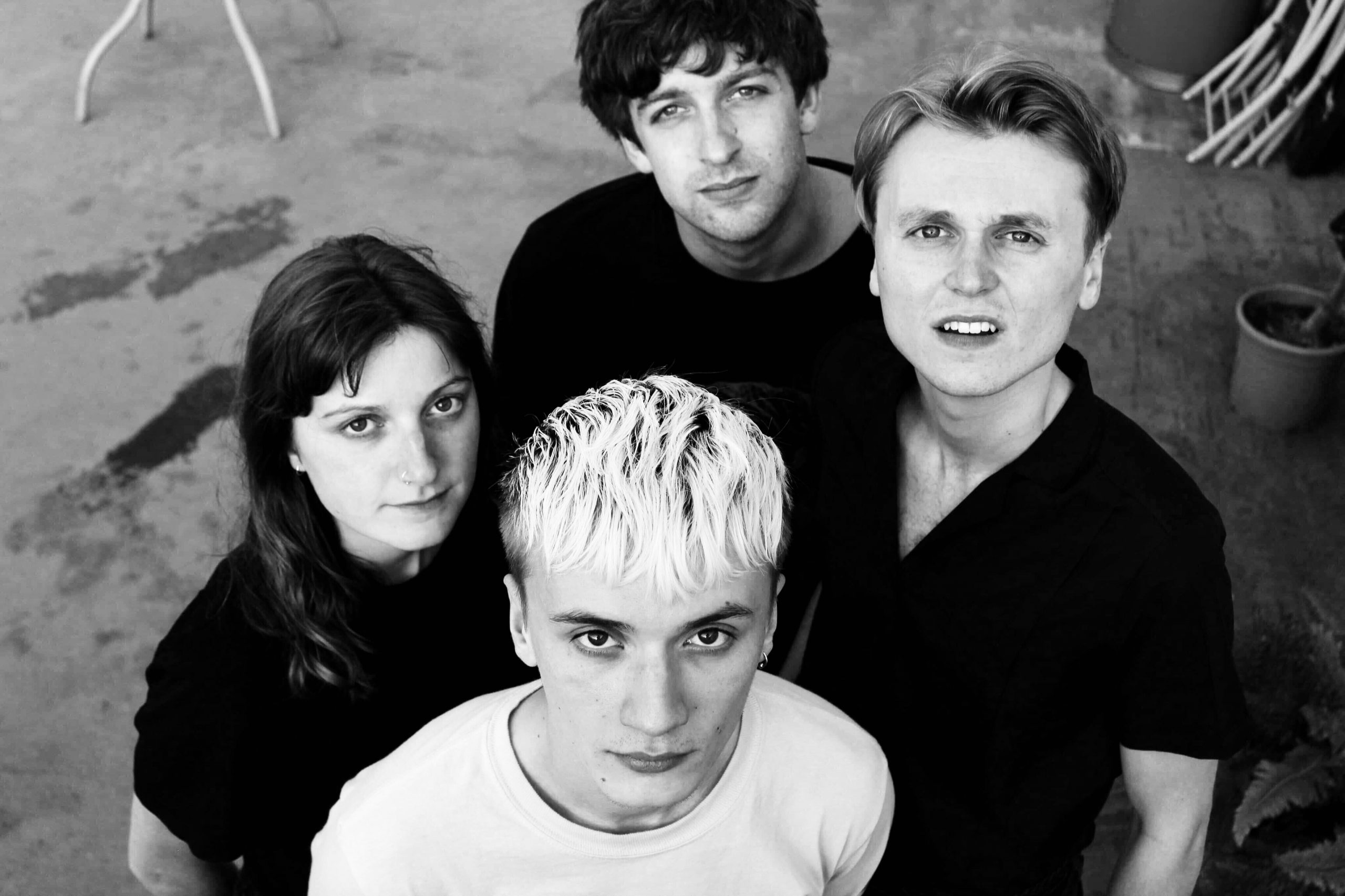 How would you describe your sound to someone unfamiliar with it?
Gothic-post-punk with heart.
What's your dream "I've made it" moment?
We believe if we can play on a morning TV program between Holly Whilloughby rounding up the week and Gino D'Acampo showing us how to cook the perfect Salmon Frittata, we will have truly made it.
You're quickly establishing a reputation for yourselves on the live scene, what should people expect from a Talk Show set?
Energy, low ceilings, sometimes chaos (sometimes controlled) and Chloe's infamous countdown.
We're buzzing for your new EP These People, what can you tell us about it?
We can't wait for you all to hear it. It's been a long time coming for us and we're all super excited to get it out there. Our first priority was making sure the energy of our live show was down on record, it was an interesting experience finding the balance of intensity and clarity.
What does the rest of 2020 have in store for Talk Show?
We've been focussing on writing a lot at the moment, working on the follow up to the EP. Hopefully we'll get to take the live show to more places about the UK. Given the current situation we're not entirely sure when this might be, but you can bet we'll be back as soon as possible!
And finally, who is your biggest fan right now?
We've been told it's Yannis from Foals is a big fan, still awaiting confirmation. If you have his number?
Talk Show's debut EP "These People" is out March 27 via Council Records
Hear latest single "Stress" here: https://soundcloud.com/councilrecords/stress-master/s-1PQV7
Hear recent single "Banshee" here: