Emerging northern noisemakers THE GOA EXPRESS told us a little more about themselves and their excellent latest single 'Be My Friend'.
Within the sea of bands that get together in schools and colleges and harbor dreams of longevity and success, there are few that make it past the hazy early days of practicing Smells Like Teen Spirit together 45 times a week and even fewer that transcend past those walls and out into the wider world with their music.
THE GOA EXPRESS are a band that have emerged onto the indie scene with a plethora of promise and poise. Their affable debut singles 'The Day' and new single 'Be My Friend' showcase a young band who are as hungry as they are exciting. There is a chaotic indie rock energy that surrounds their sound, packed full of wry charm and boundless enthusiasm. This is a band that are striving to be heard, and deserve to be. Time will tell how far the stock of THE GOA EXPRESS will rise, we had a chat with the young outfit to find out about the ride so far.
Who TF are THE GOA EXPRESS?
'A couple of lads from Burnley' and a few others from around the corner, in Todmorden. Yorkshire meets Lancashire, through cross county lines.
How long have you been making music?
We have been in a band since our first year in college, so going on around 5 years or so. Even before that though in school, however, there were times of sneaking into rehearsal rooms at school lunchtimes to try some things out. We weren't allowed access to them as non-music students so were often kicked out. Our music teacher was a reyt crank.
Why do you make music?
It started just out of boredom. Having little or nothing to do in our hometowns so we decided to have some fun and it stuck. Creating an excuse for a good night out, for us and for other people we knew, still and remains to date as the most obvious drive and motif. Youthful energy, and none to waste.
What are your biggest influences?
Our main influences stem from music we would discover and tell each other to listen to, from The Brian Jonestown Massacre to Spacemen 3 and The Velvet Underground. 1950s to present and pretty much everything and anything in between. Art, literature, music and film. Influences are always developing, and often, forgotten and left behind.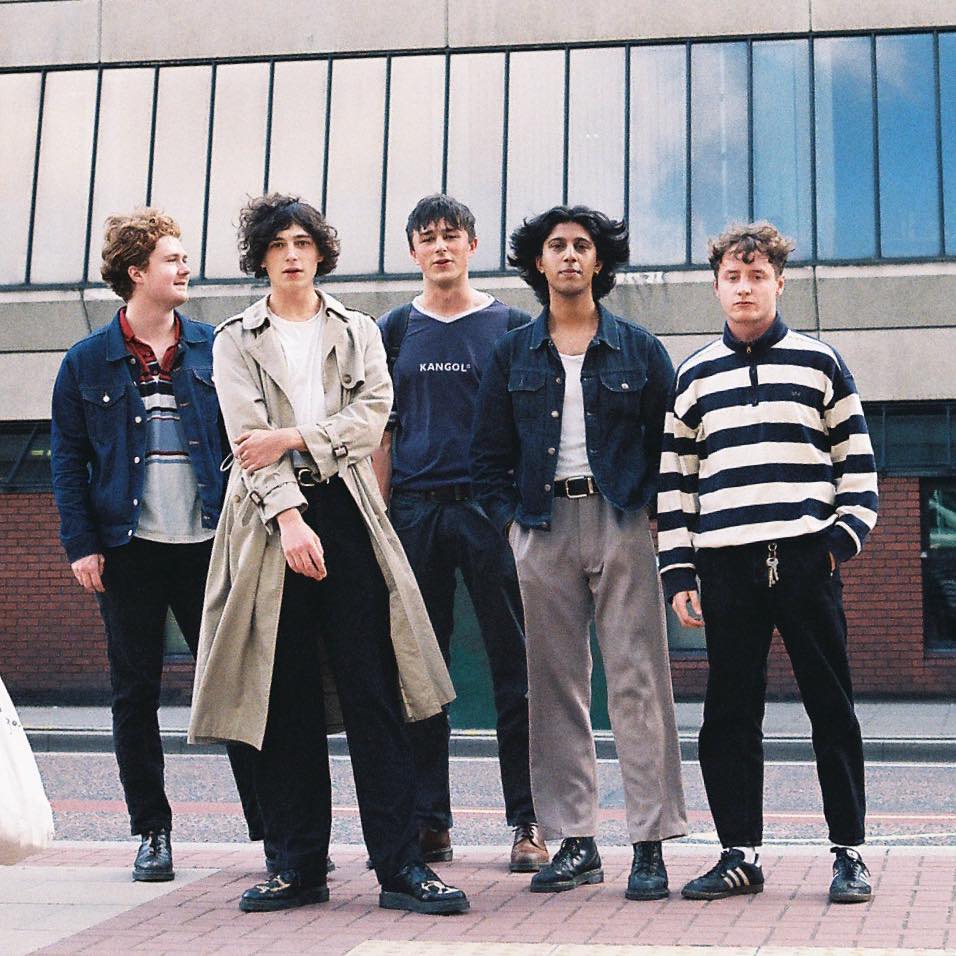 What would you say has been your best moment so far?
This past year has had some pretty good moments, with a recording session at Abbey Road Studios for Steve Lamacq and 6 Music up there. But fun-wise, I'd have to say our first European show in Rotterdam was the best. Nearly missing the ferry on the way over, clearing out the roulette machine on the way there, taking full advantage of the free bar at the venue and indulging in legal truffles on the way home.
How would you describe your sound to someone unfamiliar with it?
Melodic but instant. It stops you in your tracks. You can hear it coming from a mile away, but it's still extremely hard to get out of its way in time.
What would be your dream "I've made it" moment?
Who knows. None of us are looking out for that 'dream moment," and would probably miss it even if we did. I'm pretty sure that some have already passed us by. Having the ability to reflect over the years on the places that we have visited and the people we have met is and will always be enough.
We love your latest single "Be My Friend", could you tell us something more about it?
It's pretty pessimistic throughout, largely satirical of the things that people claim to have on offer. It's a step away from those who're always trying to get close to you. An avoidance of those that are always hanging round. A shout out to individuality and an acceptance of rejection.
How do you feel that the Northern towns and cities that you have grown up and lived in have influenced your sound?
A large part of our development and character came from growing up in two industrial Northern towns. No one's tried to invent themselves an ego, or chosen to walk around with a front. There's a very 'no bullshit' attitude here. People know you, and you won't get away with pretending to be summat that you're not.
We often visited The Golden Lion (Todmorden) & The Trades Club (Hebden Bridge) and later ventured to the various venues in Manchester later on. Both of these venues, however, allowed us the opportunities to fuck-up, to start shit and to then get better and better with each gig and no shame.
Finally, who is your biggest fan right now?
Fuck knows, this one kid 'Warren' though once jumped into the canal after one of our sets at the Golden Lion in Winter. No one else has…