We (somehow) had a really great chat with virtual alternative rock comic heroes THE HYBRIS.
Ok, so… there is a lot to unpack with this one. THE HYBRIS are a trio of artists who currently live in different parts of the world, currently Nice, L.A. and Cologne to be exact, and they produce their music in a shared virtual recording studio. The three of them make music as their superhero alter egos and it all ties into an overarching narrative and world that the band exists within.
If this sounds daunting or complicated then don't worry, the main point is that their brand of alternative rock is fresh and exciting, as brash and unpredictable as it is melodic, and packed full of stylistic left turns and fun moments. Latest single 'Imposter Sydnrome' exemplifies this effortlessly, a track with bags of personality and charm that feels like it could only have been made by THE HYBRIS. We love the unique aesthetic and approach of the outfit, and wanted to have a chat with these alter egos to find out a bit more about the project and what other plans they have for it.
Who TF are THE HYBRIS?
THE HYBRIS is a virtual project. At the core we are three, we live in Germany, France and the US, but know each other for many, many years. In the past we played in different combinations in various rock- and punk bands. Then we were spread all over the world for professional or family reasons, today we live in Nice, in L.A. and in Cologne. When we make music as THE HYBRIS, we do it as our comic superhero alter egos Ringo Rabbit, Beanie Bison and Malcolm Mandrill, three wannabes who aim to save the world. At first this masks thing was just a nonsense idea, but meanwhile we think it's pretty cool and things developed.
How long have you been making music?
It all started with piano lessons at the age of 8 and a first band at 12. Back then Beanie and I were already in a band and we destroyed hi-fi loudspeakers with our guitars and keyboards. THE HYBRIS was born in 2020.
Why do you make music?
Because making music is the greatest thing in the world. There is nothing better. You can talk about topics that move you and put them into a piece of music. You can dance to music, discuss it or just listen to it. And if others like your stuff too and can understand the feelings you put into your work – all the better!
What are your biggest influences?
This varies depending on which of us you would ask. We've all been involved with music so intensively for so many years that it's hard to name specific influences. Probably everything you hear influences you. We like the usual suspects in rock and punk, but also blues, jazz or electro. The important thing is that it touches you in some way. I can't stand "bad" music, that makes me aggressive.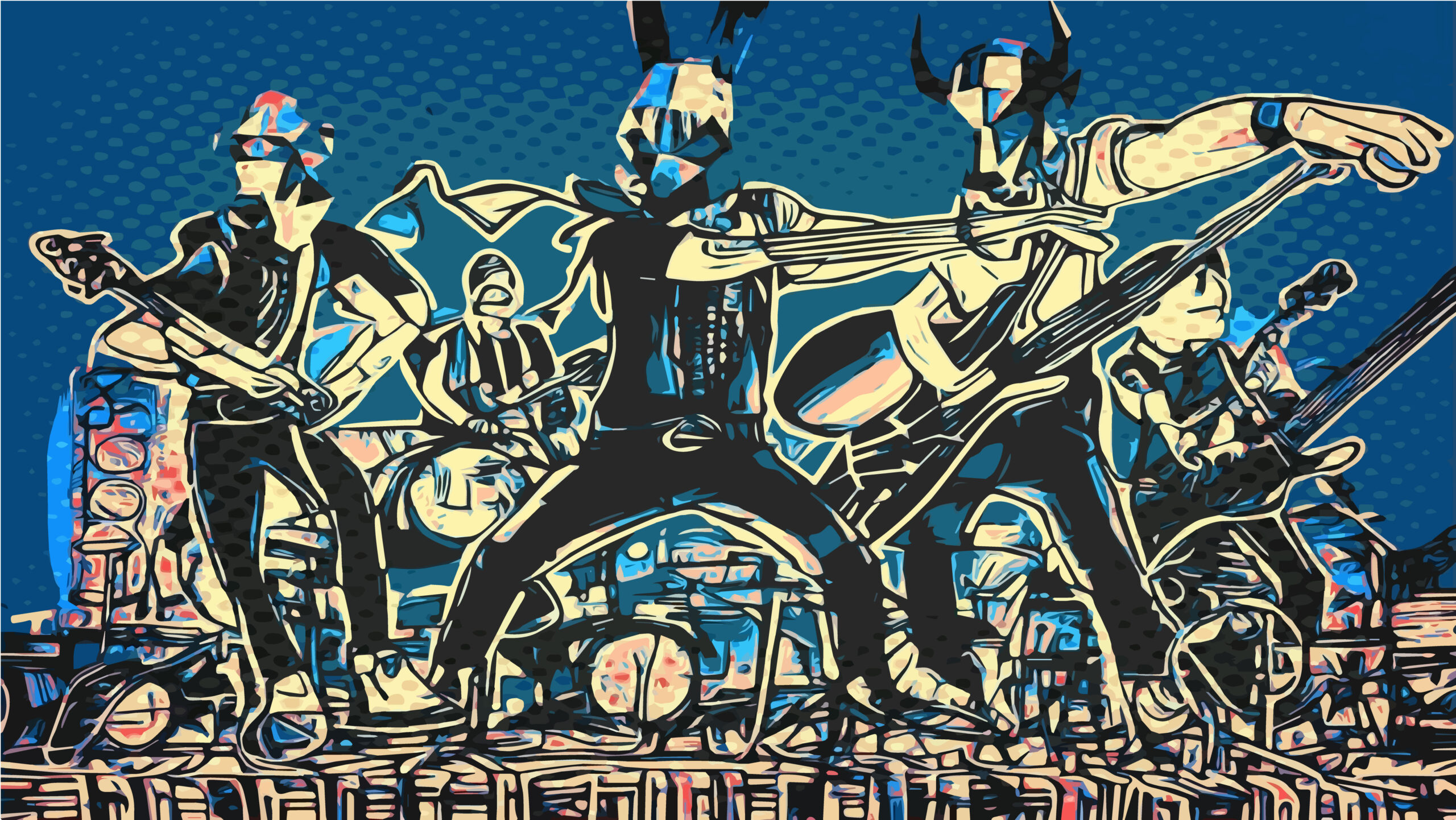 What would you say has been your best moment so far?
For me, it's always when we finish the current song we're working on. When everyone says, "That's it!" That's a very satisfying feeling.
How would you describe your sound to somebody unfamiliar with it?
It's a blend of punk, pop, rock, indie – a lot of different things, but always in the alternative rock realm. Many say it reminds them of the 80s, it probably sounds a bit retro. Songs to sing along, celebrate and think about – not all at the same time maybe. I guess every song is a little different, but we try to keep a common thread. Something between Killers, Joy Division and Black Rebel Motorcycle Club, we've been told.
What's your dream "I've made it" moment?
When Rick Rubin rings the doorbell and insists on doing an album trilogy with us!
We love your new single 'Impostor Syndrome', what more can you tell us about it?
Lyrically, this is a topic that has accompanied me – like many others – all my life. Therefore, it was only logical to write a song about it someday. Musically Impostor Syndrome is a further development I think, I like the overall sound and how the individual song elements intertwine. The structure goes a little away from the usual schemes.
What else do you have planned for the near future?
First and foremost, write and produce more music. We are constantly trying to develop our sound and get better. We also have fun with collaborations, hopefully exciting things will come up. And we've found fun in creating videos. Especially for our visual idea of the band, that of course expands the creative possibilities. We want to play with that more.
And finally, who is your biggest fan right now?
Ha, good question. Maybe our moms? 🙂