With a brand new 2021 tour selling out in no time at all and a constant conveyor belt of huge indie rock tunes, we got better acquainted with rapidly ascending Wigan outfit The Lathums.
Having rapidly built an engaged and ardent following with their salt of the earth indie rock sound, Wigan noisemakers The Lathums look to be on an upward trajectory that shows no signs of stopping anytime soon. A UK tour set across 13 dates in 2021 has sold out, including dates at hallowed venues such as Manchester's 02 Ritz and London's Electric Ballroom and right now feels like an exciting time to be in or around The Lathums.
With this in mind, we caught up with the outfits guitarist Scott Concepcion, to find out a little more about a young band that are catching fire before our very eyes.
Who TF are The Lathums?
We are four, young whippersnappers from the town of Wigan, out to show that melodic guitar music lives on. In total, we are me (Scott Concepcion), Alex Moore, Ryan Durrans and Johnny Cunliffe.
How long have you been making music?
We have been making music as a group since early 2019. We knew we'd give it a good go after writing our first tune "Artificial Screens". Since then, things have taken on a life of their own.
Why do you make music?
Why do we do anything? We started making music for ourselves, but with so many thousands of people now buying our music and tickets for gigs, we're doing it for them now too.
What are your biggest influences?
My personal influences have been drawn from many places across British musical history. Most decades have influenced my style of playing, I think. I understand why people say there are shades of Johnny Marr in there, or The Housemartins, The Beatles and Arctic Monkeys, but Alex is into Elvis and Ryan and Johnny into punkier stuff.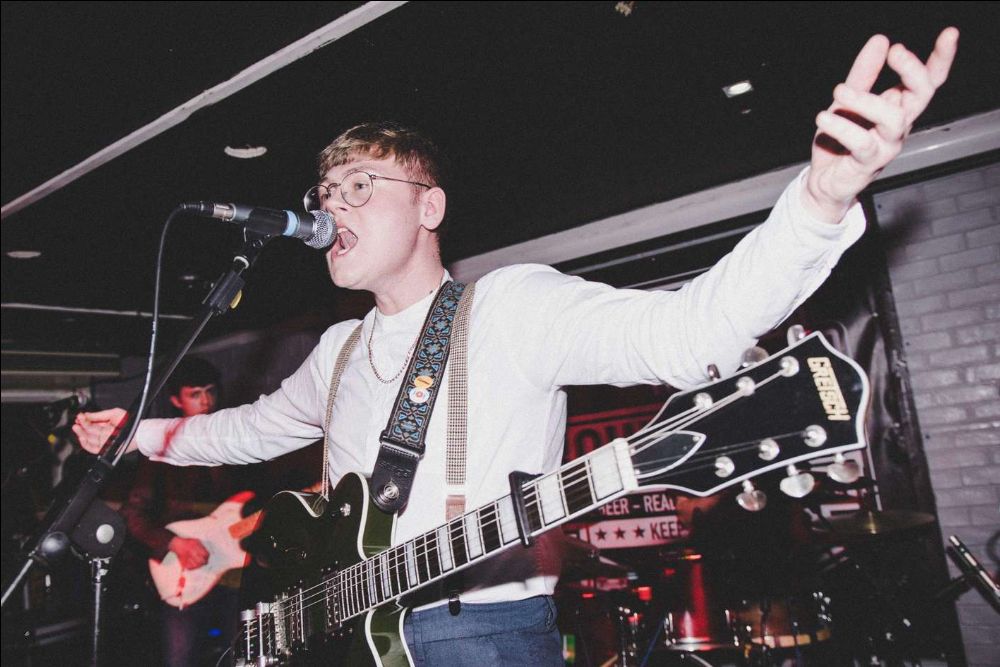 What would you say has been your best moment so far?
I think our best moment so far would either be being asked to support Paul Weller or playing Tim Peaks at Kendal and packing the place out.
How would you describe your sound to somebody unfamiliar with it?
Melodic 'jangle pop' with the occasional moodier or rockier number, maybe even nostalgic considering our influences. I like to think there's more than one of our songs that anyone can enjoy.
What's your dream "I've made it" moment?
Dream "I've made it" moment is headlining a big, outdoor show at Haigh Hall in Wigan, with Richard Ashcroft supporting.
We love your latest single 'All My Life', can you tell us some more about it?
"All My Life" was actually the first song Alex wrote, when he was about to leave school and before he had met me and the rest of the band. The song is really personal to him, helping him through difficult times, just pouring his frustrations into his guitar, which is the best possible use of a musical instrument. It was recorded in one day in a tiny room in Parr St Studios in Liverpool.
You've just announced your biggest shows yet for April and May 2021, what should people expect from The Lathums set?
For the 2021 Spring Tour people should expect a mad atmosphere and probably some sweat… the scenes that we faced on our first headline tour earlier in the year, which sold out in an hour, were memorable to say the least. Every night is a celebration. Maybe there will be some new songs when we get back on the road too.
And finally, who is your biggest fan right now?
Our biggest fan right now is either Keggo, my nan or a good lad called Mike Crowe.
The Lathums' Spring 2021 UK Tour including dates at Manchester's O2 Ritz and London's Electric Ballroom has sold out. For ticket updates and advance information about future releases follow the band at https://twitter.com/TheLathums