We had a chat with UK indie rock outfit Camens as they come towards the end of a stellar 2022
Over the last few years, Stoke-On-Trent indie rock outfit Camens have established themselves as a consistent and relentless presence on the UK music scene, touring up and down the country, putting together a solid back catalogue of anthemic indie bangers and earning thousands of listeners and fans along the way.
The latest release from the revered outfit is their thoughtful new single 'I Concede To Worrying', a track that features the outfit's now signature sound but with an undertone that feels altogether darker and more weathered. The track addresses the uncertain and often unjust situation that the UK finds itself in as of late, and does a really great job of articulating some of the thoughts and feelings that people are experiencing as of late. This meld of considered, relatable lyrics and infectious indie rock melodies has been a tried and tested formula that, when done authentically, creates some of the most resonating and thought-provoking art of recent times. We had a chat with Camens about their approach to their sound and some of the highlights of their journey so far.
Who TF are Camens?
Scott Powell, Bass and L Vox
Luke Brightmore, Drums and BVs
James Corbishley, Lead Guitar
Josh Egan, Rhythm and Bvs
How long have you been making music?
As Camens, Since 2017 BC (Before Covid), Feels a long time, but we lost two years due to the C word. When that happened like a lot of artists all the momentum we'd built had the breaks slammed on and come 2022 we felt like we were basically starting again, soooo… yea, good to be back rolling!
Why do you make music?
I can only answer for me personally. I've always seen any other job as time and stress in exchange for money. So, I suppose the aim is to spend as much of my life doing what I love as possible…. and if I can get it to the pay the bills one day, well then that's winning at life. Money isn't real, time is. Thats what you can't get back or make more of. I hate the thought of spending 40/50 hours a week doing something that's just time in exchange for money for the rest of my life. Work, work, work, Pay bills, Die. Fuck that.

What are your biggest influences, and h

ow would you describe your sound to somebody unfamiliar with it?
We're a right Hodge podge… I think the best way to describe how the sound comes about is…. The songs start with me, I've grown up on great guitar pop really … Beatles, Kinks, etc. So melody. More often than not with quite an English tone. I do focus on lyrics a lot,… I like trying to find original ideas, stories and worlds to explore thematically. Then the rest of the lads probably sway more towards west coast US punk, pop punk, Alt stuff… Weezer, RHCP etc. So my vibe gets pulled that way,.. then when we get in the studio… Our producer Andy tends to help us funnel things somewhere between the two. Normally we ref a lot of early 2000 Indie new wave stuff as well, Strokes, Arctics etc.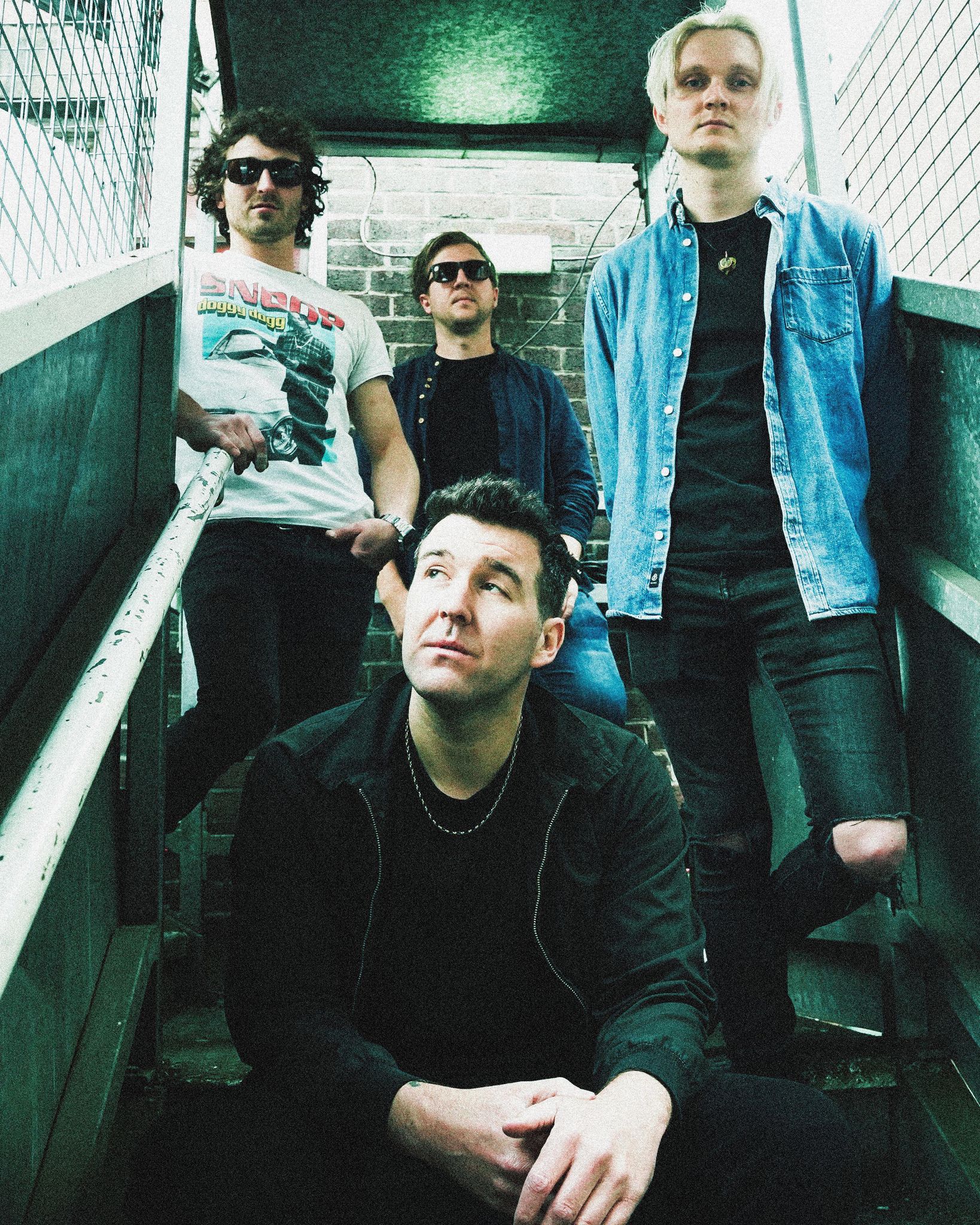 What would you say has been your best moment so far?
We've certainly had some wins that made us feel like what we do genuinely had the legs to get where we want to be. Steve Lamacq featured us on BBC Radio 6 Music a few times, Clint boon said some nice things about us. We've done some big gigs and tours with Black Kids and Scouting for Girls this year too. You can't fake live, crowds either go for you or they don't and when we've had the chance to play to numbers… its been great. So yea… more of that please!
What's your dream "I've made it" moment?
Quitting my day job. I think if anyone can't see what a win that is… especially in the current climate. They're either deluded or haven't worked a day in their life. haha.   
We love your new single 'I Concede To Worrying', what more can you tell us about it?
First off thank you, we're really proud of it! It's great to hear that its being well received! As for the reasons behind it….

We've never been a political band. I'm not an on the nose political songwriter. That said, many artists I love have been – Dylan, Lennon, Strummer etc. It just doesn't feel right or genuine when I adopt that voice. That doesn't mean to say I can't write about the human experience though; about how this farcical system that we've allowed to leach, and fester is affecting the people we know and love. That's where Worrying came from. So many people live in perpetual worry now. Working full time for a wage that just about covers bills, leaving them with no real life or time to grow, relax, or invest in themselves or their families. As a result, I've watched good people I love trying their best to start families and maintain what were happy relationships, only to be pushed to the brink and eventually split… because all they do is work, sleep, pay bills, repeat. It's bad and it's getting worse. "I concede to worrying". It's exactly that. People are losing to the worry of providing. Losing the best years of their life to these struggles despite working full time and paying their way. It's horrible. I don't think I need to be rhyming the name of the latest PM with something abhorrent to be political. I'll just write about what they're doing to people.
What else do you have planned for the near future?
We've some big shows with Scouting coming up before the end of the Year, Sold out Liverpool 02 and Oxford 02, can't wait for that! Then we've a big hometown show and Keele Uni before Xmas on Dec 16th which will be mega. Come 2023, the plan is to get the first album together… Money and time permitting! 
And finally, who is your biggest fan right now?
Always Mum and Dad mate, they never miss a show. God Love em. x