We had a chat with the uncompromising and endlessly creative electro-pop talent tiLLie
tiLLie is an artist who seems to have really found herself and is really stepping into their own unique and thoroughly memorable territory. The singer-songwriter and multi-instrumentalist holds an autonomy over her work that allows her to take a thoroughly hands on approach. This has resulted in sights and sounds that feel unlike anything else, whirring with sharp edges and chaotic sounds that only serve to embolden tiLLie's engaging and uncompromising personality.
Latest release 'Peachie' continues to showcase this enigma of a sound. Packed full of electronic fuzz, retro-feeling Nintendo-tinged chimes and an overwhelming sense of rough and raucous unpredictability. tiLLie is operating at the peak of her powers and we can't get enough of the emerging artist. We had a chat with her to find out some more about her unique sound and the places that it comes from, and took a deeper dive into the creation of her aforementioned latest release.
Who TF is tiLLie?
A semi-feral cat on a harrowing journey to enlightenment.
How long have you been making music?
Since I was a lonely + depressed 14-year-old looking for a healthy coping mechanism.
Why do you make music?
See above. Lol but for real, It's a way of making sense of the world around me. It's like catching all the tiny pieces of chaos around you and solving a giant puzzle.  I started off doing it as a way of personal therapy/healing and it continues to be that for me to this day. It lets me turn all the noise that's happening in my head –  my doubts, my fears, my introspections – into something tangible that connects me to other humans.
What are your biggest influences?
It sounds kinda fucked up and it's not really by choice, but my personal challenges/struggles, generalizations, misunderstanding. I wear my heart on my face and I jump head first topics/feelings that a lot of people try to avoid. It's not something I do intentionally and sometimes I think it overwhelms people. Writing about those things is like a way of me tackling those subjects and reclaiming my power over them/having an input on how they turn out. Growing up my mom always used to tell me "It's not what happens to you, it's what u make of it" and I guess I just took that literally lol.
Aside from that I like building shit and nature. If I'm ever feeling uninspired musically, I'll likely be doing one of those things.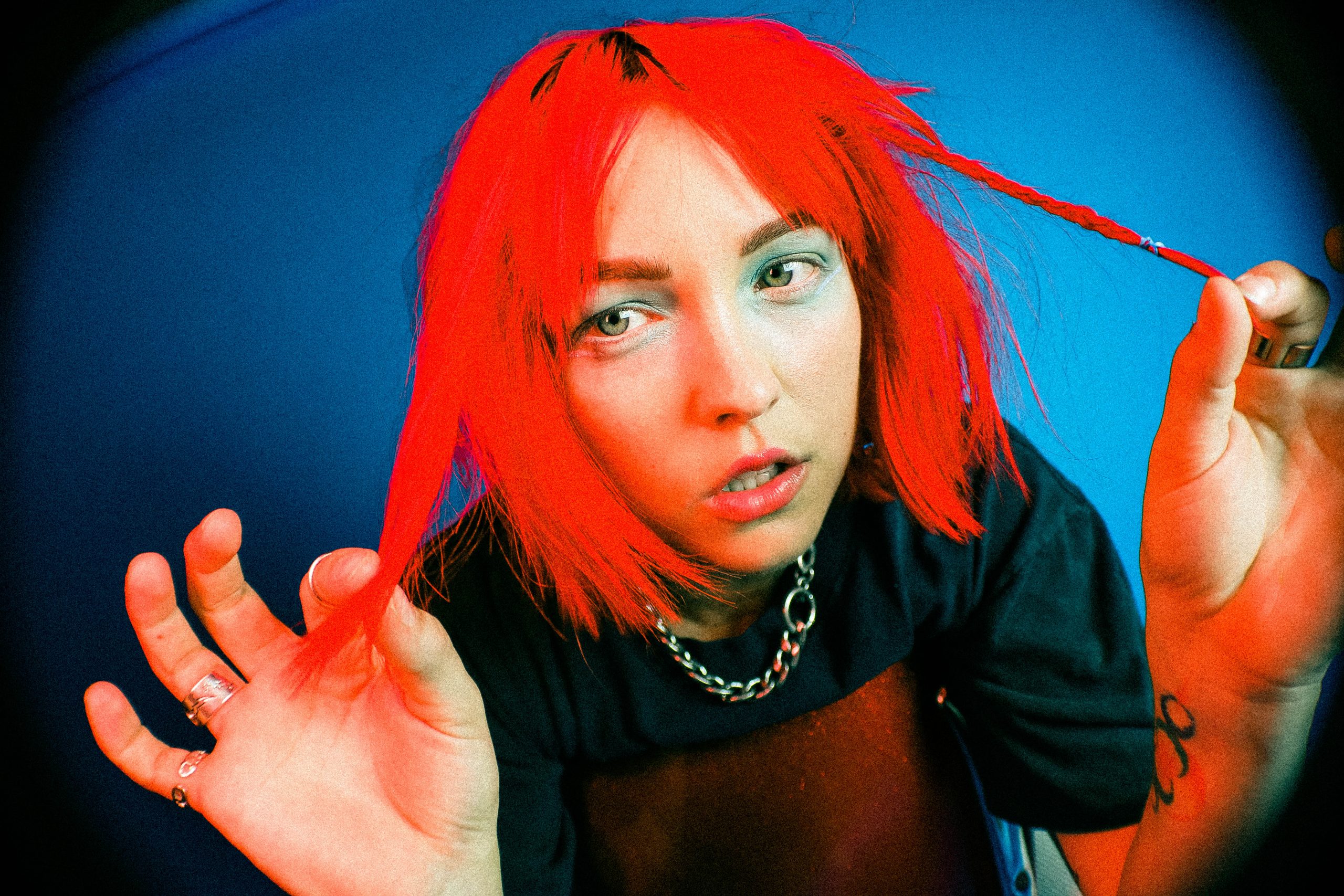 What would you say has been your best moment so far?
I recently had legendary music producer that I've idolized for years tell me how much they loved my music and wanted to be a part of it. I honestly cried for like 2 hours.
But still, i have to say over and over, it's playing a show in some random ass town and seeing people singing ur songs back to u. It will never get old. Ever.
How would you describe your sound to somebody unfamiliar with it?
Uplifting with a massive middle finger raised. Ur gonna wanna get ice cream and kick someone in the balls at the same time.
What's your dream "i've made it" moment?
Shania Twain sharing a song on mine on her own volition while I'm selling out arenas and headlining Glastonbury.
We love your latest release 'Peachie' and its new video, what was the process like putting it together?
Thank you! I wrote the song about arguing with family members in the Midwest over politics actually :p  someone commented that because I'm "so angry and opinionated" that I must be "miserable on a daily basis" – which is funny cus I think they were projecting some shiiiit. I realized though that their anger wasn't really with me, but with the fact that i was asking them to change something in themselves, and people hate that more than anything. The song is my response to that – that u can hold space for all of it if u open ur perspective. U can give a fuck about the world and fight for change and still find things to be grateful for and happy about.  I think people trying to demonize wanting change is bullshit.
I subconsciously channelled Princess Peach from Mario when I was recording the song (I was honestly trying to do a Pikachu voice) so that's ended up inspiring what became with concept for the video I created with Nas Bogado (@http.naserin). We worked with this amazing animator (@rebel.designer) to create this world in which I'm being chased by two hillbillys on go carts – but I'm drifting on a spaceship. The other visuals were inspired by that feeling of the duality of asking people to change – extreme discomfort and this idyllic world of your own creation – holding both truths.
What else do you have planned going forward?
Releasing all my new music. I feel like I've really come into my own with this new stuff and I'm really excited to share it. I also cant wait to get back on the road and have some exciting things booked for 2022.
And finally, who is your biggest fan right now?
Cammy from street fighter.