Following the release of the emphatic new album Celebrated By Strangers, we caught up with Glasgow's Catholic Action as they continue their lofty ascent
Catholic Action are an outfit that have spent the last few years really coming into their own as an emphatic and impactful indie rock act. Since the release of 2016's L.U.V the act have rose in prominence, gaining acclaim and a growing base of ardent followers.
March 27th 2020 saw the release of their sophomore album Celebrated By Strangers as the band continue to establish themselves as one of the most fresh and vital bands in the UK today. We had a chat with lead singer and guitarist Chris McCrory to delve behind the curtain of Catholic Action.
How have the last few years treated Catholic Action? 
If you compare press photos from three years ago and now, that should tell you everything you need to know.
During this time you have churned out tonnes of great releases, how do you think your sound has evolved in this time? 
Thank you. It's hard for me to draw a line between everything we've done over the last few years, I don't tend to analyse it like that. I will say, I think we're getting better at being more direct though, I think our newer material sounds more like us as people. I also think we've definitely embraced the studio more – we've learned when, and how we should lean into that way of working.
What major highlights do you look back on from your time as an outfit? 
We've been very lucky with some great tours as a band. We spent last spring touring Europe and the UK with The Dead Kennedys and the summer touring around America with fellow Scots, We Were Promised Jetpacks. Aside from the music, the sheer amount of great people you people you meet, places you see and things you learn is incredible – all just because you wrote these dumb songs. Laid out like that, the band experience is always pretty astounding to me.
How do you think that Glasgow and Scotland have impacted your sound? 
In much the same way as my mother impacted the colour of my eyes. The rain soaks everything it touches. We're a west coast band through and through.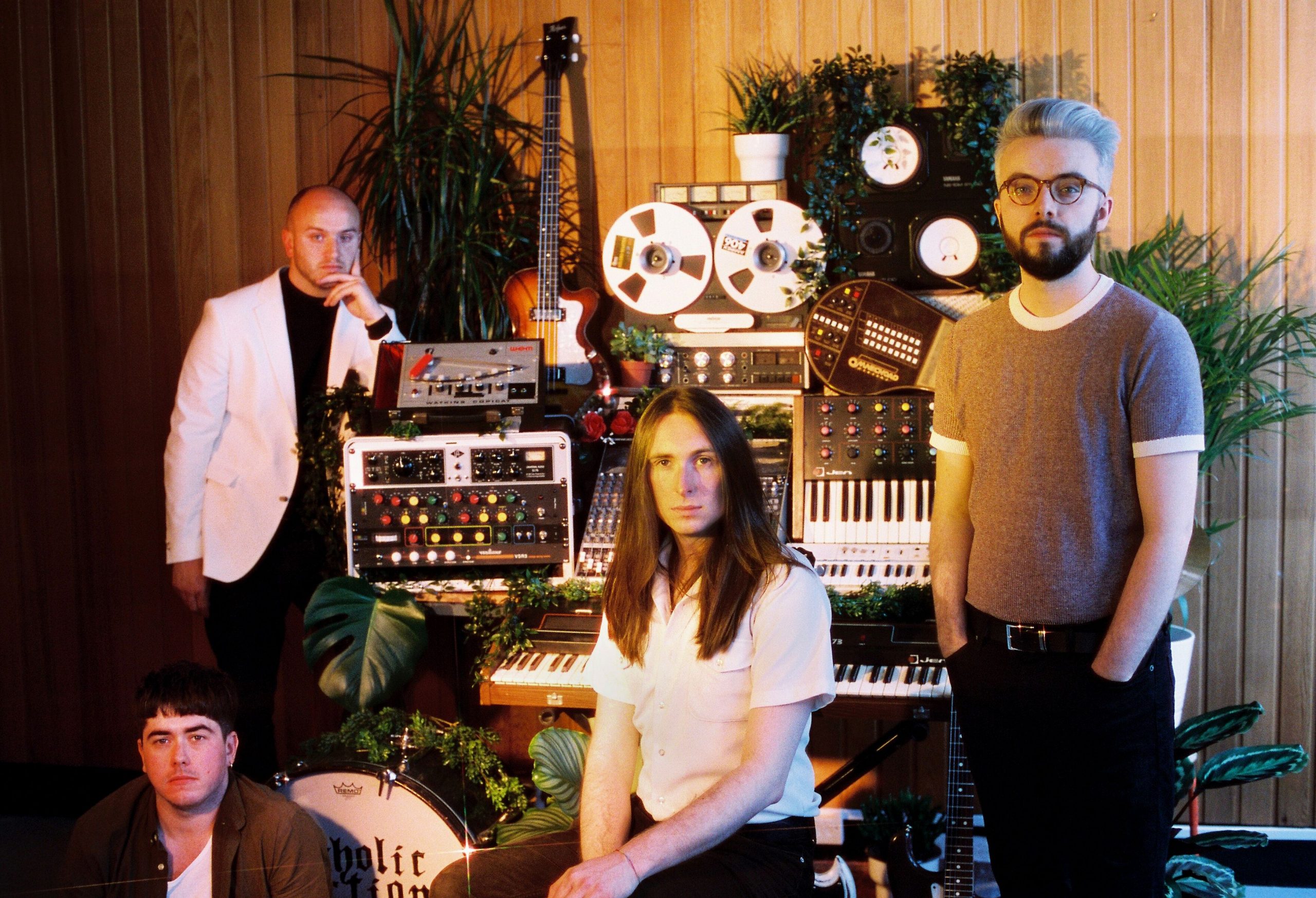 Your second album 'Celebrated By Strangers' out on March 27th, what can you tell us about it? 
11 new tracks from a process that led to a happier, healthier, more driven, direct and confident band (2017-2019).
What was the process like putting it together? 
Cathartic. Educational. At times strained, but much (much) less so than on album one. We learned the first time round, that the more attention you give to anything other than the pure act of writing, playing or recording, and the more you involve people outside of that process – the less fun it is. So, we closed the doors, took our time and made the record we actually wanted to make.
You've stated that on this album you wanted to "embrace the studio as an instrument in its own", what do you mean by that? 
My 'day job' is producing other bands and I firmly believe that just as the instrument you choose to play affects the sound of your track, so to does how you choose to record it.
We "played the studio" a lot on this album, we let all the equipment we had at hand influence parts and sonics greatly. Some of the songs even came directly out of studio experimentation as opposed to a more traditional 'band in a room' style of writing.
What insight can you give us as to new singles 'One of Us' and 'People Don't Protest Enough'? 
My friend said "People Don't Protest Enough" sounds like Slade if they were German. To me, it's Casiotone Krautrock. And as for subject matter, it does what it says on the tin.
One of Us was recorded live in my old bedroom at my parents' house. We did some overdubs in the bathroom for that natural toiletverb. This is actually the demo version of the song, but we couldn't beat it in the 'proper studio' so we went with it.
What should people expect from a Catholic Action live show? 
Resting Bitch Face and/or a very good time.
What's next for Catholic Action? 
Embracing the positive benefits of isolation and social distancing. And potentially, making another album.
Catholic Action's new album Celebrated by Strangers is out March 27 via Modern Sky.