Following the release of her excellent latest single 'CHILL', we got better acquainted with UK indie pop artist Beth Duck
Melding sweet, bubbly melodies with a real organic and candid sense of honesty and authenticity, Beth Duck is an artist who's fun cocktail of sound has been turning heads and really launched her solo career over the past year or so. The East London artist set the tone with her effervescent 2020 debut EP Looks Like I Have a Life and looks set to press on with its follow up, set for release in 2022.
The latest release that we have had from the artist is 'CHILL', a fun and colourful track about the struggles of modern dating. The track showcases the artist at her most relateable and engaging as she continues to build up steam and earn acclaim for her earnest and memorable sound. We had a chat with Beth and found out some more about the new release and the artist behind it.
Who TF is Beth Duck?
I am Beth Duck, I am an indie pop artist based in East London. I started my career writing heart break songs featuring on electronic tracks for DJs such as Lucian, Luca Schreiner and Olmos. I moved onto my debut solo career last year releasing an EP called Looks Like I Have A Life and on that EP I explored relatable topics like phone addiction, wanting to kill your best friends ex and obsessing over your own ex. My new single CHILL is the first single off my upcoming EP, which will be coming in 2022.
How long have you been making music?
​I remember writing little lyrics and poems from a really young age but I think I properly started writing music when I turned 14 and decided to teach myself to play the guitar so I could write and play my music to others.
Why do you make music?
I think it started out as a sort of therapy for me, I would always write songs about whatever I was going through growing up as a way of letting my feelings out so I didn't keep everything bottled up. It also helped me to tell others how I was feeling without having to say it, so I really just used music as a way to work through my emotions and communicate what was going on inside my head!
What are your biggest influences?
My biggest influences are definitely powerful and emotional female artists, such as Taylor Swift and Phoebe Bridgers, I love a sad heartbreak song and I think the lyrics they use are so relatable and poetic.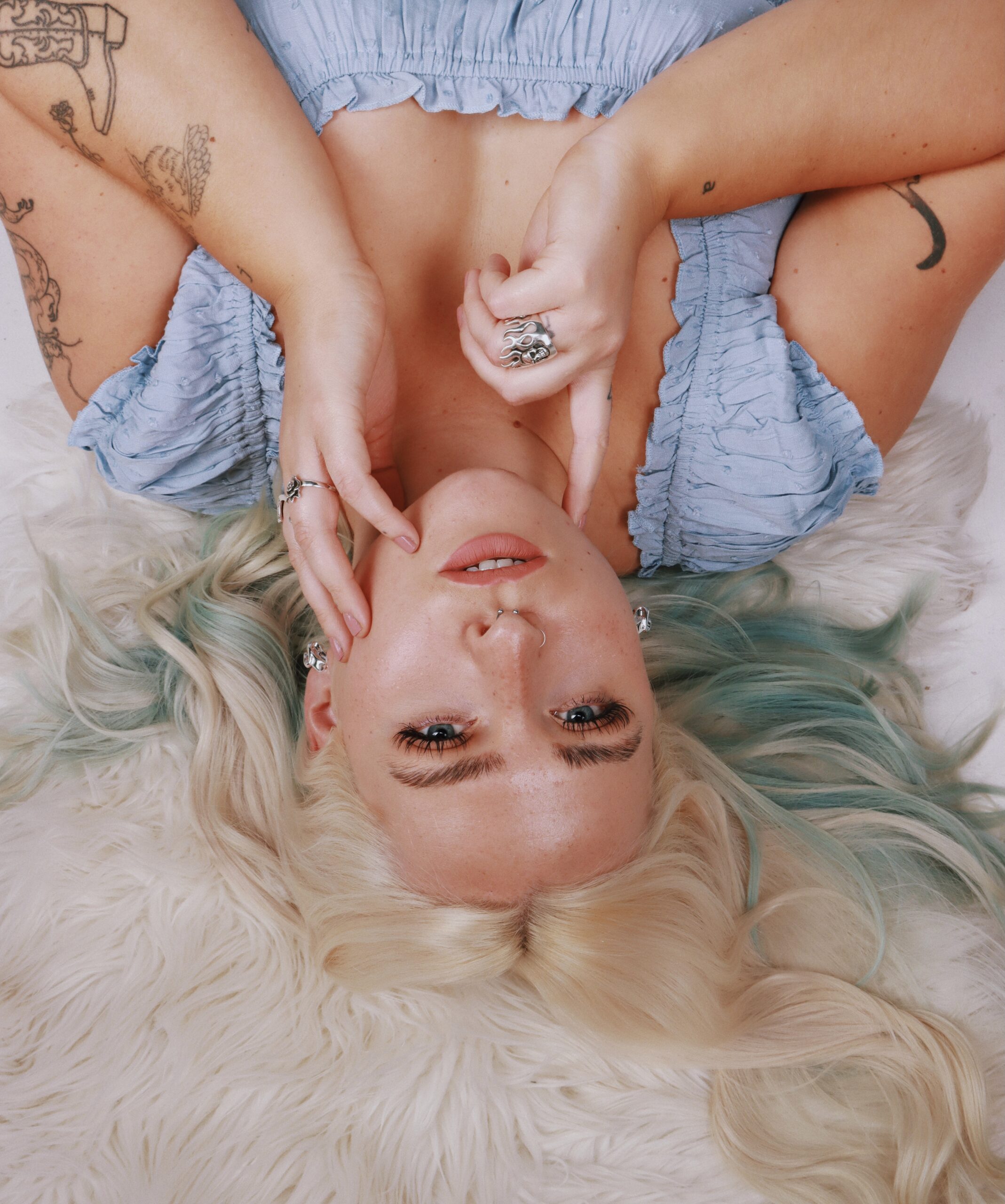 What would you say has been your best moment so far?
So recently my song 'Sad Together' was played on the US TV show 'Charmed' and that was a real pinch me moment where I thought wow, I could actually do this whole music thing!
How would you describe your sound to somebody unfamiliar with it?
I would describe my sound in the past as alt electronic pop but as you'll hear in my upcoming singles, I definately feel like my sound is maturing and leading into a more guitar based indie pop sound, probably inspired by my deep routed love of Taylor Swift!
What's your dream "I've made it" moment?
I think that moment for me will definitely be when I can support an artist I love on tour, I released my first EP in lockdown and have only been able to play live a few times this year so I can't wait to play more shows and hopefully share the stage with some musicians I love one day! Ps Phoebe Bridgers if you're reading this, please take me on tour with you haha!
We love your new single 'CHILL', what more can you tell us about it?
I wrote CHILL about modern dating and pretending to be who someone else wants you to be. I feel like for so long I tried to make myself seem cooler, more 'chill' and less intense so I wouldn't scare others away and I realised that I don't want to do that anymore. I think everyone should be their most authentic self, in and out of relationships and I wanted to write a relatable pop song for those struggling to navigate their way through relationships in their 20s.
What else do you have planned for the near future?
I have more shows scheduled for the coming months, which is very exciting, and I will be releasing another single before the end of the year, leading up to something special planned for next year (you'll have to wait and see).
And finally, who is your biggest fan right now?
It would be unfair to pick just 1 because I know that will cause a fight between my sisters! Both of my sisters are my biggest supporters, they are the first people to hear every demo, they help me with artwork, music videos and come to every gig I play. So they pretty much treat being my number 1 fan as a full time job!