Following the release of her debut singles 'Frustrations' and 'Fire Song', we had a chat with fiercely unique emerging UK artist Catherine Elms
Thanks to her distinctive aesthetic and powerful and dark alternative pop sound, UK artist Catherine Elms has emerged and begun to turn heads with her first two emphatic releases.
The tracks do a great job of establishing the aura of the artist, and the rich vocals and poised soundscapes that characterise her unique sound. There is a fierceness and a real sense of heart to Catherine and her sound, and the artist's defiant, uncompromising vision makes her feel like a must-hear artist that feels quite unlike anyone else. The artist's personal and conventional project is her first step towards stepping out and doing her own thing, and freeing herself from the shackles of the mundane day to day. With her fledgling journey still in its infancy, we had a chat with the artist to find out some more about her and her sound.
Who TF is Catherine Elms?
I'm a dark pop singer-songwriter and pianist, who writes sensitive and reflective songs with rock, classical, and prog influences.
How long have you been making music?
I've been writing music since I was 8 years old, when I wrote songs about haunted houses and skipping school on my Dad's Casio keyboard, but never had any formal music lessons beyond a few guitar lessons at school here and there. When I was 16, I discovered The Dresden Dolls and they blew my mind. I'd never heard a piano used in that way before; Amanda Palmer (pianist for The Dresden Dolls) has such a raw dynamic playing style, it's very punk rock and I loved hearing the piano used in that way. Listening to The Dresden Dolls showed me that you don't need to be classically trained to create powerful, beautiful music – so that summer, I taught myself how to play the piano, and started writing music on a piano for the first time. I've been performing for a few years, and started releasing music for the first time in 2022!
Why do you make music?
I make music because I don't know what else I'd do with my life – I think this is what I was created for. Writing music feels cathartic, expressive, and fun for me all at once.
What are your biggest influences?
I'm inspired to write by deep human emotions, exploring our inner worlds, and exploring big ideas. My four biggest musical influences are Tori Amos, Fiona Apple, Kate Bush, and Mitski. They're all incredibly talented songwriters and lyricists who push boundaries with experimental production and sound. Kate Bush in particular is an icon, such an eccentric and a trailblazer for female writers and producers, and decades ahead of her time.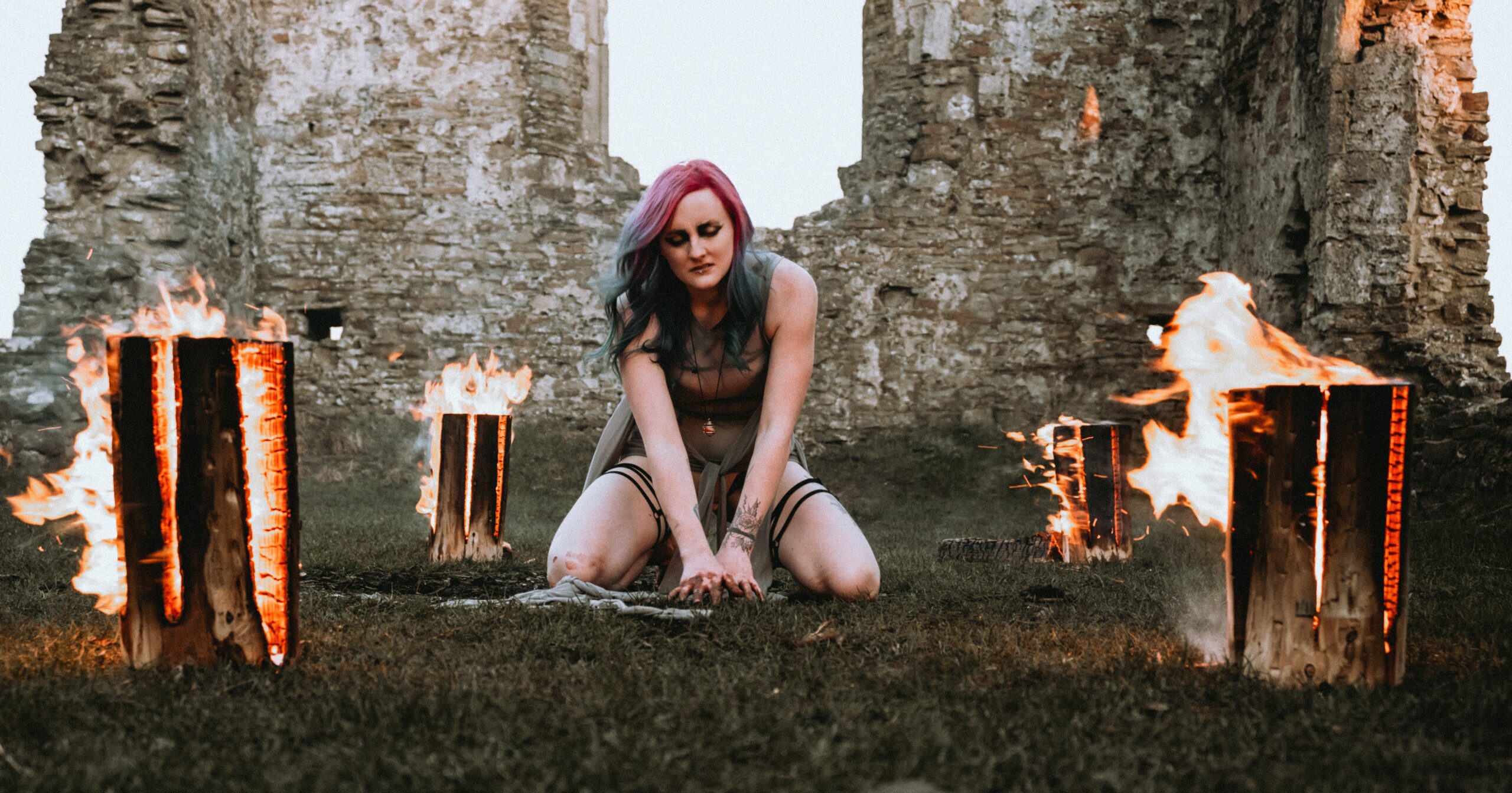 What would you say has been your best moment so far?
I just finished recording my debut album, due to be released this autumn, and I'm tremendously proud of it. I love every song on the album, and it's so raw and honest and powerful. I can't wait to share it with the world!
How would you describe your sound to somebody unfamiliar with it?
Dark, fierce, introspective pop with rock and classical influences.
What's your dream "I've made it" moment?
Honestly I'm still working out what kind of musician I want to be, so that's difficult to answer – I think perhaps it'll be when I can earn a living from my music, and can create music full-time.
We love your singles 'Frustrations' and 'Fire Song', what more can you tell us about them?
Thank you! My new single 'Fire Song' is about feeling trapped in your safe mundane life, and feeling the call to be something wild and something greater than you currently are – and eventually giving in to that call, setting your life on fire, and emerging from the ashes of your former self as a stronger, more self-actualised person. This song is intensely personal to me. For years I kept myself small and dedicated my energy to a safe boring corporate career and a quiet life, but always felt a call for something more. Lockdown brought about some huge life changes, and I did some deep self-exploration and realised that creating music was what lit me up, it's what I was made to do. So, I finished writing my debut album, worked with a producer and studio to bring it to life, and Fire Song will be the second single from that album. It's my favourite single, and one of the most powerful songs of the album. Fire Song explores these themes – feeling that calling for something more, and finally setting yourself free to be what you've always wanted to be. The song represents my first steps on a journey out of the dark, a journey towards the place – and person – I'm meant to be.
My debut single 'Frustrations' is about seeing a world of injustice and inequality, and watching people with the power to make change refuse to do so. I was lucky to record 'Frustrations' with Brian Viglione from The Dresden Dolls on drums – having Brian on my debut single feels serendipitous, like everything has come full-circle from when I was teaching myself how to play the piano listening to his songs at the age of 16!
What else do you have planned for the near future?
My third single is due out this summer, and it's one of the most personal and intimate songs from the album, so I'm really excited (and a bit nervous) to share that with the world. My debut album is also coming out this autumn, and I'll be doing a UK tour to promote it!
And finally, who is your biggest fan right now?
My partner – he's in the front row at every show, he helps me lug around my gear and set up merch stalls, he helps with the boring admin work that goes with being a musician, and is always there to big me up when I have moments of self-doubt. I feel very lucky.