With 'David Byrne's Badside' the latest in a slew of memorable singles from Merseyside Britpop-revival outfit Courting, we caught up with the young band to find out a little more about them and sound.
Slotting seamlessly into the British music scene, Courting are a band that have taken the best sounds that the place has had to offer, both past and present, and melded them into a unique yet familiar package that feels distinctly their own.
Tracks like 'Football' and 'David Byrne's Badside' has fast established the outfit's take on modern day Britain and the wit that they convey these thoughts with. With this razor sharp astuteness and memorable take on Britpop with a raw, post-punk edge, the sky looks to be the limit for the North-Western outfit. We had a chat with Courting to find out a little more about the outfit and what has led them to where they are now.
Who TF are Courting?
We are Courting! We are a band from Liverpool and we like to write songs about anything that we want to.
How long have you been making music?
I wrote my first song when i was 14. We collectively wrote our first good song at the end of 2018.
Why do you make music?
We try to make music that we would want to listen to, it's a lot of fun. Also feels great to perform live and really put on a show.
What are your biggest influences?
Musically, we like a lot of bands – blur, pavement, parquet courts, lcd soundsystem, pulp. But usually our songs are inspired by random things we see or hear, lots of lyrics are referential to very niche parts of british culture of which we can all relate to. We share a love for take that.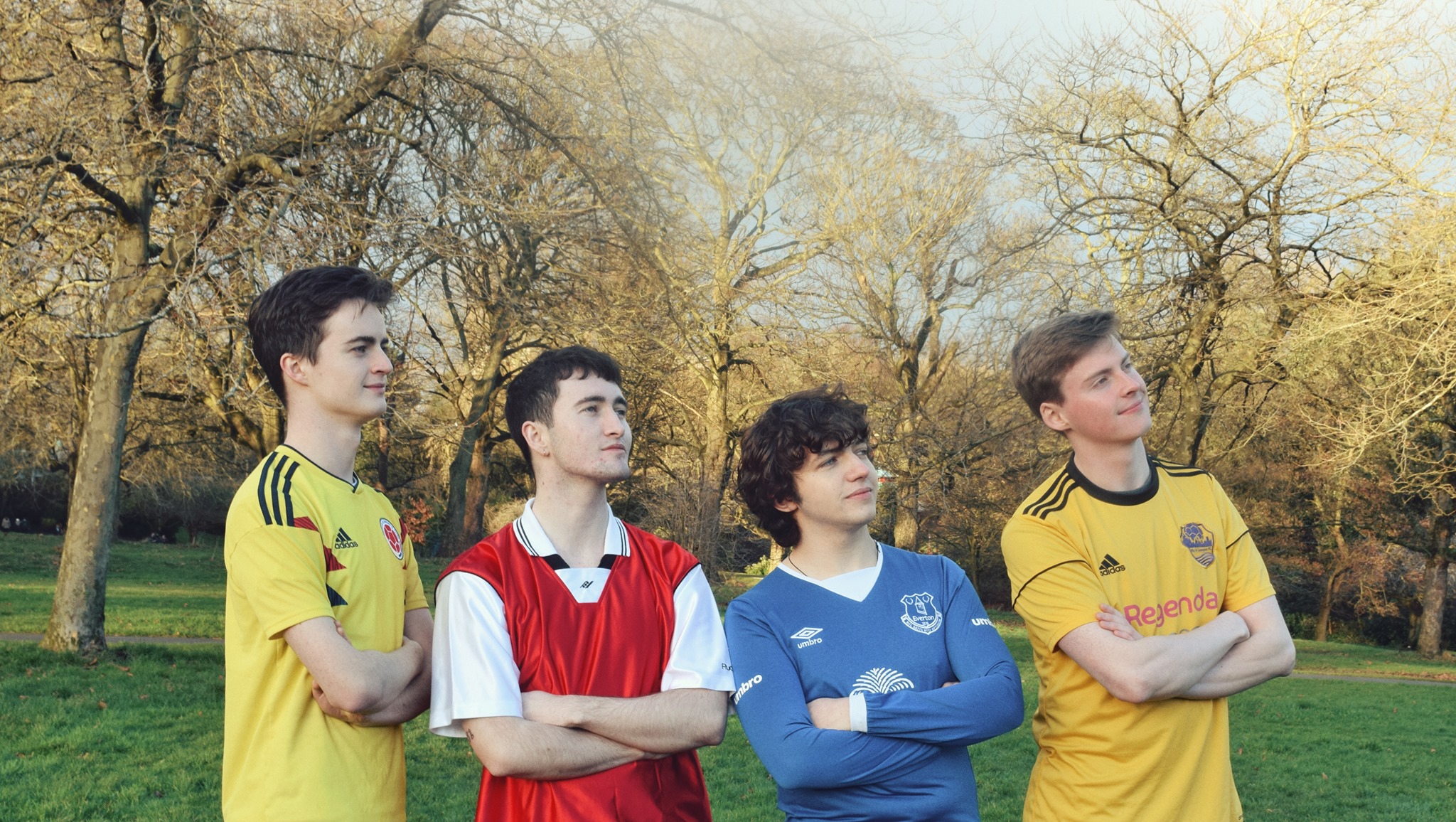 What would you say has been your best moment so far?
We traveled to Glasgow via national express in february to play a showcase and it took us a total of 16 hours to get there and back. It was during a massive storm and we got a triple encore where we just kept playing football over and over again. If there was no curfew we could've done that all night. At 3am we passed a service station mcdonalds and me and sean (drums) ran in to get some food and they accidentally gave us free mozarella dippers. All hard work pays off.
How would you describe your sound to someone unfamiliar with it?
Epic
Whats your dream "I've made it" moment?
Ideally, i'd love to see someone get a tattoo of our band, that would make me very happy. Puts a lot of pressure on us to not make shit music though
How do you think that Merseyside and the North-West have influenced your sound?
Merseyside is interesting in the fact that there aren't many bands that particularly sound like us – but everybody seems to be comfortable doing their own thing and having their own artistic visions. Because of this, you feel very comfortable doing your own thing and making music how you want to make it.
We love your latest single 'David Byrne's Badside', could you tell us some more about it?
It's a song about English racism. It's not really about David Byrne we just wanted to name drop someone we'd be a bit scared of upsetting. It's a lot about class tourism, a little about pub culture, and a little about the chase. We wanted to write something that took on musical tropes from old britpop music. We listened to a lot of blur and sadly the intro sounds very oasis so we clearly made a mistake somewhere.
And finally, who is your biggest fan right now
The writers at getintothis love us. My grandad listens to our music everyday and tally's up the streams. Steve Lamacq has been playing us a lot lately, which is a dream come true.
'David Byrne's Badside' is available now.