The "ghost-grunge" outfit tell us all about their latest single 'California' 👻
Photography © Poppy Marriott
Describing themselves as "ghost-grunge" is as apt as it is amusing when it comes to Ghum. The post-punk four-piece have been gaining a steady momentum since their formation in 2017 via Gumtree (yes, that's how they chose their name, folks), last year's EP The Coldest Fire saw the band drop set staples 'Get Up' and 'Saturn'.
With slots supporting Dream Wife and L.A Witch under their belts, Ghum dropped their killer new single 'California' at the start of the year and are fresh off playing the BBC 6Music Festival with a lot more exciting stuff to come. Detailing a doomed love story, 'California' captures the band's fiery and raucous energy that have earmarked them as ones to catch live.
We took a pit stop with the band before their touring year gets into full swing to get to know them that little bit better.
Who TF are Ghum?
Laura: We're a post-punk ghost-grunge band. We're four women from opposite sides of the world who want to make music from our guts.
How long have you been making music?
Jojo: Over three years now…
Why do you make music?
MJ (Marina): It's how I can express myself artistically and connect with people through music.
Laura: Because I need to. It's a very necessary way of expression. I organise my thoughts and feelings in the form of songs and then I let them go by performing. If i didn't have a band I'd still write songs with my guitar and I'd sing them to myself in my room.
Vicki: Catharsis!
Jojo: Artistic expression and creative release, man!
What are your biggest influences?
Vicki: Janet Weiss, Patty Schemel, post-punk drummers like Stephen Morris from Joy Division/New Order
Laura: Pixies, PJ harvey, Joy Division, The Breeders…
Jojo: Yeah Yeah Yeahs, Warpaint, The Cure, DIIV, Pixies, Soft Kill…
MJ: The Cure, Warpaint
What would you say has been your best moment so far?
Jojo: Whenever anyone dances at our show and sings back the lyrics, it's really quite special. Also, that time there was a mosh pit when we played in Brighton. More mosh pits, please.
MJ: Playing a sold out show at Elektrowerkz and recording a live session for BBC 6 at Maida Vale.
Vicki: I agree with Marina, recording a session for BBC 6 Music at Maida Vale was pretty special, especially given all the people who had recorded before in the same room. And one of the drum mics was from the 1950s!!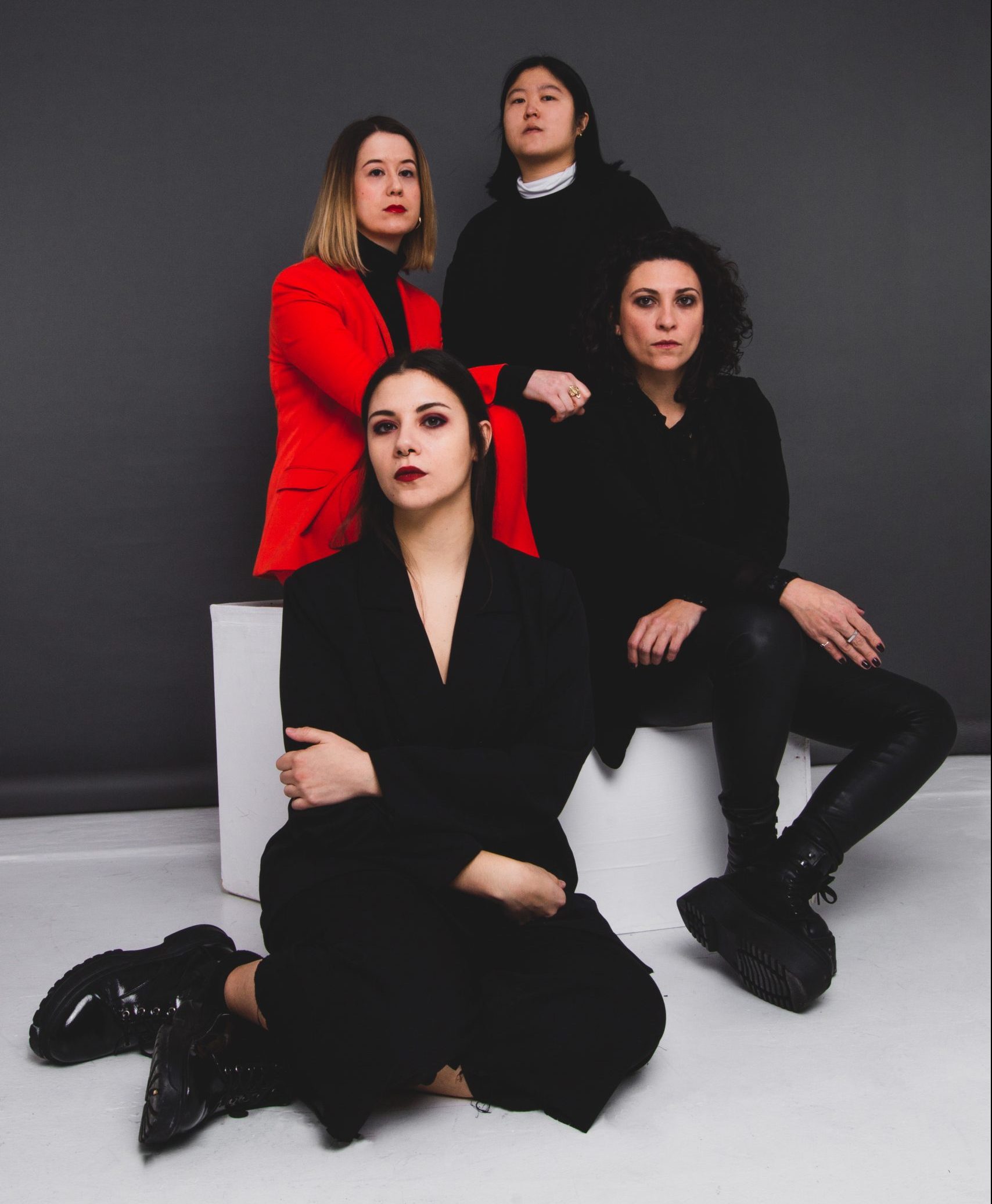 What do you want people to take away from your music?
MJ: Sad, loud, emotional and angry
Laura: Heavy and melodic, melancholic and aggressive
What's your dream "I've made it" moment?
MJ: Playing Glastonbury. Meeting Robert Smith.
Laura: Playing at KEXP in Seattle, or being in a huge stage having the audience singing back our lyrics.
Vicki: A circle pit at one of our shows.
Jojo: A headline world tour, and doing a KEXP session, for sure.
We love your latest single 'California', could you tell us a bit more about it??
Laura: The lyrics are in Spanish and English. 'California' is the first word that came to my head when we started writing it. It kept popping into my head and I started singing it as a chorus. I've never been there but I see it as a very idealistic place, somewhere to run away and start from zero. A hope for a good ending or a new beginning.
The song talks about a love story that was condemned to end badly. The hope and love that both had at the beginning is represented by the idea of running away to 'California', which they planned, but never end up doing. 'California' is just an idea that makes them remember the good times they had together and what their lives could have been like.
The track talks of times that could have been for a pair of lovers who never took the plunge. What would you have been doing were you not pursuing Ghum right now??
MJ: Feeling miserable, fighting the system.
Laura: Painting, or maybe acting.
Jojo: Living in Canada working at Levi's.
What plans do you have going forward??
MJ: Summer festivals in UK and Europe, recording, touring…
Laura: We're working on some new songs and we're very excited to travel around a bit this summer for festival shows. I'm especially happy to be playing Spain, finally, this summer – we're playing at Canelaparty in Malaga in August!
Jojo: I'm so excited to be playing in Europe this summer… spot the goths on the beach.
And finally, who is your biggest fan right now?
MJ: My Mum and my boyfriend who pesters his friends with our songs and videos even if they're not really into music at all…
Laura: Robert Smith, but he doesn't know it.
'California' is available now via Everything Sucks Music. See Ghum live at the following dates:
Bristol /// 28 March /// Ritual Union
Reading /// 25 April /// Are You Listening? Festival
Glasgow /// 3 May /// Stag & Dagger
Rees-Haldern, DE /// 6 August /// Haldern Pop
Malaga, ES /// 7 August /// CanelaParty