With 'This Party is a Warzone' proving to be the third excellent release from gloomy june, we figured it's time we got to know a bit more about them
San Francisco indie pop outfit gloomy june are now three tracks into their fledgling journey and have done a stellar job of establishing the distinctively energetic and slightly melancholy sound.
Their initial releases 'Save Anyone', 'Always Gonna Let You Down', and This Party is a Warzone' lend from around the rock and pop genres and borrow different aspects that flesh out the world of gloomy june and the variety and excitement of their sound. There are anthemic moments, colourful synth-laden melodies, huge soaring moments reminiscent of 2000s pop punk, and always an indelible sense of urgency and energy. gloomy june posses a hugely affable and likeable charisma that pours through their sound and leads to tracks that are stacked full of fun and exciting moments, regardless of the sadness or anxiety hinted at within the lyrics. We love gloomy june at CLOUT and couldn't wait to have a chat with the outfit to find out some more about them and their sound.
Who TF are gloomy june?
In an era where fear and uncertainty are our closest companions, gloomy june is there to tell you uncertainty can be okay. Named for the cold fog that surrounds their hometown of San Francisco at the beginning of the Summer, gloomy june is the soundtrack of a beach party tinged with melancholy. gloomy june songs are pop refracted through an anxious lens: sometimes anthemic, often queer, and always a little tragic. Written through late 2020 and early 2021, when the global pandemic made going to house parties and shows seem like a past life, their upcoming EP, Popsick, explores social woes with a near-nostalgic tone. If you've ever felt "othered", or if the world has made you more anxious than you're used to, gloomy june is for you.
How long have you been making music?
gloomy june has been making music since we started recording our EP in November 2021, but we've all been making music since we were teenagers.
Why do you make music?
I (Alexi) make music to communicate things I have trouble saying. My lyrics are my way of processing my experiences, or the experiences people have expressed to me, and they're how I communicate with the world.
What are your biggest influences?
We each have different influences, and I'd say some of the bands we can agree on are AFI, My Chemical Romance, Explosions in the Sky, and Chvrches. I personally draw a lot of inspiration from innovative pop artists like The 1975, Charli XCX, and more than a little Carly Rae Jepsen.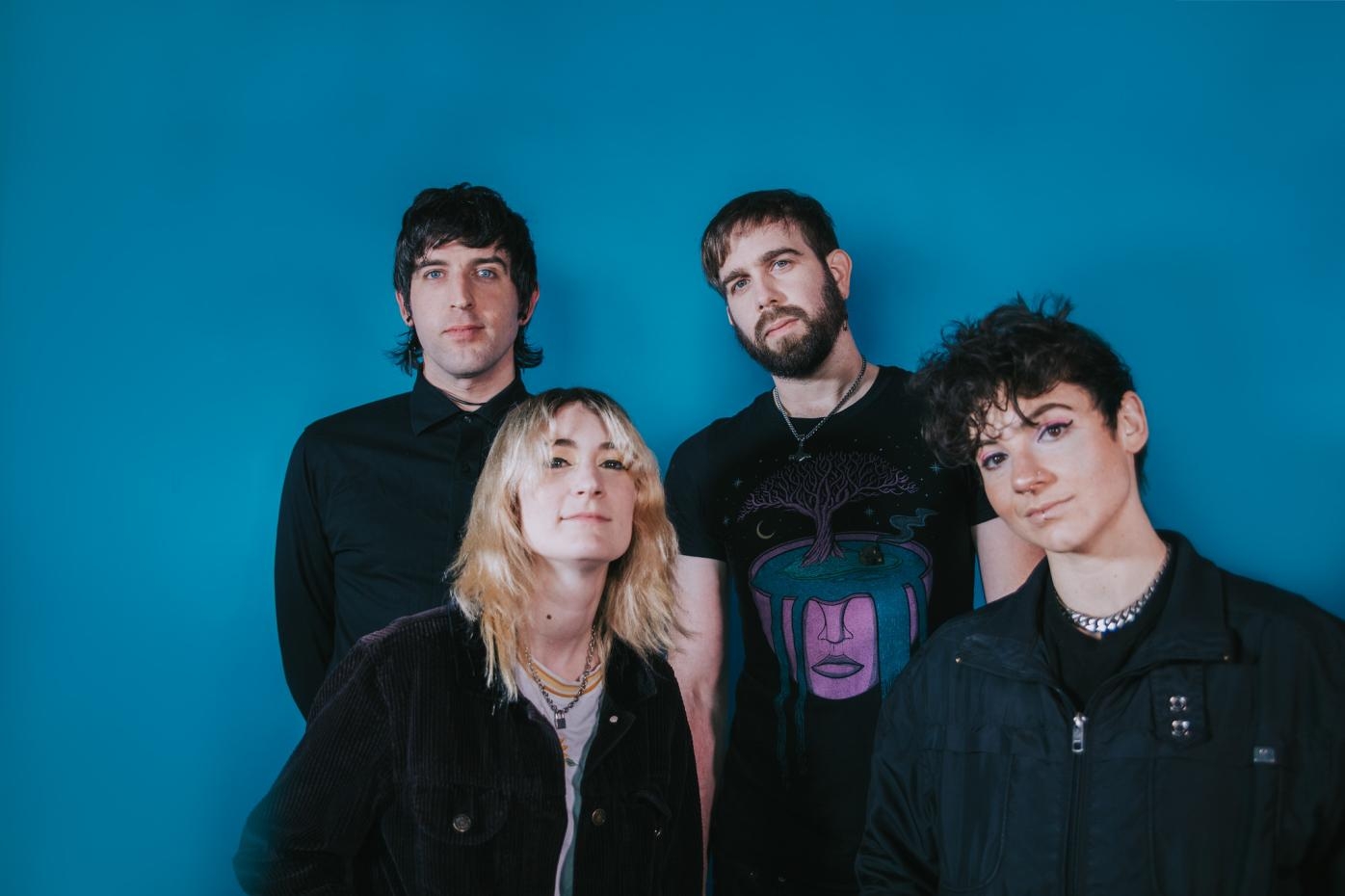 What would you say has been your best moment so far?
I'm currently writing to you while we're on tour on the west coast, and I'd have to say being on tour is the best feeling, I think my favorite show this time has been in Vancouver B.C., because they were dancing and having such a great time to our music.
How would you describe your sound to somebody unfamiliar with it?
We describe ourselves as "moody California pop" but that doesn't really explain it. I'd say if you took straightforward pop music, and added intricate melodies, emo lyrics, and heavy rhythms, you'd have us.
What's your dream "I've made it" moment?
My dream has always been to have 500 people in a room singing my lyrics back to me, but today I think I'd like to move that to a festival like Outside Lands, just as the sun's going down.
We love 'Save Anyone', 'Always Gonna Let You Down'*And "Party Is A Warzone", what more can you tell us about them?
So glad you like them! These tracks are part of our upcoming EP called "Popsick" and were all written between April 2020 – Oct 2021. "Save Anyone", like the title, was about my wish to "save" people- spending a lot of time alone because of social distancing during the pandemic, I was coming to terms with my codependent nature. "Always" was about trying to run away from problems- it's both a dream to escape reality and an acknowledgement of the impossibility of doing that. "Party" for me is an acknowledgement of our finiteness, both as musicians grinding every day playing and creating music, and just people living out our little dramas.
What else do you have planned for the near future?
Our EP Popsick is out June 2, and we're writing more songs for our next release! We're also going back on tour in mid-June, heading out to the Southwest of the US.
And finally, who is your biggest fan right now?
We have some big fans in our discord community. Definitely got to give a shout out to the Hoppels, who have not only housed us on tour and made us pancakes, but have stuck with us for years and give us weed at every show haha! We also have Kevin in NYC, who we can't wait to play for, since we haven't played the east coast yet. Can't shout out everyone, but these folks come to mind.