We caught up with Madge, an emerging and unmissable pop artist who is creating the subversively fluid and fresh sounds you never knew you needed
Madge is somebody that is very difficult to attach any kind of real labels to. The LA-based artist and producer describes themselves as a "non binary post pop alien" and their distinct perspective and experiences have formed a razor sharp, unique cutting edge. Everything, ranging from the artists sound to their appearance, presentation and mystique is drenched in an ambiguous and subversive fluidity that ensures that both Madge and their sound are eternally captivating and unique.
Following the release of a litany of exciting tracks packed with a distinctive Madge flavour, the artist is gearing up to release their new single 'H8R', and we figured that there was no better time to get to know the enigma that is Madge a little better.
Who TF is Madge?
A work in progress. A collection of thoughts, demons, expressions, and emotions. Perhaps an alien springing from a well of classical piano, Mormonism, and shame.
How long have you been making music?
Ever since I can remember. I started playing the piano seriously when I was four years old. I truly can't remember a time that I haven't been writing songs or learning a new musical skill. Production and pop writing is a bit new to me, though. I would say that I've been pursuing my current state of affairs for about 4 years and this artist project for almost 3.
Why do you make music?
I can't explain it – I feel compelled to. I actually went to school for dance, politics, and performance art. But music is the thing I keep coming back to when my brain gets over excited or annoyingly dark. It feels a bit like an exorcism. I think I have also used music to process grief and trauma. It's like my personal therapy. Which means that sometimes it is deeply mundane and other times operatic.
What are your biggest influences?
Dadaism, blood, Mormonism, and dancing. I often create a beat with dancing in mind. And the lyrics generally start from an absurd concept that I pick on the spot – my brain just happens to vibe on levels of Christian-cult-meets-violence. Musical influences are widely varied – I could be influenced by anything between early 2000s emo pop punk to Stravinsky to contemporary trap. It fluctuates.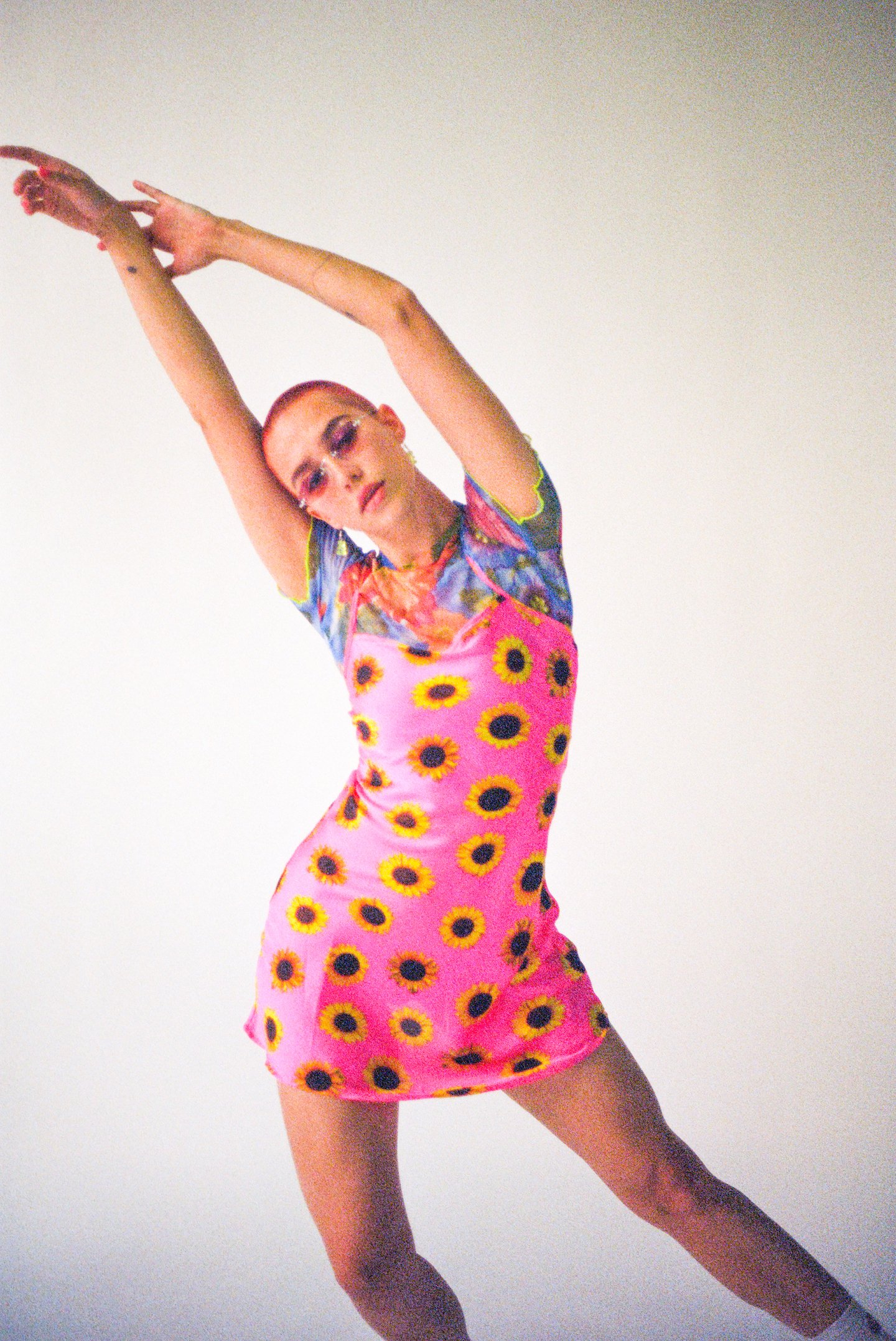 What would you say has been your best moment so far?
Last summer I got to open for Santigold. She's an idol of mine so that was surreal. I also think that releasing my first single about two years ago was one of the most exhilarating and surprising moments of my life. I didn't expect it to start a new career for me.
How would you describe your sound to someone unfamiliar with it?
ADHD brainsplat that is both tender and a bit evil. It is beat-heavy with nursery-rhyme hooks and babies chanting. It's like a jump-rope game in a David Lynch daydream.
What's your dream "I've made it" moment?
I have a difficult time picturing what "making it" looks like. Because I have a good track record of achieving my dreams but it never feels like I've accomplished something – just that I've gotten better at my craft and now I can continue to work toward something bigger. I struggle with debilitating perfectionism. I think "making it" looks like writing a film and scoring it as my artist persona alongside releasing a single that makes it to radio? Too lofty?
We love your latest single 'Ethanol' could you tell us some more about it?
Wow, thank you! It is the story of my multiverse becoming infiltrated by a toxic substance I call "Ethanol". It is literal in the sense that I have struggled with self-medicating, one example of which is literally ethanol – i.e. drinking. On a broader scale it's an exploration of inherited trauma and "bad" genes. Sometimes I feel like my self-destructiveness stems from something deeply genetic and not my environment. I wonder what I have inherited that is driving me to run myself into the ground. I brought this track to life with collaborative producer Lecx Stacy. His approach is DIY and grimy like my own and we immediately clicked in the studio.
Do you feel that as a non-binary artist you serve as a voice and a source of representation for others?
To be honest I feel quite stressed to carry a mantle of representation – especially when my life and experience is uniquely my own. That includes my own struggles but also my own privilege. Owning the term "non-binary" has also been a strange journey. I have felt dysmorphia from a young age and have chosen to express that through gender fluidity and androgyny for years now. Finally claiming that feeling as gender non-binarism feels like a relief but also an exhibition. Sometimes I don't want to reduce my experience into something that simple. That said, I hope that I can help bring a voice to a generation of artists across all spectrums who have experienced gender discomfort and lack of representation in this field.
And finally, who is your biggest fan right now?
In reality my biggest fans are more likely my two kitties, Maus and Bébé. They are very naughty.