With two solo releases hinting at the massive potential that the artist has, we had a chat with Canadian pop upstart Maya Malkin.
Originally from Montreal but now based in Toronto, Maya Malkin is a singer-songwriter who, having found success as part of alt-pop band Motel Raphaël, looks to continue to establish herself as a force to be reckoned with as she steps out on her own. With two well-received solo releases to date and new music seemingly on the horizon, it only seems like a matter of time before we see Maya continuing to build on the foundations that she has laid early on.
There initial releases came in the form of 'Hostage' and 'Congratulations', and seem to hint at big things for Maya. The artist's infectious personality, evidenced throughout the quirky and fun videos that accompany the tracks, has become a trademark for the artist, and looks to set her apart and help draw even more attention to her winning brand of incessantly catchy pop. We can't seem to turn away from these tracks, and had a chat with the emerging Canadian artist to find out some more about her origins and what more we can expect to see and hear from Maya Malkin in the future.
Who TF is Maya Malkin?
Maya Malkin is ME. I am her. 🙋‍♀️ She's just a girl, who loves singing and writing songs and the sunshine and recently, bubble tea. I was raised in Montreal, Quebec and have been back and forth from Toronto –> MTL my whole life because my parents live in different cities. I recently made the move to Toronto, because after being in the Montreal music scene for so long, I wanted to experience something new! So, Maya Malkin is currently living in Toronto and working on new songs for your ears. Which are coming SOON.
How long have you been making music?
As long as I can remember. I went to an art school, where I learned to play the classical flute, read sheet music and sang in the choir. I started taking guitar and piano lessons. As soon as I learned enough to start writing my own songs, I did. I was a shy kid, and I was able to really work through things/express how I was really feeling through songwriting. I started recording shitty Garageband demos and three-part harmonies on my computer and uploading them to Soundcloud. It was my first taste of sharing music publicly, but I was still too shy to get on a stage. One day, a girl with a ukulele walked into the karaoke bar I was working at, we got to talking, and three days later I was singing three-part harmonies IRL with her and her roommate/bandmate. After that night, I joined their project, Motel Raphael. They managed to get me on a stage with them, and we crowdfunded our first album. We were in for a wild ride! The next thing we knew, we were dealing with Warner Canada, playing Osheaga, opening for Tegan and Sara and eventually performed on Parliament Hill for Canada's 150th official birthday.
After years of developing the confidence and experience on stage, as well as in my ability as a songwriter, I decided to launch a solo project in 2020. I literally think in melodies and I felt like I needed an outlet for all the songs I was writing that didn't feel like "Motel" songs to me. I wrote a whole album in quarantine, and I'm working on this collection of songs to release under my own name later this year.
Why do you make music?
I make music because songwriting is the most natural way I know how to understand my own emotions and experiences. Sometimes I don't even know I'm feeling a certain way until I sit down and write a song about it. I've gotten a lot of messages from women who relate to the songs and who are using them as a means of healing, and that's really important to me too. It makes me feel like there's a larger purpose behind what I do.
What are your biggest influences?
When it comes to songwriting, life experience. When it comes to production, I listen to literally everything and anything and pull inspiration from songs I love or artists I admire. This might be the most boring answer ever haha, but it's the truth!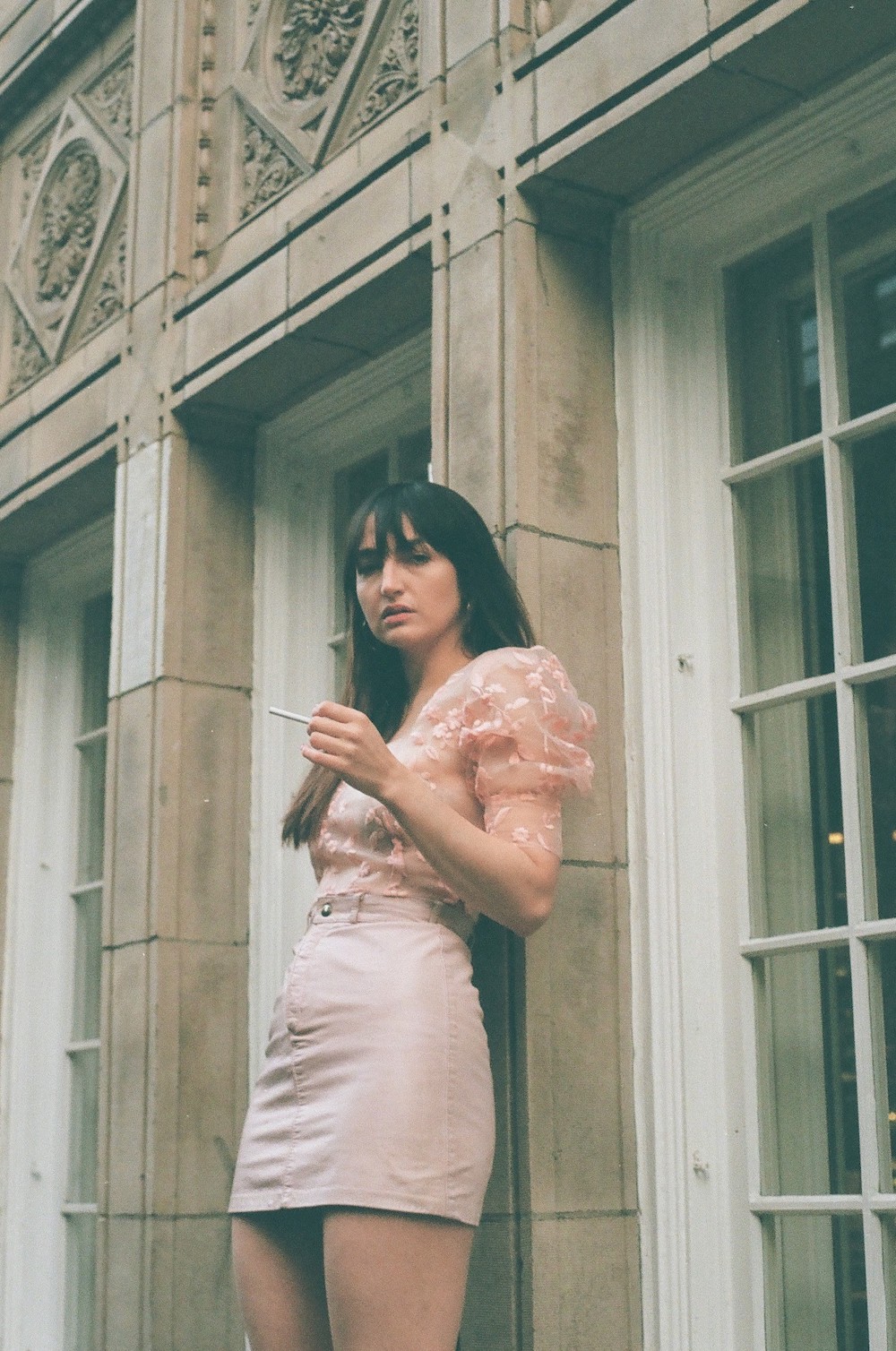 What would you say has been your best moment so far?
There have been so many great moments with my band over the years, but the best moment of my solo project so far was probably getting into rotation on Virgin Radio Montreal. That's nuts! That was definitely a bucket list kind of goal for me. I also won a prize with Canada's Walk of Fame and have been playing virtual festivals with them, which has been another surreal experience.
How would you describe your sound to somebody unfamiliar with it?
I think my music is pretty straightforward pop. Maybe pop music with a message? I love this quote from Earmilk about Hostage, which was:
""Hostage" has a fun retro feel to it: pop laced with the alternative, less edgy, softer, and addictive, like a plushy toy you can't help pick up and explore. In the tune's bridge, you will find a sadness that cracks the bubblegum aesthetic with Malkin's vocals revealing a wound in-healing, and suddenly mainstream pop is as serious as ever and as deep as it can be." 
What's your dream "I've made it" moment?
The day that I can live off my music full time. Not just a "one big check" moment, but a consistent career that allows me to tour and record without always relying on grants and other streams of income for everything. This industry is really difficult, and even with all the success of my band, trying to get paid a living wage was a steep hill to climb, with many unexpected roadblocks. So, that is the BIG dream at this point. 🙏
We love your debut singles 'Hostage' and 'Congratulations' and their videos, what was the process like putting them together?
Thank you! I love my team so much. I worked with the same video team for both these music videos, most of which is literally my friend group. Hostage was written in a SOCAN songwriting camp in Toronto with producer Hugh Mackie and the Congratulations hook was written in a phone note on my phone sometime last summer – and then it was finished in studio with producer Robbie Townsend. The songs were then each brought to my dear friend Adam Capriolo, who directed both videos – the concepts were solidified – and then brought to the rest of the team – and then shot in studio at Productions Neon in Montreal! Shout out to Mathieu Samson, Kayleigh Choiniere, and Chantale Demole, who were also all on both sets ❤️
What plans do you have for the near future?
I'm doing a lot of co-writing right now, as well as final prod on some songs that I wrote in Edmonton last October. There will definitely be more music videos, and many more songs coming. I'm also starting to work on a live show that we'll hopefully be able to tour some time after the pandemic. I can't wait to share all the things with everyone. 🤐
And finally, who is your biggest fan right now?
Honestly, YouTube?? The people on YouTube have been so kind and cute about the two singles I've released so far. There are so many kids from Brazil and the Philippines and Mexico who are finding me on Instagram through YouTube and who are literally my biggest cheerleaders. It's very sweet, and I appreciate the love so much!