We caught up with fresh new rock outfit Oh! You Pretty Things following the release of debut EP N Is for Nostalgia
Naming yourselves after a David Bowie song is a pretty ballsy move, but one that emerging North Carolina mob Oh! You Pretty Things have decided to take. Nod to Bowie withstanding, the sound of Oh! You Pretty things feels more akin to 00s acts like Paramore, and the energetic and colour pop-rock sounds you would associate with them.
The band burst into our consciousness in late December, establishing their unique rock sound that pulls from a wide range of influences on debut EP N Is for Nostalgia. Following this release and their emphatic 'This One's to You' that we premiered on the site, we caught up with the upstart band and sought to find out a little more about them.
Who TF are Oh! You Pretty Things?
On lead vocals, you have The Word, Callie Wolfe. Playing guitar and keys, you have Instruments, Joseph Conde. Then there's Bassmaster 3000, Paul Swanson. And supporting us behind-the-scenes is our Tucked-In Master Chef, producer, Connor Vogt.
How long have you been making music?
As a band for about two years, but most of us have been playing in some fashion for twenty years apiece.
Joe: I made my first "album" with a friend at 7 years old.
Callie: Yeah, I was literally singing as soon as I could speak.
Why do you make music?
Paul: I make music because it's one of the few times I don't think about everything else. There's no self-doubt, no anxiety, only the music.
Joe: I almost have to, like it's compulsory. I record an idea almost every day.
Callie: To be able to convey what music is to me and to make people feel the same way, to connect, is everything. I just love everything about music.
What are your biggest influences?
Big influences for all of us are bands like Green Day, Nirvana, Paramore, Panic!, Weezer, etc.
Paul: Anything mid to late 2000's emo and punk.
Callie: Same. Anything from 90's/2000's grunge rock, alternative. Especially power female leads like Stevie Nicks, Gwen Stefani, and Hayley Williams.
Joe: I literally listen to everything, but I would say James Taylor and Andy Hull are my tops influences.
What would you say has been your best moment so far?
Definitely the reactions we've gotten from the crowd and audience we've been building locally and online. People seem to like what we have to offer and that's incredibly rewarding.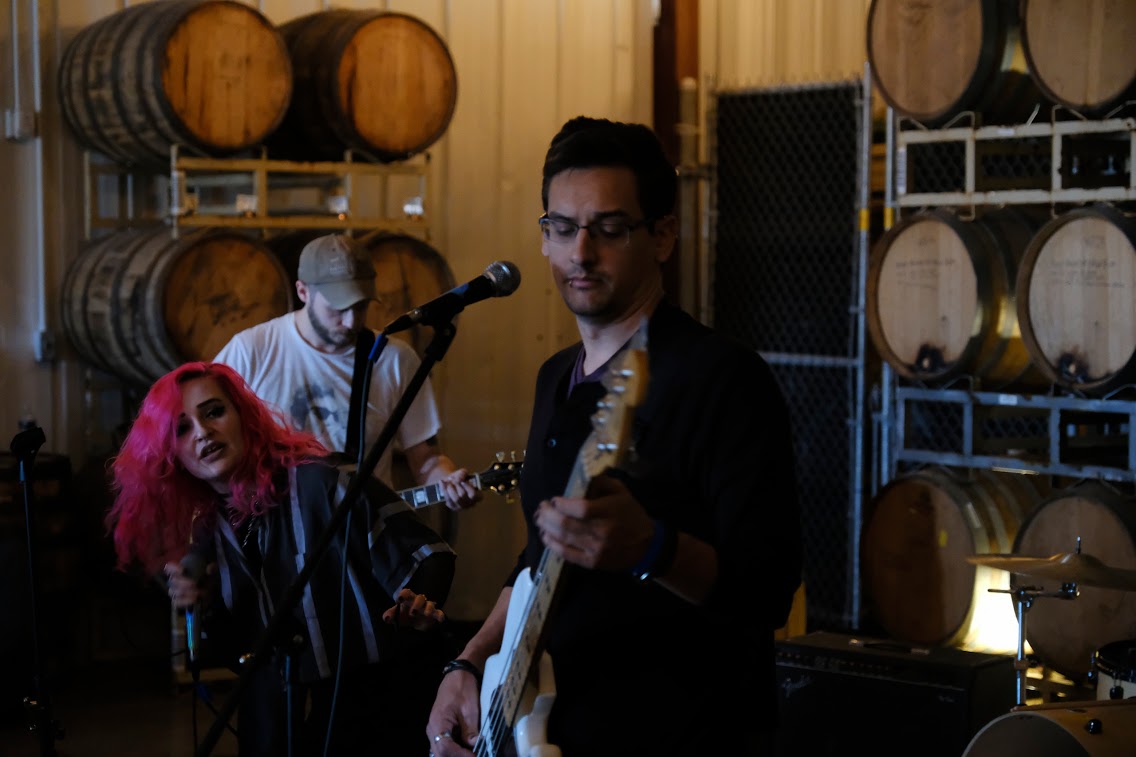 How would you describe your sound to somebody unfamiliar with it?
Joe: Right now, it's reminiscent of 90's grunge-rock mixed with 2000's alternative, like Weezer and Nirvana had a baby and it dated Paramore for a while.
What's your dream "I've made it" moment?
Joe: Playing KEXP is a personal goal of mine.
Callie: Warped Tour was always the dream for me.
Paul: I think playing the Fillmore Underground here in Charlotte would be amazing, but just hearing our music on the radio was absolutely huge.
Your sound pulls from a lot of different genres and styles, is that something that you always set out to do?
Joe: It was inevitable.
Paul: Yeah, it's pretty diverse. Our sound pulls from so many different genres that having a variety of sound was inevitable.
We love your latest release N is for Nostalgia, could you tell us some more how it came together?
Joe: Firstly, thanks so much! We really appreciate that. The lyrics are really personal for Callie and we just tried to wrap them up in songs we would want to hear and play.
Callie: Yeah, for me, N Is for Nostalgia is a way of letting go. The people and events that inspired these songs helped shape me into who I am today. It's my way of acknowledging that and putting my own feelings to rest.
What does 2020 have in store for Oh! You Pretty Things?
Callie: Hopefully, 2020 brings us a bomb ass drummer!
Joe: For real. We are just a band looking for our "Dave Grohl".
Callie: Haha, no but really, lots of good things to come this year.
Joe: We should have a couple of singles out in the next few months and hopefully a full-length album by the end of the year.
And finally, who is your biggest fan right now?
Callie: I think we are all our own biggest fans right now — we're super proud of what we're doing and where it's going to go. Hopefully, more and more people want to come along too!
N Is for Nostalgia is available now