We had a chat with emerging artist Oliver Pinder about his new single and just announced mini tour.
Whether happy, sad or anything in between, Oliver Pinder's tracks are consistently able to draw emotion from his listeners with an effortless sense of ease, with a writing style that often feels both intimate and personable. The latest release from the artist, his new single 'Beautiful Second', is just one of countless examples of how truly powerful his sound can be. Examining a whirlwind romance that is slipping away in real time with a sense of gravity and heart that is both melancholy and rousing.
Having just announced his first mini headline tour (from Friday 3rd February at 10am you can find tickets HERE), we figured that now would be the perfect time to have a chat with Oliver and find some more about his distinctively charming sound.
Who TF is Oliver Pinder?
I'm an 22 year old indie/pop singer/songwriter, part time pepsi max enthusiast and frequently found wearing corduroy shirts. I'm an all-round music lover, if I'm not gigging, you'll probably find me at a gig any night of the week.
How long have you been making music?
I've been making music for a really long time, I start playing covers gigs at pubs around 10 years ago and my debut EP 'Island Rain', I released before I took a long break hits it's 8th anniversary this year. I've been really blessed over my years to play some incredible venues supporting some phenomenal artists.
Why do you make music?
I make music as an outlet to amplify my feelings and those of my family and friends. I love the whole process of making music, but there's nothing quite like getting to play my songs in-front of people, soaking up their energy and talking to people that have come out after the gig, that's the fundamental that I make music for – that feeling is like no other.
What are your biggest influences?
I have way too many, I usually get inspired by something I go through or observe – but I also am an all-round music lover, I love Alexander 23, Holly Humberstone, Jeremy Zucker, Maggie Rogers, JP Saxe, Olivia Rodrigo, Avril Lavigne, The 1975 and so much more. I recently went to see The 1975 'At Their Very Best' show, that was phenomenal and I certainly walked away excited about writing but having visions of what type of song would make a good live performance.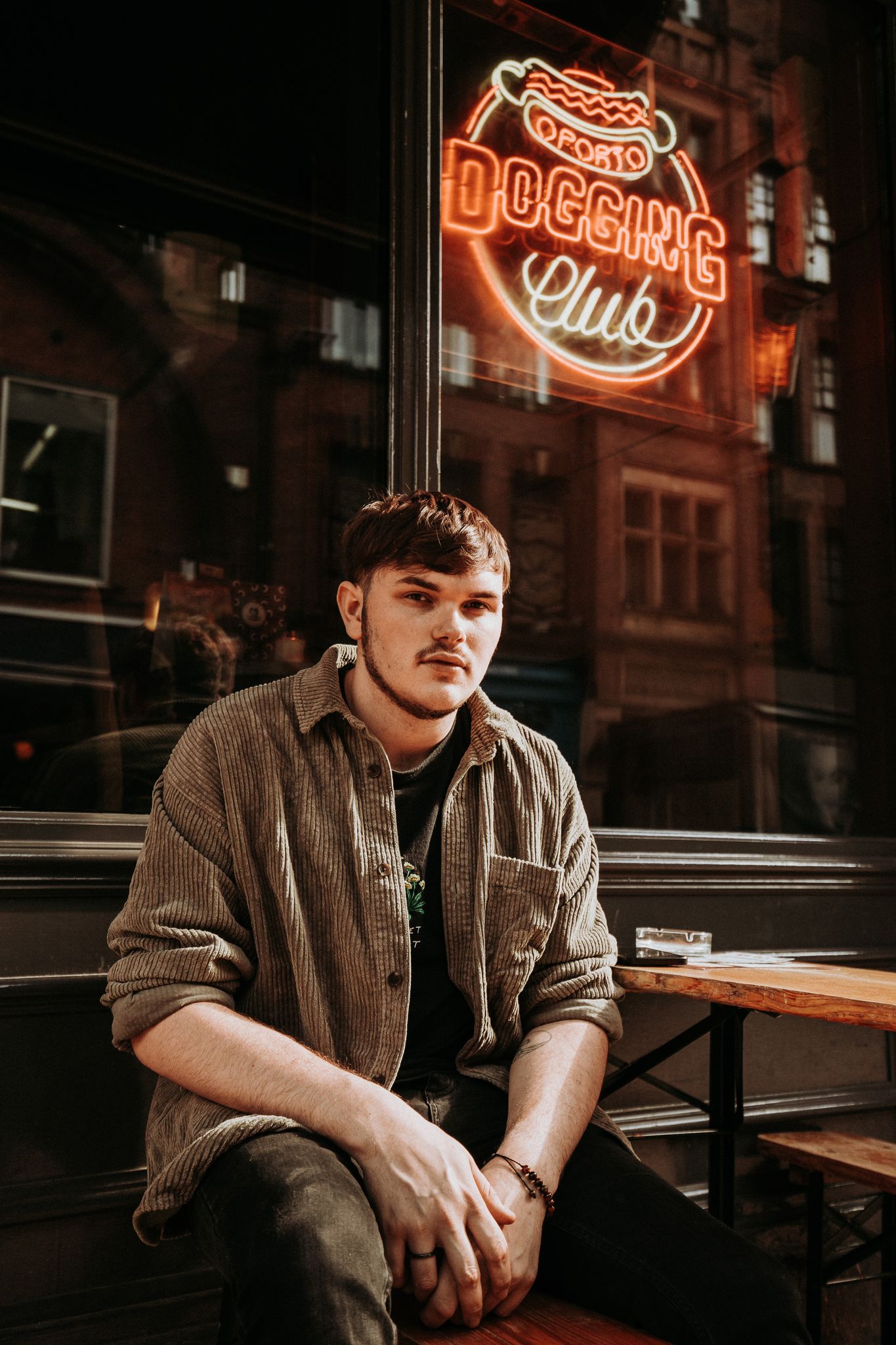 What would you say has been your best moment so far?
Hmm, this is a difficult one. Last February, I had an 'epiphany' at a point where I wasn't making any music and though 'fuck it' I'm just going to go for it and give it everything I've got. Me and my friend Jacob wrote a lot of songs at his studio Evoke, and I wasn't planning to put anything out, but I put a plan together and started releasing, starting with 'Stressed' last October. The best moment was playing a headline show in Leeds last November – we had a packed-out room of people singing back the words to my music – even to the unreleased songs.
How would you describe your sound to somebody unfamiliar with it?
I like to think there is something for everything – I love the concept that someone can come to one of my shows and really connect with some of the songs but maybe not everything and they'd come away with favourites. I'm influenced by pop, indie, punk, ballads and everything of the sort. There's songs in the set like 'Pretty Faces' which has elements of punk, but then equally there's 'beautiful second' that is a piano-led ballad.
What's your dream "I've made it" moment?
I sat down earlier this year and wrote a few goals so I have a couple. My favourite festival is Barn on the Farm, I go every year without fail. A slot on that bill would mean the world. My favourite venue is Brudenell Social Club in Leeds, for me I've dreamed of playing a sold out headline gig there. Jam packed, sold out – that's a dream!
We love your new single 'Beautiful Second', what more can you tell us about it?
I wrote 'Beautiful Second' about 4 years ago, this one was sat at my piano that I bought for £50 on Gumtree. I'd just watched the film 'friends with benefits' and was thinking a lot about the feeling of those relationships that are amazing but have an expiry date. I love how the song starts so minute and small and then gradually builds in an unexpected way.
What else do you have planned for the near future?
I've got so much coming up – I'm going on a mini tour this May, visiting Manchester, Newcastle, York, London and Leeds. I'm excited to be getting out with my band and really bring these songs to life, we've got a lot of special things planned about the set. I think it's just going to be interesting and really fun. Please come, aha!
I know a lot of people are struggling financially at the minute, so we've done all we can to keep the tickets as cheap as possible whilst also introducing our 'No Money, Still Come' Scheme, where people that are doing okay for cash can opt in to buy an extra ticket, these will then be allocated as free entry tickets and if you're struggling you can take a free entry ticket. We're trialling this in Leeds and Manchester to see how it goes and if it works and helps people still be able to enjoy live music we will bring it to life more in the future.
And finally, who is your biggest fan right now?
This is hard, very hard. My lovely girlfriend has to put up with listening to all the demos and comes to a lot of the gigs so she's definitely a top fan without a doubt. I also have to give a huge shout out to Maisie, she has followed my music for years, comes to a lot of the gigs and always is the first to share and support my music – thank you Maisie!!
Potential, I Guess? tour dates
14/05/23 – 33 Oldham Street, Manchester
18/05/23 – Mosaic Tap, Newcastle
19/05/23 – Forty Five, York
20/05/23 – The Finsbury, London
25/05/23 – Headrow House, Leeds