We had a chat with Vancouver quartet Peach Pit and found out some more about themselves, their sound and what the future holds for them
Peach Pit are a band that are often categorised by their intimate and almost conversational tone within their songwriting. They have no objection to their music making them cringe a little or conjuring undesirable feelings and memories. Peach Pit wear this sense of candid honesty on their sleeve, and it creates a relatable and approachable style that people can connect with and draw parallels with themselves.
This no doubt ties in to the success that Peach Pit are having as of late. From burgeoning stream counts on music platforms and an increasing presence in the consciousness of the music scene, Peach Pit look on the brink of eruption.
Ahead of the release of their upcoming second album, and following the arrival of excellent singe 'Feelin' Low (Fuckboy Blues)', we got more familiar with Peach Pit.
Who TF are Peach Pit?
Chris, Peter, Mikey and Neil:) But you're talking to Neil today!
How long have you been making music?
We've been playing together for 5 years, but Chris and Pete have been playing together since they were teenagers in their church band.
Why do you make music?
I love writing songs because it helps me to process things that happen to me. Recently though, I've been writing a lot about feelings of embarrassment and regret, whether it be waking up hungover and cringing at how drunk I was the night before, or something hurtful I said in the heat of an argument. I think those are pretty universal feelings and when I write about them it helps me let them go and kind of own up to my mistakes.
What are your biggest influences?
Right now we are crazy for anything Beatles. On a trip down to LA this year we watched Scorsese' documentary about George Harrison called Living in the Material World and that's what really kicked things off. And since then Paul and Linda McCartney's "Ram" has been a big one for us as well, it's on repeat in the tour van.
What would you say has been your best moment so far?
It's a two way tie between playing the kickoff set at Bonnaroo for an unimaginably huge crowd this year and our hometown show at Vancouver's "Vogue Theatre". The Vogue show was crazy for us because it was a bucket list venue and it was on Halloween weekend so we dressed up as KISS in full makeup. Pretending to be KISS for a night was sick.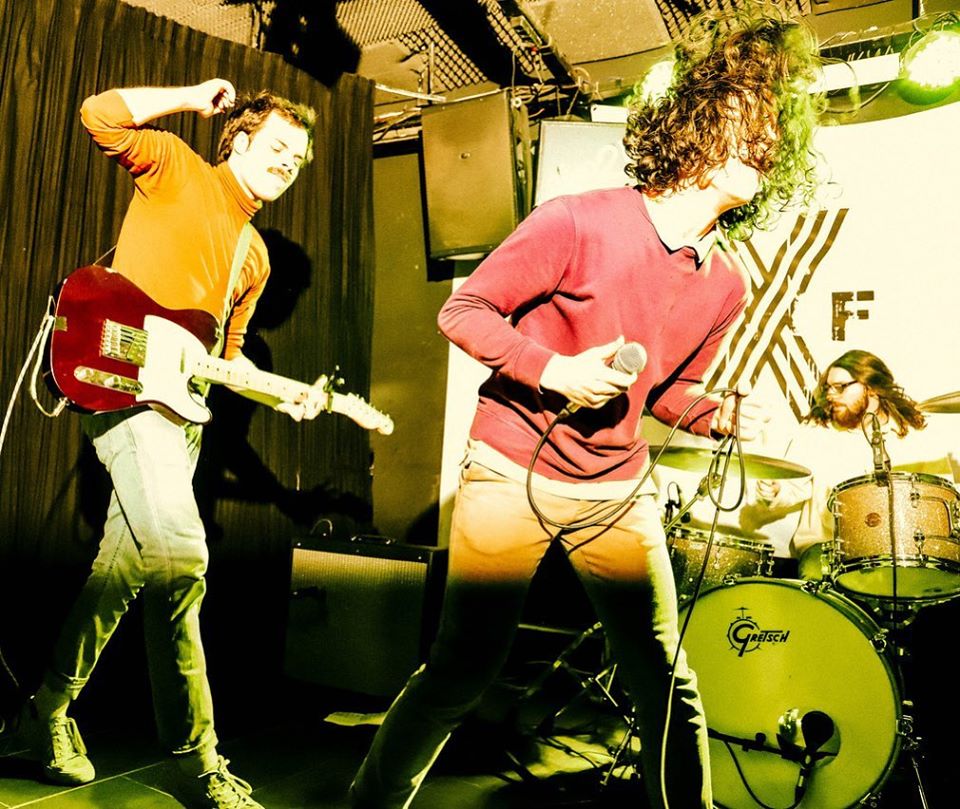 What do you want people to take away from your music?
I hope people can relate to my lyrics. I write about feeling like crap a lot so my hope is that if someone listening also feels that way then they will be less alone. But at shows I just want everyone to have fun and rock out with me.
What's your dream "I've made it" moment?
I'd love to smoke a joint with Neil Young haha. If you're reading this Neil please DM me.
You recently released your latest single 'Feelin' Low (Fuckboy Blues)', could you tell us some more about it?
Well the song is about never being satisfied with what you have. I always find myself with basically the opposite of FOMO, I really don't why that is but I pull back a lot whenever I seemingly get what I'm looking for whether it's in relationships or just my regular social life. It makes me laugh because it sounds so dumb.
We tried to mirror those themes in the music video by recreating a wrestling themed birthday party we held for a friend of which I actually didn't attend.
Your music has been described as "like a close friend telling you a story", is this level of closeness and intimacy something that you strive for in your writing?
Absolutely. I always try to use the same language in my songwriting that I use in everyday life. I think it's partly my personal taste, I enjoy lyrics that aren't to tricky but sound just as I would speak them and I also find it easiest to write in the same way I talk. And I spoke on this in an earlier answer but I always use a litmus test of "does what I'm writing about make me cringe a bit" and if it does I think that's a good thing because everybody knows what it's like to hate yourself haha
What does the near future have in store for Peach Pit?
Well we just finished our second album a couple months ago and it'll be coming out in early 2020. For us it feels like ages since we put out new music and we are so excited to have new songs to play on tour:) Oh! And we'll be on tour again for a lot of next year which is pretty much our favourite part of being in this band.
And finally, who is your biggest fan right now?
That's probably Chris' dad, Richard. He comes to everyyyy show and has since we started. And the other fan I have to plug is this Instagram account @neilsmithslasernipple haha. It's a Peach Pit themed meme account and she honestly makes the funniest memes.