We caught up with modern disco trendsetters Rayowa and found out about everything from the their latest EP to the dynamic of being a band of three brothers.
Some bands seem to immediately have that 'it' factor, from the second that their sound hits your ears. There is something intangible about it, that can't be quantified or measured. Some artists have it, some artists don't, but it's not always easy to explain why, either way. One of the most obvious examples of an emerging outfit that have it, are Essex trio Rayowa.
The words "contemporary" and "disco" aren't often ones that you see put together, but Rayowa seem to have found a way to bring the genre into the 21st century, dripping with swagger and charisma and a modern appeal. From the release of their debut single 'Better Man' last year, it has been clear that there is something about the brothers that sets them apart, and now that debut EP Keepin' Me Under has finally arrived, that has been put beyond doubt. At CLOUT we decided that there was no better time than right now to pin down one of the most exciting and unique acts in new music for a chat.
Who TF are Rayowa?
We are three brothers from Basildon who make modern disco music.
How long have you been making music?
We've been making and listening to music for as long as we can remember. We all started messing about with guitars when we were all under 10. As Rayowa, it's 2 years this autumn, but we've only actually been out there for about 10 months. The 14 before was us getting all the music together and working out who and what this band is.
Why do you make music?           
We want to make people want to dance. It's difficult for most people to really let themselves go. We wanna make those people move. Music speaks to you, it captures you. There's something that can be all consuming about music when it's really good. It's as though you're so zoned into it that it becomes meditative. That trance it can make you go in to is so inspiring when you really feel it. We're chasing that feeling.
What are your biggest influences?
70's and 80's disco, funk and soul. The production, arrangement and song writing on those records is incredible and can't be matched in our opinion. It's just music at it's purist and moves you.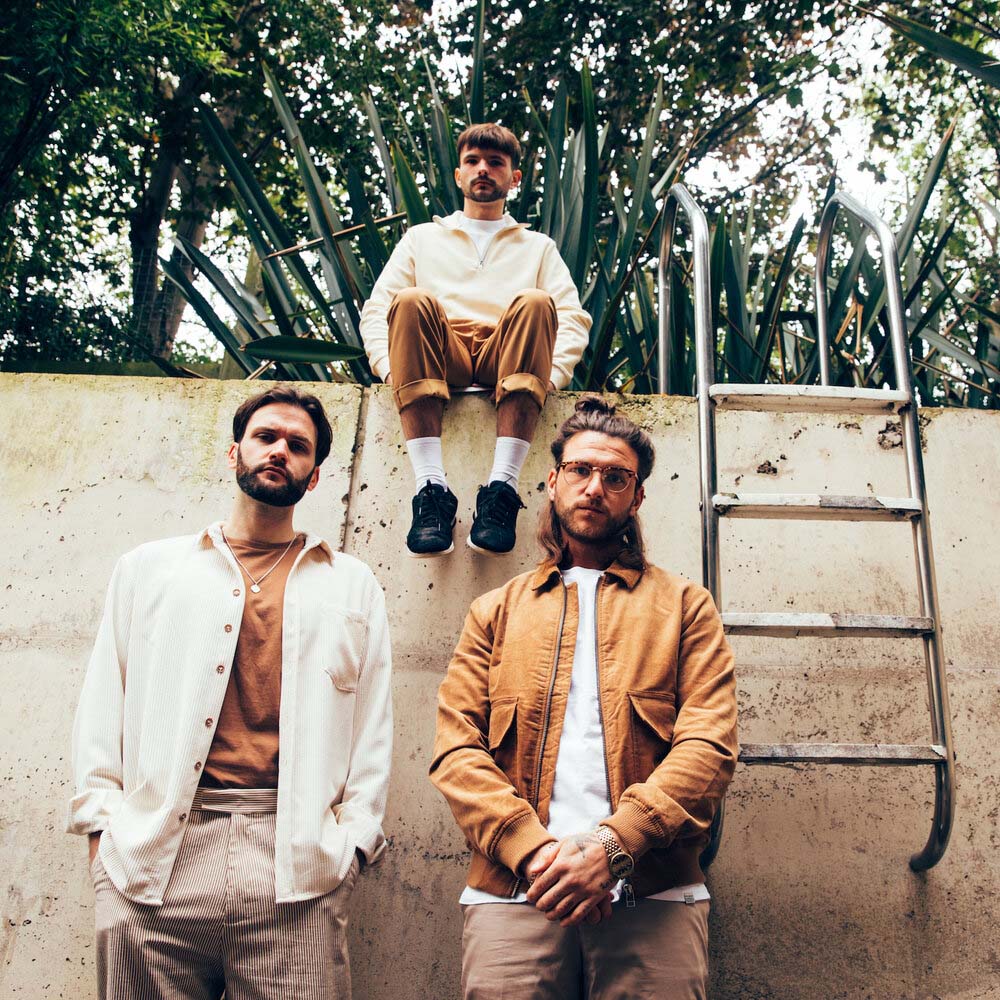 What would you say has been your best moment so far?
Our debut show at Moth Club was incredible. We sold it out in 48 hours without having released any music. All we did was stick a short teaser of our first single online with the ticket link and then all the tickets went. To have got that response from just that was surreal and pretty exhilarating too. Our best moment so far though was probably our last show at Colours Hoxton because of the response of the crowd. We'd only released two singles at that point and the whole place was proper moving and singing the words. We sold that out too but we didn't realise the significance that show had, being our last one before Coronavirus. It's definitely made us value the live side of things more and that you should never take any shows for granted because you never know if it's the last one you'll do or when you'll do one next. It's natural to be looking to the next thing when you're trying to build yourselves but it's helped change that, and made us strive to appreciate each moment rather than look to the next. It's put a lot into perspective for everybody. We're buzzing to get back to it.
What do you want people to take away from your music?
If we could give people anything close to the emotion that we've got from listening to music, then that's good enough for us. Music needs to make the listener feel and it's a difficult thing to do. We just want people to feel good when they hear us and see us live. We want them to be able to shake off any negative energy they're holding on to and just let themselves go. We want people to feel a sense of unity and togetherness through hearing us on record and seeing us live.
What's your dream "I've made it" moment?
Probably headlining Glastonbury would be the obvious one. Bands and artists usually seem to do that at the peak of their career so that's probably the most defining one. We dream of playing Brixton Academy and then hopefully headlining one day. We saw a lot of band's there as kids so there's some nostalgia behind that.
We love your latest EP Keepin' Me Under, could you tell us some more about it?
Thank you! The EP is about grabbing opportunity with both hands, relationship breakdowns, partying, cutting out toxic people, mental health issues and that constant cycle most people find themselves in; one day you're alright and the next you're anything but. It's a celebration of what it feels like to come through the hard times, to not quit and keep growing as people. It captures what our brotherhood means and how vital it is for each of us to function. We are the best of friends and would be completely lost without each other.
How much of an impact do you think that being a band of brothers has on your sound and creative process?
It makes life easier because we can be truthful with our feedback for each of our respective creative ideas. It's always constructive and honest though. We share the same vision and drive to make this happen which is obviously really important too. We rarely bicker but when we do it's more like a scene from the film Step Brothers than Noel & Liam going at it. 5 minutes later we're laughing about it and it's all forgotten. We've done everything together since we were babies and it wouldn't feel right being in a band without one another. It needs to be the three of us for it to work as it does.
And finally, who is your biggest fan right now?
Probably Nile Rodgers. He tweeted us when we were in our old band about tracking us down and playing with us.. still gotta make that happen!
Keepin' Me Under is available now