We had a chat with emerging artist SERENA following the release of her excellent new single 'Heartworm'
Italy-raised and London-based singer-songwriter, performer and producer SERENA is an artist with a rich and distinctive alternative pop sound that is stacked full of an immersive, personal DIY appeal that feels intrinsically her own.
The release of the artist's 2021 debut EP Welcome to Wasteland felt like a landmark moment for SERENA, fleshing out her sound and feeling like her most realised and expansive body of work to date. The artist is now looking to build on that momentum with her creative and inescapably memorable new single 'Heartworm'. There is an anthemic and rousing feel to the track, a sense of rock-edged defiance that couples perfectly with her unapologetic, heart-on-sleeve lyrics and powerful vocals. 'Heartworm' is a tale of liberation and freedom from a toxic and unhealthy situation, and the artist captures the emotion and catharsis of the situation expertly on the track. We love SERENA and the direction that she is taking her sound is, and we caught up with the artist and found out some more about her story and what plans she has for the future.
Who TF is SERENA?
SERENA is a singer-songwriter and producer based in London. Like my stage name, Serena is also my first name, cause there's nothing that I aspire more than freely be myself, and I get to be that every time I'm on stage, but bolder.
How long have you been making music?
I started writing little poems as I child and jealously locked them away in my secret pink notebook. And then when I started to play the guitar I tried to put together lyrics and music, but I only wrote my very first song at 17 yo, after a breakup, after that, I formed a rock band, and the rest is history. History as in, I never stopped.
Why do you make music?
Cause I need to. I dunno if it is my mission in life, but I just know that more I distance myself form music, the more I come back to it, till the moment when I realised that I never ever ever want to spend my life without it. I come from a very creative family: my dad is an architect, my mum an artist and they've always encouraged me and my siblings to express ourselves through art. I started drawing and painting at a very young age, I was good at it but I didn't feel anything when spreading colours on a canvas. Music however was different. It was something else. I'd spend hours just playing the only two chords I knew on my guitar.
What are your biggest influences?
My biggest influences are Patti Smith, for the commitment that an artist has toward the society and the world they live in;  Alanis Morissette, for proving that a young woman who sings about her feelings at the top of her lungs is not weak, but a powerful expression of vulnerability; Imogen Heap, for the constant experimentation with new technology and sounds and Red Hot Chilli Peppers, for blending genres, fitting as many lyrics as you can in a verse without saying absolutely anything or everything at all.
A little eclectic, I know.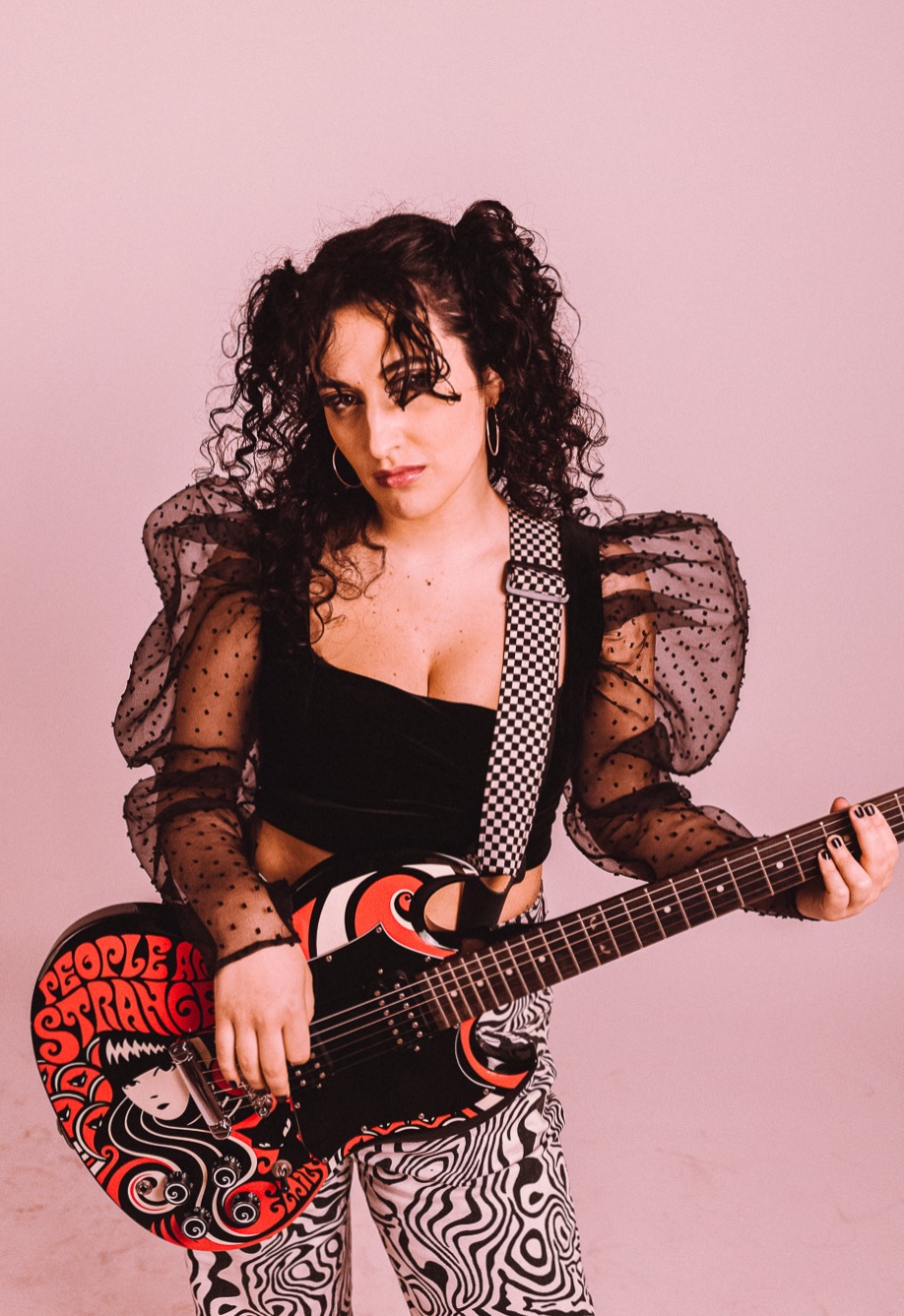 What would you say has been your best moment so far?
I don't know if there has been a moment so great to top all the other steps of this journey, but I think every time I get to release a song, present it to my audience and see people feeling all sort of emotions while listening to it.. Well, that is always the best moment for me.
How would you describe your sound to somebody unfamiliar with it?
I describe my sound as Deep Dark Indie.
Deep for the subjects I deal with in my lyrics, Dark for the mood I create with the soundscapes, Indie for the instrument's choice that can vary from electric guitars to synth, to heavy drums, to samples.
Despite the overall "darkness" I always make sure to guide the listener toward the light at the end of the tunnel. May not be the happy ending you expected, but there's a solution at the end of all my songs.
There is always hope, you can get out of it, and I'll hold your hand on the way there.
What's your dream "I've made it" moment?
Performing a whole set of original songs, on a big stage, in front of thousands of people singing along. I don't care where, when or how, but I know for sure that *that* will be The Moment.
We love your new single 'Heartworm', what more can you tell us about it?
Within the medical field, heartworm is an animal disease common in dogs, a parasite that takes home in their heart, killing them with a slow and painful death.
I've always been fascinated by this word and translated the concept into a relationship that you can't get out of your head, which you thought had faded long time ago but is still somehow alive and consuming you
Ever since I wrote it, in 2018, this song was so different from everything I had written before and eventually forgot about for a while. Only later, also thanks to my guitarist Linus Håkansson and the producer Etienne Pelosoff I was able to create the right " dress" for it. It's the kiss-off love letter I always wanted to sing in front of all my exes haha.
What else do you have planned for the near future?
With the new year, I'm planning on releasing more songs and collaborating more ( I love to write with other artists), but mostly I intend to play live way more often and embark on a little tour. So, dear reader, yes you! hope to see you at one of my shows!
And finally, who is your biggest fan right now?
My biggest fan is my best friend and fellow artist, Andrea Di Giovanni. We live together in the city ever since we met at music university. Being a musician can be an extremely lonely life, but having someone who knows about your daily struggles helps incredibly, especially when you need to remind yourself why you chose it in the first place. They have been there since day one, helping me and encouraging me along the way. They went to my shows, held my hand while releasing new music, celebrated my successes and celebrated, even more, when it felt like the world was crumbling down under my feet. And for this and for a million other reasons, I will forever be grateful to have them in my life.