We had a chat with Skyler Stonestreet who, having written for stars such as Dua Lipa and the Chainsmokers, is gaining well deserved acclaim as an artist in her own right
Just a few moments into listening to Skyler Stonestreet's music it is clear that the Las Vegas native is no ordinary songwriter. Having written for colossal artists such as Dua Lipa, The Chainsmokers and Marshmallo, it is when writing for herself that she is allowed to really shine.
The key reason for this is the candid honesty that is smeared over her work. These are not tracks centred around glitz and glamour and fairytale instagram lifestyles. These are tracks grounded in reality about painful introspection, tales of awkward encounters with exes and strained, complicated relationships. Skyler Stonestreet doesn't write songs, she writes fully formed stories that leave a lasting impression.
Following the release of her excellent latest single 'Everything It Wasn't'. we caught up with Skyler to find out some more about the emerging artist, and get some insight into the writer behind the stories.
Who TF is Skyler Stonestreet?
I am a bubbly free spirited yet anxious girl from Las Vegas who best expresses myself through my music. I'm definitely a whirlwind of emotions, and life has taken me on a roller-coaster ride that I'm not afraid to talk about. (actually singing is easier for me ha)
How long have you been making music?
I've been making music since I was a little kid, my mom got me piano lessons at age 7 and I started writing my own songs at about 13. The classical world is a beautiful one but definitely too strict for me (too many rules don't really suit me) and once I figured out you could actually write your own songs I said sayonara to that and switched my focus fully to songwriting.
Why do you make music?
Music is therapy to me. It's been there through all my shit (as cliche as that sounds) it's the truth. I've had a long love affair with it and it knows all my secrets, all my thoughts, and I couldn't imagine not doing it. There's really no better feeling than writing a song you truly love.
What are your biggest influences?
Personal experience, other people's stories, James Taylor, Elliott Smith, (honestly there's too many to name) but the first time I heard Fiona Apple my brain exploded from her lyrical genius.
What would you say has been your best moment so far?
Hearing a song I co-wrote on the radio (Dua Lipa – IDGAF) was so surreal. That was one of the things I always dreamed of and it was definitely a WOAH moment for me.
.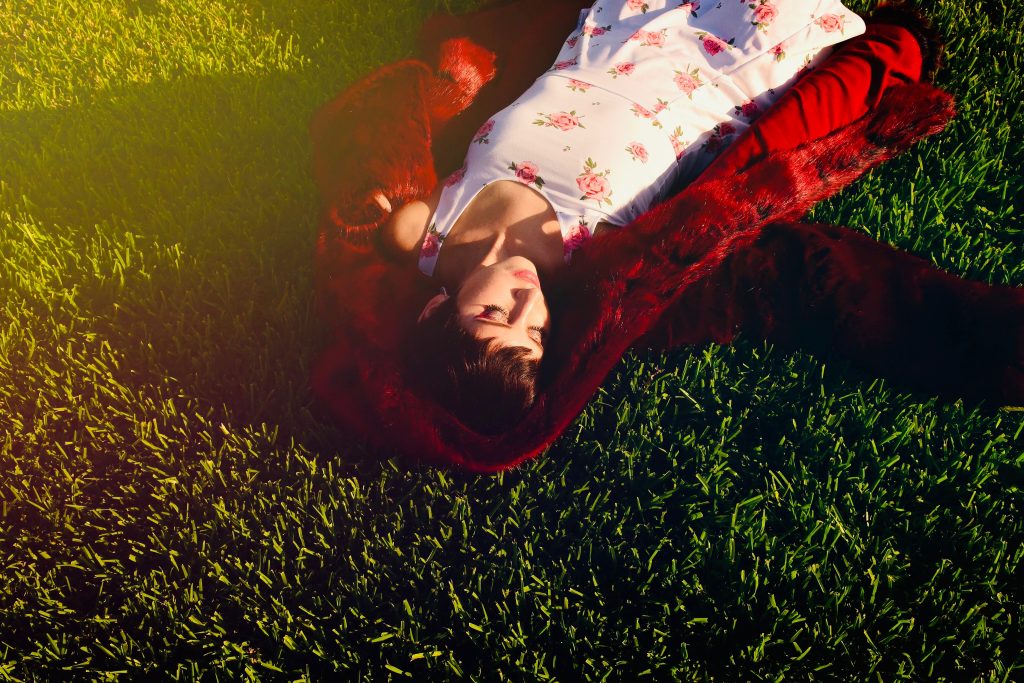 What do you want people to take away from your music?
If someone can feel something from the words I write that means everything. I think as people even though we can be so different we can also be so similar and relate to the same experiences.  I hope my music can make someone feel better about a situation, or make them feel not alone, or even if I write a song they just wanna jam in their car with the windows down, whatever the feeling is, if they get something from it that's amazing.
What's your dream "I've made it" moment?
I think when I go on tour and see people connecting to my songs that will be a true I made it moment. Human connection is so important and if I can touch people with music that's all I really want.
As someone who is lauded for co-writing hits for other artists, what is it that pushed you to release more of your own stuff?
I have always been an artist as well, I started off as a singer songwriter and played my fair share of coffee shops and dive bars. Then I grew into writing for other people and completely fell in love with it. In 2017 I underwent cancer treatment which was a complete curve-ball but I'm cancer free and thriving. I think when that happened I realised I don't need to wait to make everything perfect or have this big plan, I just need to be authentic and myself. It pushed me to start releasing music again and I just love the idea of being able to have the freedom to do both and not have to pick one.
You recently dropped your latest single 'Everything It Wasn't', what's the story behind the track
The story behind this song is from a tumultuous failed relationship and the way I wanted to remember it as opposed to the reality of it. I wanted to contrast the darker parts with bright sounds, poppy melodies and the video is animated which was super fun to be a part of.
Now that you are out here releasing your own stuff and getting rave reviews, what comes next for Skyler Stonestreet?
New songs. New videos. And me running around the stage like a crazy person having way too much fun.
And finally, who is your biggest fan right now?
I don't know probably my mom ha
Everything It Wasn't is available now