We caught up with the multi-faceted and multi-talented Elli Moore to find out more about one of pop's most exciting young artists
The question in this case probably shouldn't be who TF is Elli Moore, but who TF isn't Elli Moore. She is a musical artist, a songwriter, and producer as one half of LYRE, she writes songs for TV ads for brands as big as Duracell and provides the singing voice for Barbie (yes, that Barbie).
With such a range of successful ventures, you can only assume that it is only a matter of time before Elli Moore and LYRE become household names. Elli's solo music alone is evidence of this, with her infectiously colourful brand of pop seemingly primed for commercial success.
Whether creating for herself or others, Elli Moore looks to have all of the tools to enjoy long and lasting triumph. We had a chat with the artist to find out a little bit more about one of our favourite new people in pop.
Who TF is Elli Moore?
I love this question, Elli Moore is fearless, bubbly and human. I try to live everyday being the best version of myself that I can be. I love anything sugary, especially music; I'm such a giant fan of pop music! I want to inspire people to go after what they want and not be afraid to work hard for your dreams.
How long have you been making music?
I've been at the very least humming and making up nonsensical songs ever since I can remember, but technically, I've been creating full songs since I was about 12.
Why do you make music?
Music is something that lives within me that definitely needs to come out; I have such a magnetic pull to the stage, and it's cool that the music I perform comes from such a special and personal place.
What are your biggest influences?
Disney Channel circa 2006 and sugar.
What would you say has been your best moment so far?
The love and support I receive every time I release a song; people really go all out for it, and I couldn't be more grateful.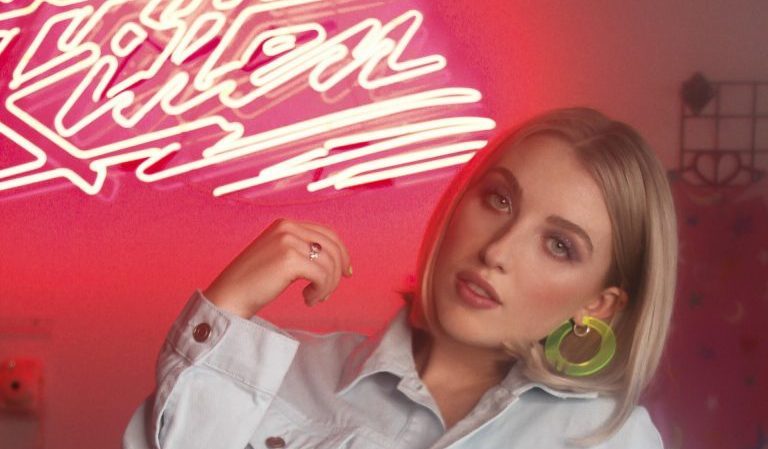 What do you want people to take away from your music?
Not to take life too seriously. I think art can be beautiful, fun and lighthearted.
What's your dream "I've made it" moment?
Headlining arenas and people spending their Friday night with me when they could be anywhere doing anything else.
As part of the very successful production/writing duo LYRE, how do you feel that writing for yourself differs from writing for others?
I like to think I have a unique style of writing, that when you hear it you go "that's an Elli Moore song!" or at least thats how it goes in my head. Whenever I write something, I know immediately if it's for me or not. I have lived with myself long enough to know what I would say and how I would say it.
We love your latest single 'I Love To Hate You', could you tell us some more about it?
Thank you so much! When we wrote it, I was in this "relationship" where I was very conflicted with how I felt about the person. I am an open book and typically pretty decisive when it comes to how I feel, so this relationship specifically sent me to a weird place. Constantly hating the feeling of being so into it and things moving so fast.
As someone who is renowned for being involved in such a wide variety of projects, what does the near future hold for Elli Moore?
Great question! Currently just creating a lot for myself and others. We (LYRE) are so lucky to work with a vast variety of amazing artists, so whenever they need me, I am right there to help make their music the best it can be.
And finally, who is your biggest fan right now?
It probably will always be Alina Smith the other half of LYRE. Not only does she go above and beyond during the creation of the music but, you should see her at my live shows- she is bouncing off of the walls. It's her project as much as it is mine; we live and breathe this music together.