We caught up with Brooklyn alternative duo The Love Ways to find out some more about their journey and new single 'Desire Lines'
Brooklyn alternative rock duo The Love Ways have had something of a breakout moment with the release of their latest single 'Desire Lines', earning some well deserved and overdue acclaim for their fun, melodic and forward-thinking sound.
The track is written about the unexpected twists and turns that life can take us on, steering us off onto paths that only we can see and truly experience. There is a really liberating feel to the vibrant sound here, one that is stacked full of fun, energetic hooks, thoughtful lyrics, and an acerbic modern rock edge and charisma. Between instrumentalist and songwriter Mark Shreve and vocalist and lyricist James Langlois, the duo have crafted a sound with a sense of rawness and life that many full bands could only dream of, feeling like an evolution of the guitar-rock institutions of the last 20 years like the Foo Fighters and The Strokes. We had a chat with The Love Ways to find out a bit more about the duo and their memorable new single.
Who TF are The Love Ways?
The Love Ways are a rock band from Brooklyn, NY consisting of Mark Shreve (music + instruments) and James Langlois (lyrics + vocals). Who TF are you?
How long have you been making music?
Ostensibly since the first band practice in March 2012 but it's best to think of The Love Ways making music together in two stages. Stage One began that day in March 2012: we operated as a five-piece band sharing writing duties, showing up to practice and touring & playing shows around the Northeast. Stage Two started like so many other bands with the onset of the pandemic in 2020: three band members left and Mark + James found a collaborative songwriting cadence that suited them well enough to continue on as a two-piece. So to answer the question: Mark + James have been working together for eleven years.
Why do you make music?
It's what we do. Collaborating creatively is an essential part of who we both are; it's integral to our friendship and our lives, health & happiness. When we were a five-piece we used to joke "___ is in it for the fame, ___ is doing it for the money, etc." but now that it's the two of us and we're a bit older we just do it because we love it. We want to write the songs we love that we haven't heard yet.
What are your biggest influences?
On a given day it's unlikely that the two of us are listening to the same things – we find that having reasonably disparate reservoirs of influence suits us really well. There are some things we absolutely agree upon: we both love The Killers, Blink-182, Titus Andronicus, Jimmy Eat World, Nirvana, The Replacements, Idles. The mutual appreciation of the larger bands provides a useful vocabulary for our songwriting and career-goal conversations but what we find special about what we do is in how we each bring our more unique influences from some pretty divergent places. Generally, Mark's leaning into heavier bands and James is into things a bit more subtle. On paper one might think a songwriter (Mark) who's been listening predominantly to Every Time I Die combined with a vocalist (James) who feels more kinship to The National would sound incongruous but we try and find the things that make us love those bands and bring the ethos of it to our songs.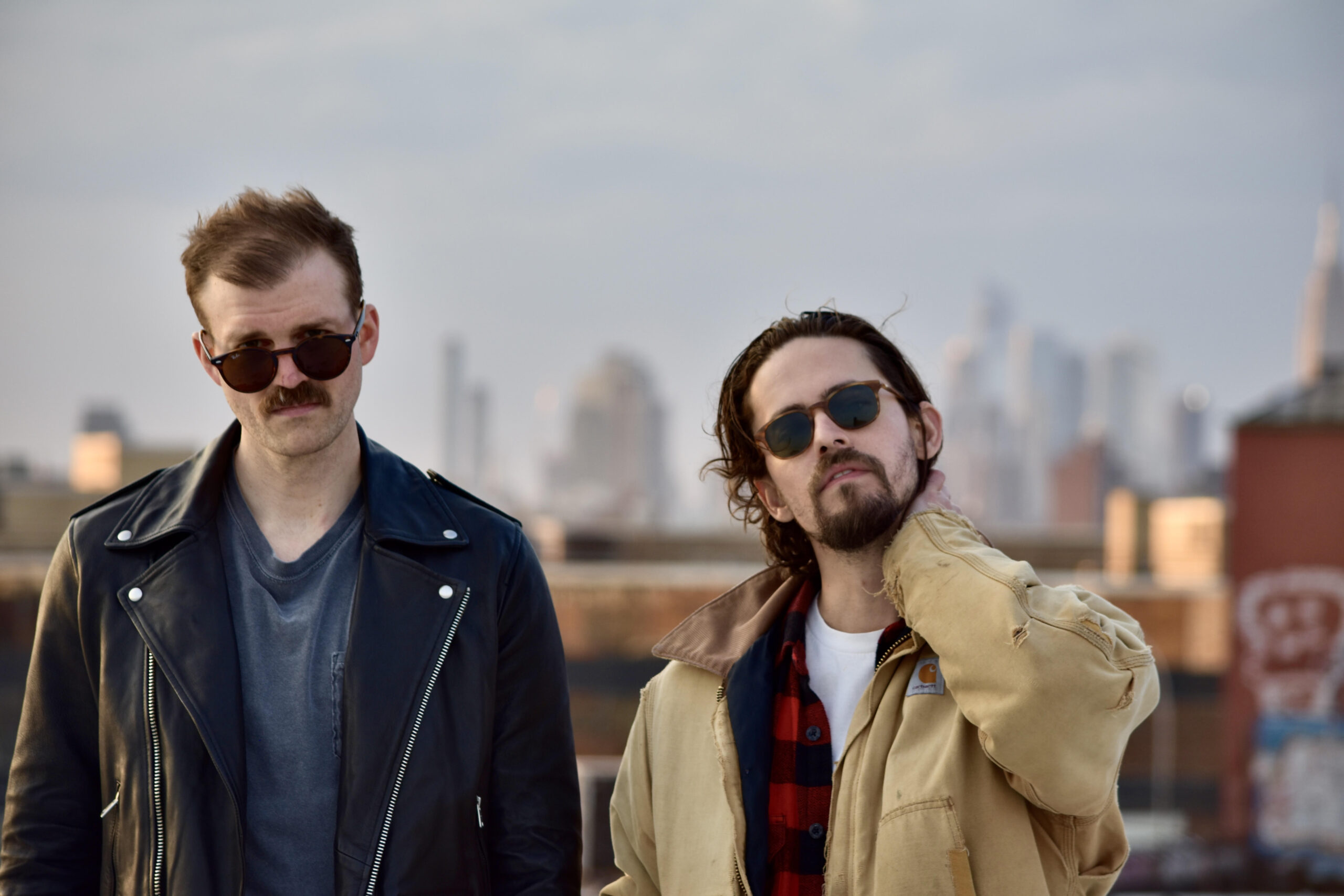 What would you say has been your best moment so far?
Putting out the song + video for 'Desire Lines' at the end of last year. We've been making music together for eleven years so there have been a lot of *moments* but 'Desire Lines' is the first thing we really embraced and showed to the world as a two-piece band and it's the most fully-realized and intentional thing we've done. With 'Desire Lines' – we had a goal for an ideal state of what it should sound like, what it should feel like, what kind of video we'd love to do for it and we were able to get there on all those fronts. It looks, sounds and feels exactly as we wanted it to, and the feeling of "it's 100% ready" as we put it out is something that is, so far at least, pretty incomparable. That being said, we believe firmly in our best moments never being solely behind us, so ultimately moments-wise: the best is yet to come.
How would you describe your sound to somebody unfamiliar with it?
You're sitting at your desk in deep focus watching a bunch of music videos on YouTube. Starts off with 'Mr. Brightside' by The Killers, next you're hit with 'Dimed Out' by Titus Andronicus. After that you get 'Always' from Blink-182's Self-Titled album and 'Sweetness' by Jimmy Eat World right after. You're thinking "this is just fantastic I don't think you could show me something I haven't heard before that brings all of this together and that I absolutely fucking love" and then 'Desire Lines' by The Love Ways slams down and you're watching and listening and you say "Ol' boys did it. They really did it".
What's your dream "I've made it" moment?
We'd love to be asked to play one of the late night shows. We both grew up watching the bands we love perform on Letterman, Kimmel, Fallon, etc. and were drawn to how those types of stages were this great equalizer: no matter who you were you had your four minutes in front of a studio audience who have never heard of you and a national audience that you need to truly impress. You've got to compress and pour everything that makes you special and worthy as an artist into that four minutes. It's this incredible sink or swim moment. Go watch Bon Iver do 'Skinny Love' on Jools Holland or The Killers do 'Dustland Fairytale' on Letterman. Or even more recently watch Idles smash through 'Crawl!' on Colbert. You'll see what we mean.
We love your new single 'Desire Lines', what more can you tell us about it?
Firstly, we're thrilled that you love it. Furthermore:
Lyrically, 'Desire Lines' follows the repetitive and unplanned paths we take throughout our lives. These off-road grooves of life and love that we settle into, traffic us on trails which only we can see on our life's journey to choice, self-definition, and permanent change. The song asks, "in the conclave of the self, which color will your smoke be in the end?".
We wrote 'Desire Lines' to bring out the things we loved about music from the early 2000's – biggest influences on the song would be early Killers and Bleed American-era Jimmy Eat World. The idea was that once you hear it, you feel like you've lived with it for years; it's something you never forgot that you loved and could never quite bring yourself to delete from a playlist. To get there we knew we wanted something that's sonically more ambitious and extroverted but lyrically more intimate and thoughtful so we worked pretty deliberately towards those goals.
To actually capture it all we recorded at Audio Pilot studios in Byram, NJ with Rob Freeman. Working with Rob is just fantastic – he's an immeasurably talented producer, an excellent collaborator, a phenomenal musician and somebody we really trusted with our goals for the song. He did a phenomenal job of getting Desire Lines to where we wanted it to be.
What else do you have planned for the near future?
A lot. That same weekend when 'Desire Lines' was recorded we did another, currently un-released song as well. We're in a pre-production stage on the video we want to do for that song so in the next few weeks we'll be filming and editing. It's different to anything you've heard us do before but we think it'll set nicely in the catalogue.
We're also currently writing two new songs that we plan to record in the next 4 months and release this year. We know what we want them to feel like, how we want them to distinguish themselves from everything we've done previously and how they'll broaden the scope of our sound. We're really excited about it.
And, since we get the question often: we've been discussing what a live show as a two-piece looks and feels like and are excited to put something we think our fans will really love together and be on a stage to share it all soon.
And finally, who is your biggest fan right now?
We're really lucky in that we've got a number of big, amazing fans right now. With the response we've gotten from 'Desire Lines' from our friends, families, colleagues, journalists like yourself…we're truly grateful. The support and appreciation has been just terrific. We'd add to that though that ultimately we are our own primary audience – we always try and write stuff that we'd love to hear, so in that sense if at any point we're not our own biggest fans that's an indication we've lost something or aren't trying hard enough.