Having finally decided to take her shot at pop stardom, we found out some more about emerging 42-year-old artist Theresa
Making the leap of faith and trying to break out in the music industry is a tough and daunting enough task for anyone, with the saturation of aspiring artists and an the ever-shortening attention span of consumers, it often feels like being the right person, in the right place, at the right time is a near impossible task.
One artist who is willing to put up a fight against any kind of adversity or barriers that she is faced with is Theresa, an exciting artist who has made the decision to free herself of her inhibitions and chase a dream that she had long abandoned. At 42, the artist is now making waves with her fun pop sound, proving to be an outlier in contemporary music thanks to her late and welcome emergence as an artist in her own right, and her timeless pop sound. Following the release of her lush new single 'Magic', we had a chat with Theresa and found out some more about her unique journey and her aspirations.
Who TF is Theresa?
Theresa is a proud 42-year-old aspiring pop singer and songwriter who is hustling hard to achieve her dreams of pop stardom. Although I had visions of becoming the next Madonna at a young age, I went through a bunch of personal setbacks and lacked the confidence it took to work towards my goals. In my late 20's, I instead decided to pursue a successful career as a music producer in advertising and shoved my dreams into the closet and thought I threw away the key. Well, I was wrong. Four years ago, I had a blip and rediscovered my passion for singing and songwriting. I began writing and producing new music and in October 2019, started releasing song after song. Not only do I want to share my music with the world, I also want to share my story and inspire people to follow their dreams, no matter how big or small, at any age!
How long have you been making music?
Forever! As I was a kid, I was singing around the house, making up songs – but I started my first song notebook when I was 11 years old – and wrote regularly throughout my teens into my twenties. When I had abandoned my dreams in my late 20's, I did not write another original song until I was 38. And I've been writing and producing song after song ever since. To say I might be making up for lost time is an understatement. 🙂
Why do you make music?
I make music because it's in my soul. There is something within me driving me to continue writing and performing. Music brings me such joy.
What are your biggest influences?
Madonna. Duran Duran. Queen. Mariah Carey. Debbie Harry + Blondie. Tina Turner. Lady Gaga. Cher. Beyoncé. Debbie Gibson. Bee Gees. I love pop music to say the very least.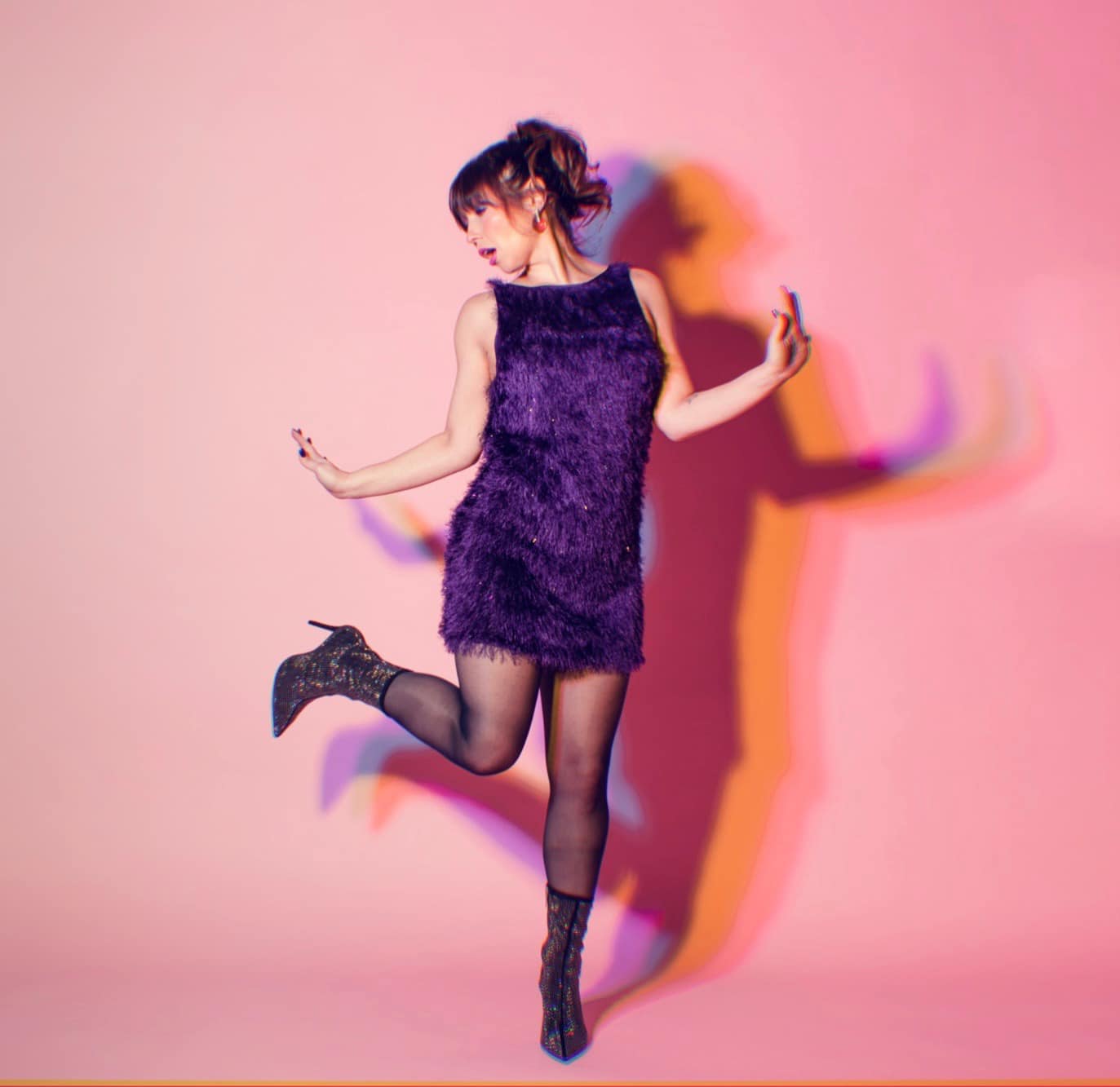 What would you say has been your best moment so far?
Wow…my best moment so far…I am going to have to go with my first live show since I started my project in 2019 – playing to a sold out show at Rockwood Music Hall last October. It was simply magical.
How would you describe your sound to somebody unfamiliar with it?
Timeless pop. As I draw on some many different pop icons as influences and I am inspired by so many life lessons and experiences, I aim to make music that I would want to listen to on repeat. Melodic, catchy and thoughtful.
What's your dream "I've made it" moment?
I have a list of various "I've made it" scenarios…probably the most attainable in the immediate future would be playing sold out shows at Mercury Lounge and the Sultan Room (two different venues in the New York City area). Long term…I'd love randomly hearing my music on the radio, being tapped to be not only the musical guest but also host of a SNL episode…and of course, becoming the oldest woman to win a Best New Artist Grammy.
We love your latest single 'Magic', what more can you tell us about it?
I started writing "Magic" the day Joe Biden won the US Presidential election. It was an unseasonably warm day in November 2020…and I remember everyone as out and about. I had a few glasses of champagne at brunch and took a walk with my husband around our neighborhood and it felt like the Covid insanity was on pause for the day – there was a magic in the air…an electricity. I happen to be a super positive human, so I tapped into that energy to create the lyrics and melody and then partnered up with my dear friend Spencer Ludwig to bring the song to life.
What else do you have planned for the near future?
OH, I have alllll the plans. I will be dropping my video for "Magic" in a couple of weeks and it's pretty magical. Starting to gear up for my next single release due out this fall. Plotting some live shows in the NYC area in the coming months (and hopefully beyond in the new year!). I also recently started a weekly segment on my social channels called "Theresa Tuesday", where every Tuesday I will be sharing stories about my journey to date and taking my fans behind the scenes into my creative process.
And finally, who is your biggest fan right now?
Ha. I have so many people rooting me on. But as a 42-year-old woman who sometimes feels this dream is a constant uphill climb up an unknown mountain, I have to be my own biggest fan. I have to keep pushing myself…keep telling myself not to give up. Confidence is half the battle in following our dreams and I could have 5 millions fans adoring me but if I don't adore myself, then what's the point?