We had a chat with Indoor Friends following the release of their explosive second single 'Finally Enough'
Boasting a wide range of influences and a dynamic, energetic sound that feels engineered to dominate sweaty venues, Indoor Friends have immediately established themselves as an exciting and melodic alternative rock outfit that pack a hell of a punch.
Following on from their encouraging debut single 'I Hate It Here', the outfit have continued to come into their own on the explosive follow up 'Finally Enough'. The track is as scathing and pissed off as it is melodic and fun, with acerbic barbs aimed at someone from a past relationship. The track has a palpable sense of rawness and punk rock flair that feels exciting throughout, balancing its melodicism with a volatile sense of bite that feels effortless. Indoor Friends are early on in their journey but after a strong start have immediately returned with a more impactful and memorable single than the last, and it will be fun to keep an eye on them and see what direction they take next. We had a chat with the outfit to find out a bit more about the them and their plans.
Who TF are Indoor Friends?
Indoor Friends are a band playing in the punk rock idiom. We all come at punk from slightly different angles which is great and makes our sound super well rounded.
How long have you been making music?
Kat: As a band, we have been making music for about a year but individually we have all been making music for a long time. I have been in bands as long as I have been playing guitar so writing and playing music has always been a big part of my life.
Why do you make music?
Ben: We have no choice, they have our children.
Kat: Clearly comedy wouldn't work out for us.
What are your biggest influences?
As a band, we have a lot of different influences. That has been something that has really benefitted us while we try to navigate who we are as a band. We all approach writing songs differently and have a wide range of genres that we pull ideas from.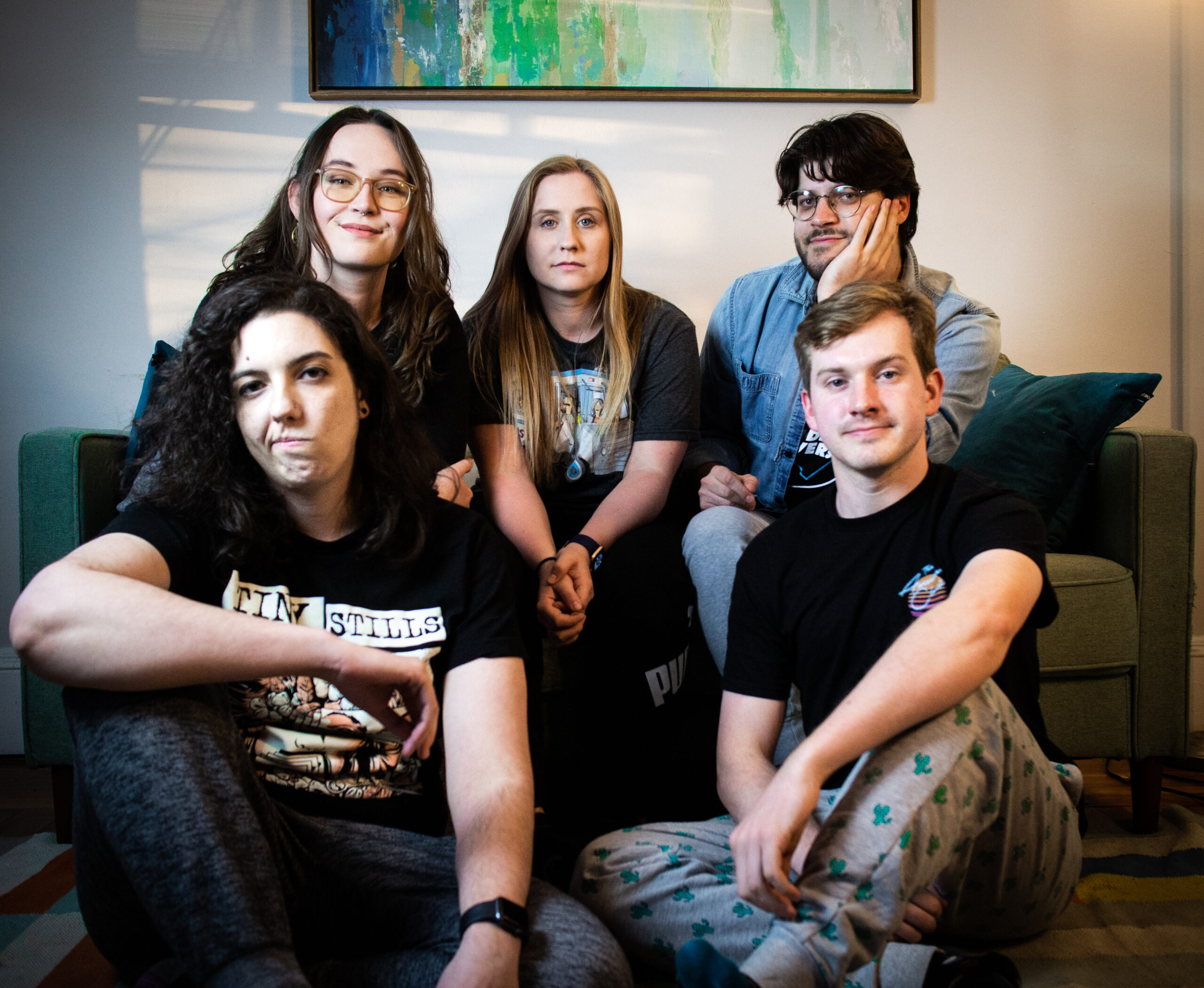 What would you say has been your best moment so far?
Our debut single "I Hate It Here" recently passed 1,000 streams on Spotify. We try not to get too attached to numbers when it comes to success but something about seeing the song be played all over the world and be heard by so many people is really special. We never anticipated this response—we would have been happy if 10 people listened, or two, or none. The love we've gotten has been super inspiring.
How would you describe your sound to somebody unfamiliar with it?
We are still working to define what our sound is. We draw a lot of influence from various shades of punk rock and alternative, but I think the goal for all of us is to make music that people enjoy and relate to.
What's your dream "I've made it" moment?
Kat: I think for me, when we start getting more strangers who come to shows and know our songs or when we get a big shoutout from a band I admire I'll think we have made it. Right now it's hard to imagine "making it" since we're still in the early stages of being a band. Each milestone has been thrilling and in some ways has felt as big as an "I've made it" moment to me.
Amanda: My dream I've Made It moment would probably be walking the red carpet to The Grammy's. Or receiving revenue from my music.
Ben: I would love to have an audience sing lyrics back at us at a show. I've been on the other side of that as a fan, and I know what that means for an audience. Your songs really need to be lived in and meaningful for someone to know all the words. I think that's such an accomplishment for a band.
We love your new release 'Finally Enough', what more can you tell us about it?
Finally Enough is a song our other singer/uke player, Krista, wrote about a past relationship. She talked about how one-sided the relationship was, and how she would do everything she could to make that person happy but never received the same effort back. Now that she is grown up and knows her worth, she thinks back on those times with aggravation for her younger self.
What else do you have planned for the near future?
Our song 'Are You Sorry Yet?' will be coming out on September 9th, our first out of state show is on September 24th in New Hampshire and our debut EP will be coming out in October. The next few months will be crazy but really fun for us!
And finally, who is your biggest fan right now?
Amanda: Our biggest fan is definitely my friend Steph, aka Fiji (a rugby nickname from college). They have already purchased one of our shirts, they come to every show, they tell everyone they know about our band, and they have already memorized the words from the songs we have released.