We caught up with SuperGlu's Krista Lynch and dove into their extended hiatus, triumphant return and everything in between.
Emerging out of Manningtree in 2015, punk-pop powerhouses SuperGlu spent the next few years taking the UK by storm with their effervescent and upbeat sound, raucous and widely lauded live shows and unrelenting work ethic. From the outside, the band looked like they were building the foundations of something colossal, and were set to erupt anytime soon. SuperGlu were everywhere between 2015 and the summer of 2017 until abruptly, they weren't.
Since then, SuperGlu as an entity have been shrouded in uncertainty. July 2017 saw the outfit release their well-received double A-side Welcome Home / Rounder, but from then onward they disappeared from our consciousness and embarked on a hiatus.
"I wouldn't say that we took things for granted as such, we just started to lose that sense of how fun it all is" bass player and co-vocalist Krista Lynch reflects. "It became quite tiring, we didn't really have any set direction to where we were going, it felt like there were times when we should have kept on releasing and kept on making music but we didn't really have a clear plan on what to do because none of us had ever been in that position before. I don't think that any of us really knew what to do. I know that eventually we did get managers but initially it was all DIY – it was just us."
This lack of direction was met with the members of the band reaching various crossroads in their individual lives, and thus the pause button was pressed indefinitely on SuperGlu. While Krista briefly relocated to Berlin to pursue photography and further find herself, drummer Ben Ward found success with his record company Don't Try Music, something that Krista feels can provide the band with the nous and experience that they perhaps lacked before.
"Ben has spent a lot more time in and around the industry since we were last together, and I think now we have more of an idea of how to do stuff in a way that doesn't wear us down as much." She elaborates. "Gigging so much before was really great but we want to put more time towards the more creative side of stuff. We've taken time out to look at what other bands are doing and get ideas from outside."
While SuperGlu had been such a positive experience for the four-piece, it had also been immensely all-encompassing, and Krista felt that the band was beginning to consume her and become who she was. From being in a place where SuperGlu felt like the whole identity that Krista had, Berlin felt like an escape from that.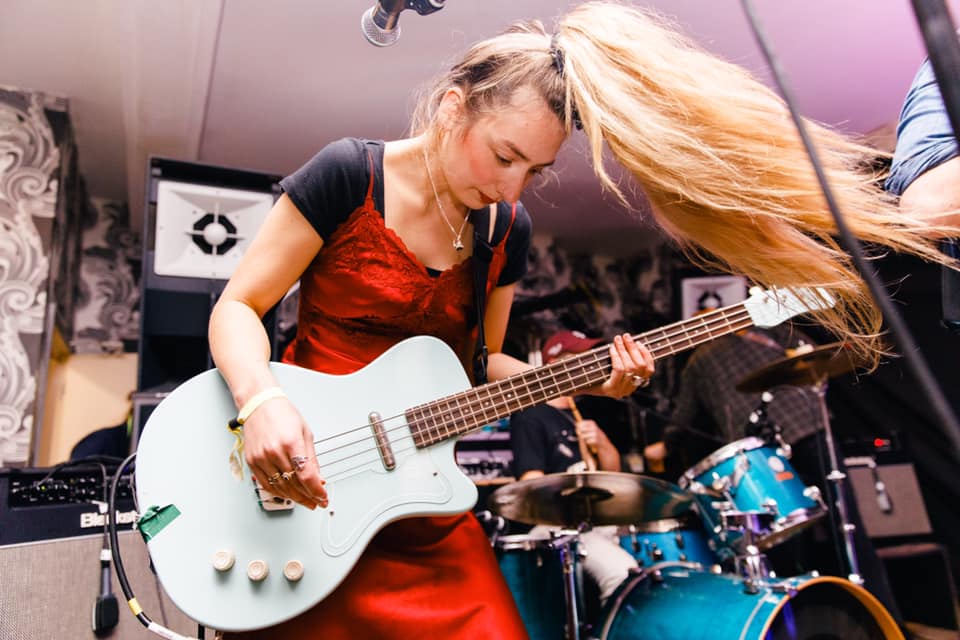 "Moving to Berlin, I put a lot of things to one side and focussed on stuff like my photography. I was doing stuff and being involved in the music industry but was also taking time to myself, I am my own person and I think I sometimes forget that. Part of my whole adult identity has been through my time with the band, and I feel like I was starting to forget who I was without it. Like even today I've just been doing (SuperGlu related) things, but doing them just here and there, little things like responding to e-mails, and doing them in a way in which I am enjoying, whereas I feel like I got a bit lost in it before."
Fast forward to November 2019 and things are vastly different. SuperGlu are recharged and seem in a healthier position than ever following their triumphant return with new single 'Forever Endeavour' and a mini-tour of the UK that Krista describes enthusiastically as "fun", "really good fun" and "a lot of fun".
For a band that have emerged through what has been such a turbulent time of late, this first single in over two years is deeply entrenched in the uncertainty that shrouded them. "The lyrics are reflective of what was going on, and us remembering the good times. It could have been a really sad song, but we made sure that it wasn't." Krista tells us. "Ben Brown (lead singer) wrote pretty much most of the melody and the lyrics and stuff, and then the middle eight was a combination of that and a song that I wrote."
The track has been affectionately referred to by SuperGlu as a "love letter to the band". In a heart-warming twist, what could have, and should have been an emotional goodbye, is now a beacon of hope and optimism and the signal of a new beginning for the outfit. "A swan song we thought no one would hear has found new meaning and bought SuperGlu back to life." Ben Brown has said of the track.
While it may seem like they halted their momentum by taking so much time away while they were still making something of an ascent. It really seems like the time away has provided SuperGlu with a fresh perspective and renewed passion for what they're doing and the art that they're creating.
"I thought it would be so weird!" Krista laughs when questioned about how she felt about making music together as SuperGlu again. "I was a bit nervous, I think you kind of assume the worst in those situations, but it wasn't like we stopped playing together on bad terms, like I'm in a relationship with Ben (Brown), Alex is Ben's brother, Ben Ward is our best mate, it was all great."
With the future firmly in their sights and tours and releases on the not-so-distant horizon, it would be a safe bet to presume that it won't take the Manningtree four-piece long to get back to where they left off. With their batteries fully charged, and sheer quality of 'Forever Endeavour' hinting that the catchiest, punchiest and most resonating work is still yet to come. It's an exciting time to find yourself stuck to the SuperGlu bandwagon.
"I guess we've kind of matured" Krista acknowledges. "We're older now, and while we did enjoy it beforehand, we just put so much pressure on ourselves. I think this time around we're enjoying it a lot more and not taking things for granted, after not doing it for a while you realise how great it is again. We just want people to hear our music and we want it to be fun"
SuperGlu's 'Forever Endeavour' is available now.