We got to know 20-year-old emerging Essex artist Katy for Kings following the release of her excellent new single 'Impersonator'.
Katy for Kings is an artist who has captured our attention with her raw and honest approach to earnest, endearing pop. Having initially built a following covering songs from established artists on TikTok, tracks such as 'Words Around', 'City', and excellent new single 'Impersonator' have earmarked the artist as a unique and candid storyteller in her own right, who possesses the ability to pull listeners inside of the worlds of her tracks through her lyrics and imagery.
While initially adopting a more folk-inspired sound, Katy's latest single features some more evocative and bolder pop sensibilities and shines on yet another facet to the Essex artist's sound and style. It is an exciting time for Katy for Kings as she continues to establish and develop her unique style, and we caught up with the emerging artist to find out a bit more about her.
Who TF is Katy for Kings?
Good question, I wish I knew! I'm slowly but surely filtering through the things that make me or add to who I am. I think I'm someone with a good heart and a lot of love to give who feels everything very intensely. I've never been very good at communication, so I write what I feel into songs and hope for the best! I love to tell stories and find as many different ways to say one thing as possible. Like anyone, I've tripped up and over myself a few times on the way but I like to think that my mistakes are honest ones!
How long have you been making music?
I picked up a guitar at 14 and thats when it really started to get serious, but I've been making songs up in my head for as long as I can remember. I have countless notebooks from the last decade filled with random lyrics and rhymes that I can't bare to part with just in case I need them one day.
Why do you make music?
I started writing music quite selfishly, I just wanted to write songs like Taylor Swift and sing like Miley Cyrus. I wanted people to hear what I had to say even if it was just a handful of songs about a crush I had on someone that barley knew I existed. I wanted people to notice me I guess, but then the bug hit me hard and I became obsessed with it. Im lucky to have had people around me that have really let me nurture my craft in anyway I wanted to. Lyrics are huge for me, they're probably my strongest point too. A lot of what I've learnt about writing lyrics has come from observation.
What are your biggest influences?
I always answer this question in the same way but I have to because otherwise I'd be lying! Taylor Swift, John Mayer and Kacey Musgraves.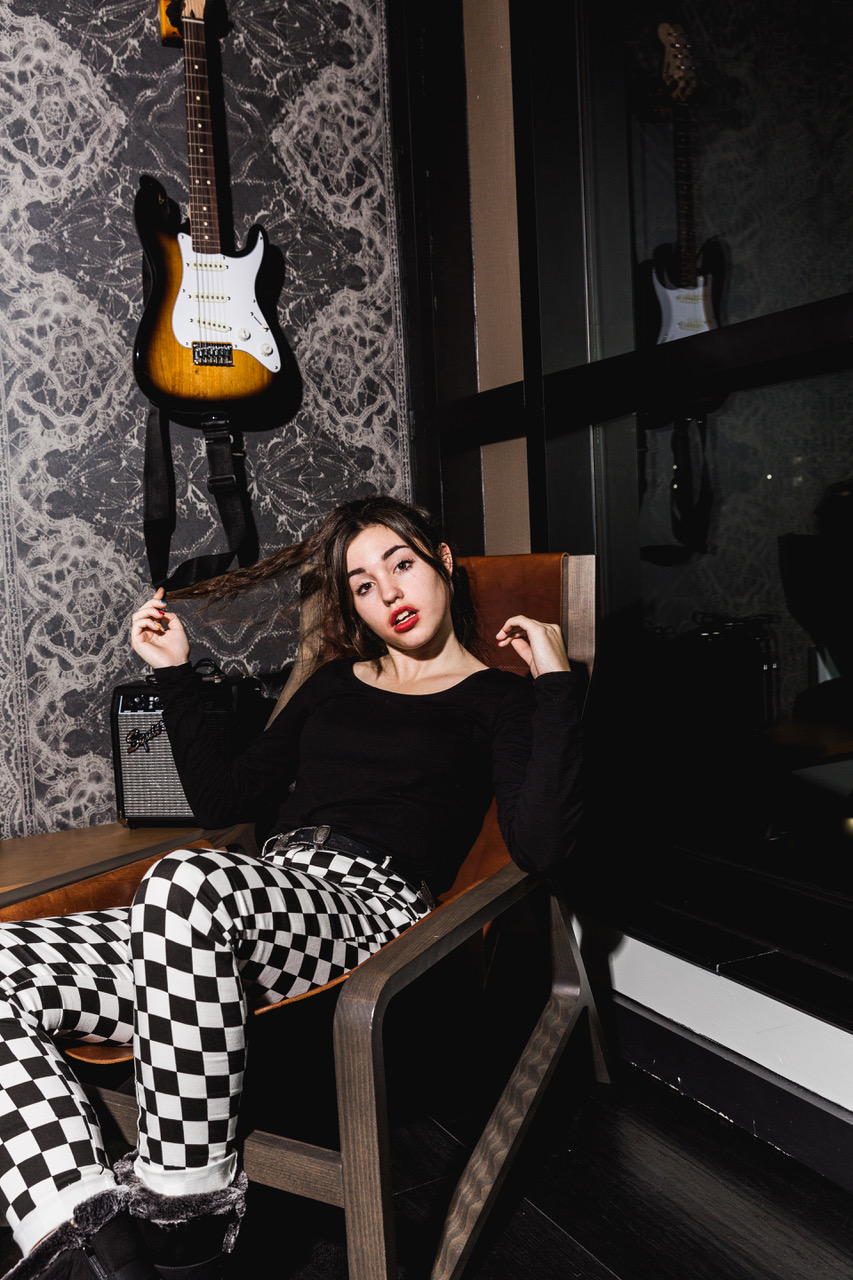 What would you say has been your best moment so far?
My first single Words Around hit 10,000 streams within its first few weeks of release which was a crazy thing to see! I'm really proud of that song and I'm really happy that it got its chance to shine as the first track I put out. The message behind it is really important to me.
How would you describe your sound to somebody unfamiliar with it?
Acoustic pop with a tiny hint of whatever I'm listening to most at that time.
What's your dream "I've made it" moment?
Ah there are so many! I want to sing with John Mayer so badly, I used to watch all the collaborations he's done with other artists and cry a bit. It's so silly, can you imagine me bawling at my laptop screen on a school night to a man playing guitar! But yeah, I think if you ever see me on a stage with him then you know that I'm really freaking out on the inside and probably questioning  the extent of my existence at the same time.
We love your latest single 'Impersonator', what more can you tell us about it?
Thank you so much! Impersonator is a song about heartbreak and a song about empowerment all in one. It takes you through the initial realisation of knowing you're not who someone else wants you to be, to the breakthrough moment of realising you never wanted to be them anyway.
What do you have planned for the near future?
I'm really figuring things out right now in every aspect of my life. I hope to be gigging soon, but I'm playing it by ear right now. Oh and writing as many songs as I can!
And finally, who is your biggest fan right now?
Probably my producer because he's the only one hearing the music I'm making haha!