Following the release of the explosive new singles '2020' and 'I'm So Strange', we had a chat with Brooklyn trio The Living Strange
One of the things that makes rock music so compelling is the lack of borders and walls that it affords artists. There is no rule book when it comes to rock music, no guidelines that must be observed and followed. This is something that The Living Strange know all too well. Their unique and genre-bending sound is a shining example of what can be achieved when the shackles are truly off. Their sound is crushingly heavy while also playful and melodic, their lyrics range from innocent, almost angelic moments of introspection to the bleak and depraved.
Latest efforts '2020' and 'I'm So Strange' are glowing examples of the scope and diversity of their sound. While musically the tracks are worlds apart, they both feel intrinsically like The Living Strange, and sound like something that band, and only this band, would create. We had a chat with the band to find out some more about one of the most exciting and unpredictable emerging acts in rock.
Who TF are The Living Strange?
We are twenty somethings trying to figure our shit out in a collapsing world. More specifically: Elijah Sokolow (20 yrs, vocals/gtr), Nico Sleator (21 yrs, synth daddy), & Benya Shafrir (24 yrs, Drums).
How long have you been making music?
We've been making music in different iterations for many years but this current lineup of the band has only been around since last fall.
Why do you make music?
We make the music we want to hear. It's the best way to stay emotionally regulated.
What are your biggest influences?
I love Smashing Pumpkins and Death Grips, Benya loves Aphex Twin and Elliott Smith, Nico loves Skrillex and Sigur Ros. We all bring different things into the mix to collectively make something only we would make.
What would you say has been your best moment so far?
Our best moments are definitely onstage together. There was a moment at our last show where Benya and Nico were deep into a drum & bass jam while I was doing cartwheels before glitching out my guitar. Definitely a highlight.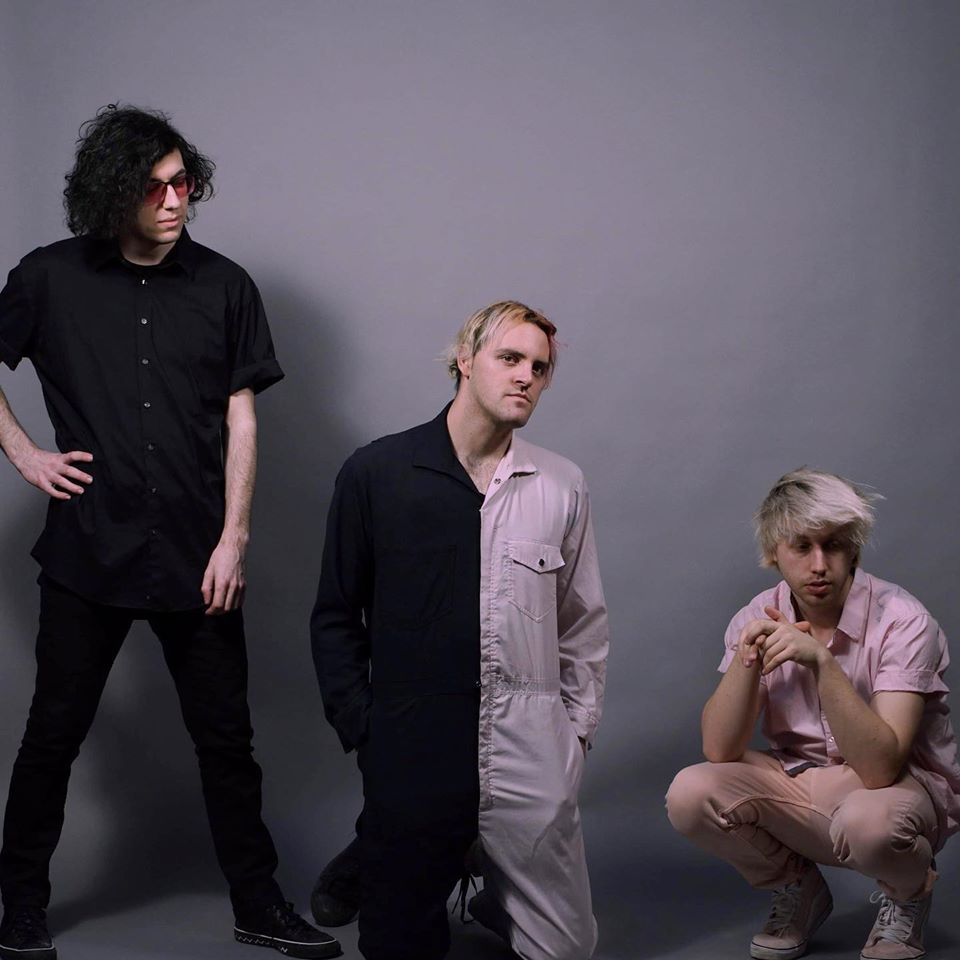 What do you want people to take away from your music?
The main takeaway is that all of us that are finding ourselves nowadays are not alone in this confusing af existence. We just want people to feel.
What's your dream "I've made it" moment?
Beyond the typical things that come with succeeding in music, likely a nardwuar interview or if Noel Gallagher talked shit about us.
Your sound is characterised by its unpredictable and genre-bending nature, what is it that led you down this path musically?
We're coming up in a ridiculous time so all we can do is be ridiculous. The main thing that brought us here is liking so many different things and wanting to keep ourselves interested. There's definitely a balance between a song that knows what it is and one that's all over the place in a bad way. That said, when you can be dynamic about emotional tonality, it really pays off. That's how I feel about the latest Poppy album, I Disagree.
We love your latest singles '2020' and 'I'm So Strange', what was the process like putting them together?
Thanks! I wrote the 2020 riff by literally just picking up my guitar and playing the very first thing that came to my mind. I thought it was kinda dumb in a good way. We played it for a friend and she really liked it so that motivated us to make it into a full song. We wrote the chorus part with Life of Pablo in mind, since Kanye does records nowadays where these really stark arrangement changes just come out of nowhere. I was also inspired by him for the repetition in the words. These days, I'm more into simple repetition and really getting a point across than a more verbose approach. It was really fun to put it together.
I'm So Strange is a rewritten version of our old song Eye Contact. It feels really good to open a show with it but the recording of Eye Contact was done in a programmed way, so for this one we wanted to capture what the song sounded like when we play it at a show. I wrote new lyrics for this one that are primarily about accepting feeling like an outsider. That's something that I've felt for a long time and I like the idea of making our band a space for people to feel comfortable being themselves in. The song also has a line, "I went from Nickelodeon to watching you shoot heroin" and I think that best captures growing up and feeling shocked and ultimately isolated by these negative experiences. I'm So Strange is a way to say that whatever crazy shit your dealing with that makes you who you are is okay. A lot of times it feels like it isn't.
What plans do The Living Strange have for the near future?
The biggest plan is to keep putting out our new songs & videos & playing regionally around the east coast. We have a ton of new materials and it's all going to come out gradually.
And finally, who is your biggest fan right now?
Our current biggest fan is probably Jack Cahillane at Princeton University. He messaged us about how much our music meant to him, having seen us play there a while back. He even covered our song "New Pet" on his instagram. That said, we always gotta shout out our OG biggest fans like Heather Rose in Philly <3